Treasures are often found in the most unlikely of places, and although there have been plenty of tales of treasures lost at sea, most have either never existed or were never found. That's part of what makes the 887 carat uncut raw Muzo emerald so special.
Not only is it one of the world's most expensive and valuable emeralds but it was also rescued from a phenomenal four-hundred-year-old shipwreck. The emerald known as La Gloria, may fetch up to $5 million at auction! It is one of several exquisite emeralds that will be offered to the public in April.
La Gloria
It is impossible to ignore the main attraction of this sale, the La Gloria emerald. At 887 carats, it is the largest Muzo emerald in the United States and is of museum-quality. Guernnsey's, who will be hosting the auction, says that this collection, which is called the Marcial de Gomar Emerald Collection, will include 20 exceptional emeralds in total. Some stones are rough, like the La Gloria, which will most likely be turned into a 400-carat gem, while others are cut. In addition, thirteen pieces of emerald jewelry will be sold.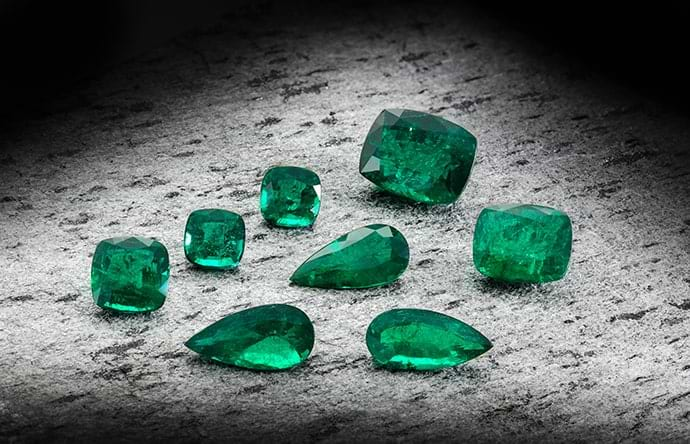 Leibish emeralds
The Shipwreck
The shipwreck in which these emeralds as well as many other valuable items such as silver, gold, and copper ingots were found, is believed to be the most valuable shipwreck of all times. Part of a Spanish fleet that sank during a hurricane near Key West in 1622, the Atocha held treasures that we can only dream of today. Though many attempts were made by Spain to recover the wreckage, they proved to be fruitless. It was only when treasure hunter Mel Fisher succeeded in locating the shipwreck after seventeen years of searching that these long-lost treasures finally resurfaced.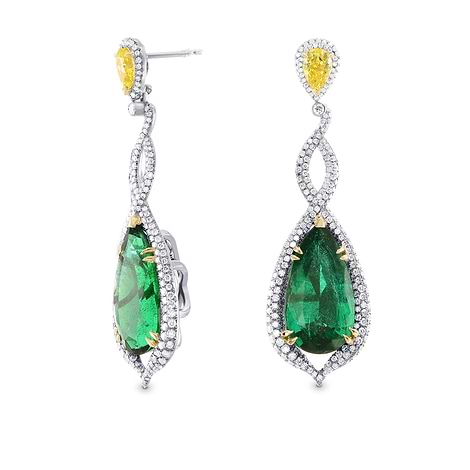 Green Emerald & Canary Yellow Diamond Earrings (17.91Ct TW)
The Muzo Area
This legendary mine, hidden deep in the Colombian jungle, has given birth to some of the most beautiful emeralds in the world. The land in that area is known to have produced some of the finest and most chemically pure stones. It's believed that it is the type of rock formation that allows for the remarkable green colors.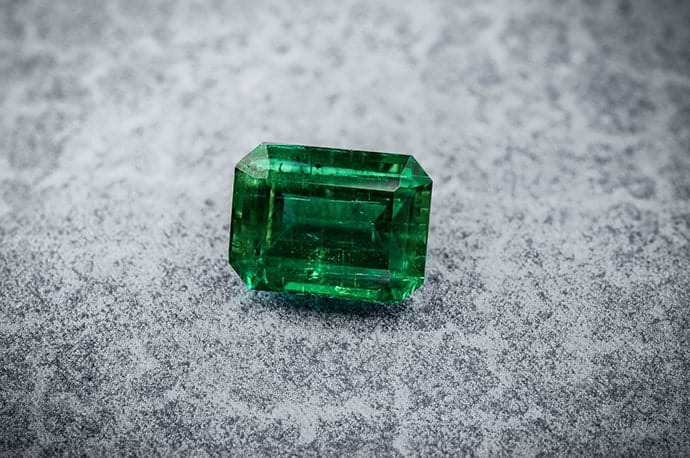 A loose emerald stone
Additional Noteworthy Emeralds
Although the La Gloria certainly takes the cake at this auction, there are many other fascinating emeralds as well. The Marcial de Gomar Star is the largest star emerald ever to be recorded. There are supposedly only eleven star emeralds in the world. This one in particular is a double-sided star emerald, which may very well be the first and only one of its kind. Another mentionable item is the pair of teardrop emeralds, The Tears of Fura. These exceptionally large teardrop-shaped emeralds are of similar size and also hail from the Muzo mine.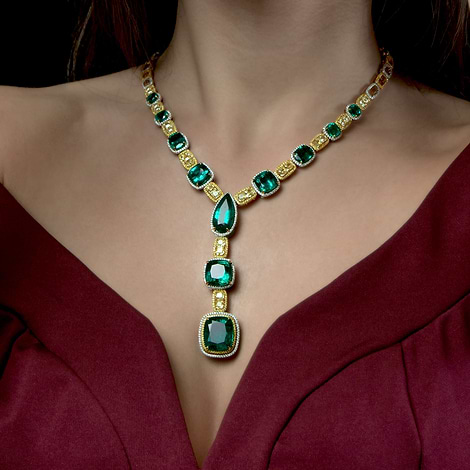 Extraordinary Emerald & Yellow Diamond Necklace (64.64Ct TW)
Deep green emeralds are garnering a significant amount of attention these days. Our jewelry department just recently released some amazing emerald jewelry designs, such as this Extraordinary 64.64 carat Emerald & Yellow Diamond Necklace and a pair of 17.91 carat Green Emerald & Canary Yellow Diamond Earrings.
Emeralds are often overlooked, as other gemstones such as diamonds are in such great demand and are regarded as a status symbol. However, these glimmering green stones can be far more valuable than their colorless gemstone counterparts and provide a great deal of color and character. The lucky new owners of the La Gloria and the other emeralds will not only have beautiful stones to cherish, but will also have historic and monumental relics in their possession as well.