Lawrence Graff was always dreaming, even while he was awake. In the 35 years I know him, he was always one step ahead of everyone else in the market.
Some 35 years back, Graff was one of my first clients.
I always had a weak spot for them in my heart. Lawrence is the master of branding. Raymond, his brother, is responsible for the immaculate finish of Graff jewelry. Raymond's son Elliott, however, is gaining the center stage in all areas of the Graff operation.
Lawrence has an eye for creating McCoy items, and his drive to place himself ahead of the pack leaves his competitors filled with envy and admiration. The $55 million Hallucination Watch is a statement, not just a watch one receives as a luxurious gift. It is rare time piece geared for a collector who has it all, but still desires to own the best. It is also the most powerful declaration for lovers of fancy colors, as the collection of diamonds he used serve as the finest specimens of colors available in the market for big ticket items. Francois Graff, Lawrence's son, said himself that they had collected the diamonds used in the watch for over two years.
As the Graff family concentrates on creating the ultimate luxuries, we tried always staying one level below in the realm of what is known as affordable luxury. In fact, the Chavi Itzhakov designed Tutti Frutti bracelet recently won the JCK Jewelers Choice Award 2014 for the best jewelry design $10,000 and up.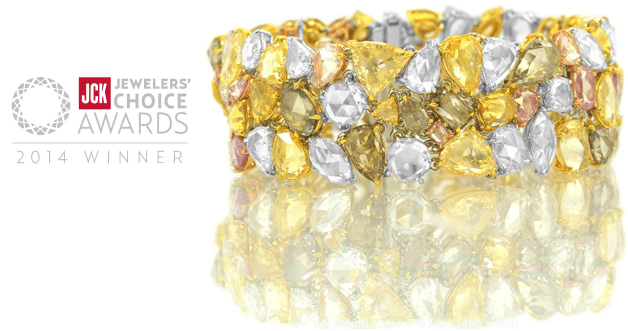 The 54.84 carat Tutti Frutti multicolored diamond bracelet
We upgrade many pink, blue, and yellow diamonds, but Graff is always going for the big kill. He travels often in uncharted territory and dangerous waters leaving other operators far behind. In 2012, Graff bought a 24.78 carat Fancy Intense Pink Diamond for over $46 million. Soon after he made the decision to send it back to the polishing wheel and managed to transform that gem into a 23.88 carat Fancy Vivid Pink IF (Internally Flawless) diamond. He dubbed its value by carefully re-polishing it only losing a few points on the stone. Similarly, Graff did the same with the Wittelsbach Blue Diamond. It was bought as a 35.56 carat Fancy Deep Grayish Blue, VS2 diamond cut with an unusual pattern of 82 facets. However, after he purchased the stone in 2008 at a Christie's auction for $24.3 million, Graff re-cut the diamond, losing 4.45 carats, to a 31.06 carat diamond. Although many did not agree with the risk he took, he said he intended to fix the "damage to the girdle" and was hoping to "naturally enhance the color." It is now a Fancy Deep Blue IF.
The best part of the Graff Hallucinations Time piece is that it became the most talked about item at Baselworld this year. In addition to the given boost to his own brand name, the keyword 'fancy color diamond watch' had a sudden spike in all search engines, and will reflect well for all color diamond business in today's market.