There is no question that jewelry enhances every outfit. The question is what to wear for each specific getup and when some pieces will work better than others. In order to answer this question, there are several things that need to be understood about jewelry. Only then can one begin to choose the appropriate piece of jewelry for each occasion.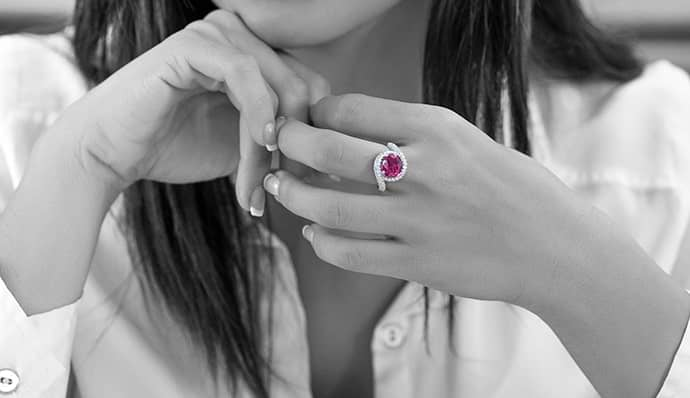 Ruby & Diamond Designer Ring (5.46Ct TW)
Subtle or Statement?
The first thing to understand is that some jewelry pieces are subtle, and some make a statement. Now, there are times when you want to be beautiful but subtle, without drawing too much attention to yourself while other times you want all eyes on the piece you have chosen to wear.
A beautiful fancy yellow radiant diamond wedding band
If you are dressing for something work related or an event that is very conservative, it is best to go for subtle. Next, you will need to consider your outfit. Does it leave room for a necklace to be seen? Is a bracelet necessary or are you wearing long sleeves? Finally, consider the style of your hair and the state of your nails. Will studs be noticed or should you stick with small hoops that can be seen amidst your long locks? Do you have a manicure you'd like to show off with an eye-catching ring? Of course there is also the color of your attire. If you are wearing a solid color, you are good to go and can even choose subtle pieces that boast a bit of color. If, however, you have chosen a pattern, it would be wise to select simple jewelry with colorless stones. White gold, yellow gold, diamonds, and pearls are all fabulous options. Party ensembles and outfits for a night on the town call for some pizazz. This is your opportunity to take out that colorful, chunky statement necklace or those glittering chandelier earrings.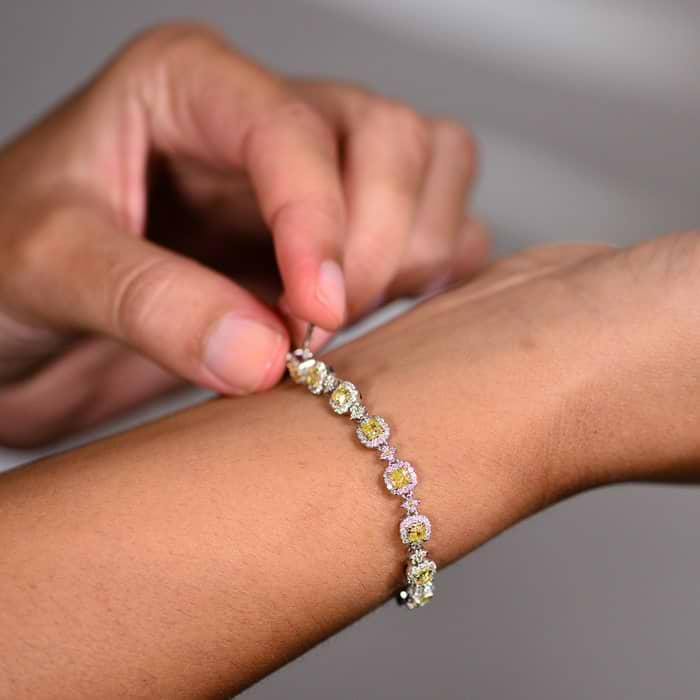 Fancy Intense Yellow Cushion Diamond Halo Bracelet (5.26Ct TW)
Formal Occasions
Even those who don't ordinarily wear jewelry pull out their jewels for formal occasions like a wedding or an anniversary party. Clothing does all the talking at events such as these, but jewelry is its partner in crime. That is why you need to pay special attention to what you will be wearing and pick your jewels accordingly. Strapless dresses do not need necklaces. This is the opportunity to let your favorite chandelier earrings shine. A crew neck and turtleneck shirt, sweater, or dress calls for a hanging statement necklace, as shorter ones can be too heavy. V-neck shirts and dresses are suitable for pendant necklaces and halter-tops leave room for a chunky bangle or cuff bracelet.
An extraordinary 64.64 carat, emerald & yellow diamond necklace and a 27.08 carat emerald cushion ring
Casual Jewelry
It is understandable that not every piece of jewelry can be worn for every occasion. But does every occasion warrant a piece of jewelry? The short answer is no, and the long answer is it can and it should. What this means basically is that the most casual outfit does not require jewels; nothing will look like it's missing. However, it is so easy to upgrade the look with a piece of jewelry that it is worth the effort. A pair of diamond studs can be worn with jeans and a t-shirt. Yes, they can, and they will make you look like a million dollars. You can also wear a simple sundress and add a bunch of gold bangles for a chic and fashionable look. Like they say, if you have it, flaunt it. If you have the jewelry at home just sitting there, take it out and wear it! It will make all the difference.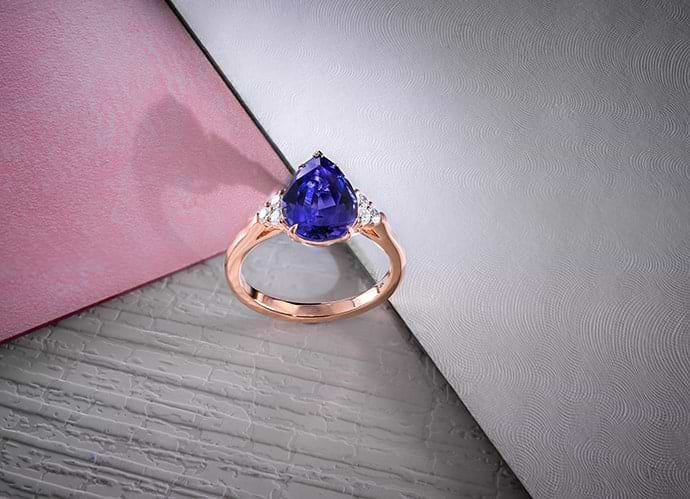 A 2.74 carat, Tanzanite, pear-shaped, side-stone ring
It truly is less about the occasion and more about the outfit (which is based on the occasion.) Classic jewelry is more expected at conservative and formal get-togethers but this doesn't have to be the case. You can play around with it a bit and mix and match. You can wear a timeless tennis bracelet to a formal dinner and pair it with statement earrings featuring semi-precious stones. Or, as mentioned earlier, you can wear some of your finer jewelry when wearing your simple plaid shirt and jeans. There are rules, but rules are meant to be broken.
Check out our jewelry collection and let us know what you need to make your next function absolutely perfect.