It's common knowledge that the sun rises in the East and sets in the West. In the jewelry business, however strange it sounds, the market works in the opposite way. The diamond trade has faced a difficult two years, but there is sunlight at the end of this tunnel. Chow Tai Fook recently announced that he is opening 100 new stores in China. He reports to be showing optimistic signs of profitability and recovery from the dip. This is still only a tiny ray of light of what is expected with the turnaround in Asia.
I am not a big fan of tradeshows as I believe that the virtual promotion is much more focused than exhibiting $20 million dollars of goods in the hopes that someone comes by and looks at them. In actuality, tradeshows are an excellent business for the organizers and shipping companies, as a show can move over $2 billion dollars in two directions within a short amount of time. It's a golden opportunity for advertising dollars spent, and everyone comes out happy except the exhibitors themselves.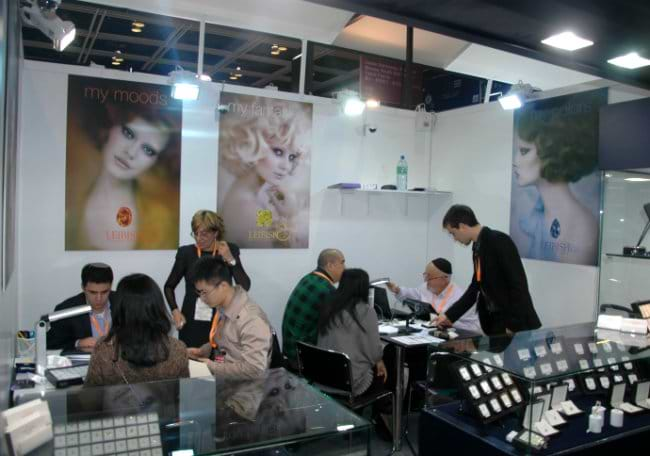 LEIBISH at a past trade show
Like anything else in life, the diamond business pattern has changed. Even when it comes to luxury, people are looking online. They are turning to the computer, and sending out emails to suppliers requesting the items they are looking for. Still, tradeshows are looked at as a barometer of what is happening in the industry. The reason is simply because it is easier to measure the temperature of the trade in a big open space where everyone wants to be.
All the reports of JCK Las Vegas, the biggest jewelry show in America, showed the signs we all wanted to see. The market is turning around and has shown vitality no one experienced in years. Also, the prices of goods made a small but pleasing upgrade.
Millennials may have different shopping patterns as the previous generation, but certain things will always remain the same. When a man wants to marry a woman, he gives her an engagement ring. The Wedding Report just released that the average ticket item in the United States is at $3,400. But, these days it isn't just the man that buys the diamonds anymore. In fact, it isn't even only him that wears them either. Whether we focus on engagements or any other reason to celebrate, people enjoy spoiling themselves with much bigger ticket items. Still, the millenials are looking not just for fair value items, but unique luxury products at competitive Internet prices.
Anglo American PLC stock, which owns the majority of DeBeers, is looked at as another one of the main sources to project direction of where the diamond industry is heading. Back in January 2016, it was at 226 pence. Today, in June 2017, it is up to almost 1100. Earlier this year, back in October 2017, we saw it reach heights of almost at 1400. In 2012 it was all the way up to 2000, but the way things are going, I don't think it will be that long before we see a comeback. Don't take my word for it, have a look at the stock: https://www.bloomberg.com/quote/AAL:LN

Anglo American PCL Logo
Compared to men over 44, according to Business Insider millennials today appear to be more than double as likely to get down on one knee while proposing. Although they are far more likely to buy something online, they are more traditional than you might expect. Yet, it is known that young people of today want to be different, they seek out where and how to be unique. Even those jewelry brands that until now focused only on white goods are beginning to include fine gemstones and colored diamond jewelry into their collections.
So like I previously said, the sun may regularly rise in the east, but in certain industries, you have to know where to look in order to see the changes starting to blossom.