Mariah Carey fans can get ready to celebrate once again since the pop singer is soon to be married to Australian billionaire, James Packer.
The pair met several years ago while they were still somewhat happily married, and later turned their friendship into a feverous fairytale romance that has resulted in a proposal. While both Mariah and James are still legally married, their soon-to-be exes have either already moved on or have expressed their happiness for the couple. Mariah's current husband and father of her four-year-old twins, Nick Canon, even tweeted about it in a good-natured way.
The best part of it all is the 35-carat ring that Mariah received. It is not too surprising though, as "Queen" Mariah deserves nothing less, and James can certainly afford it.
Third Time's a Charm?
Multiples marriages are not foreign to Hollywood, but it still makes one wonder if this third marriage, for both partners, will be successful. Carey has two children from her marriage to Nick Canon and James Packer has three children ages 7, 5, and 3, with Australian singer and model, Erica packer who is supposedly dating Seal. Having dated slightly less than a year, James popped the question to his beloved in her hometown.
The Ring
Ms. Carey is no stranger to fine jewelry. She has shown up time and time again dripping in jewels as the fun factor runs the world. In fact, it was just a short time ago that her face was plastered on the front page of the New York Post with LEIBISH's Prosperity Pink Diamond.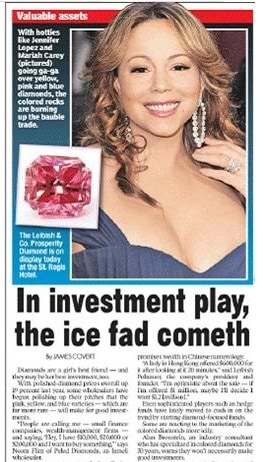 Mariah Carey in the New York Post with Leibish's Prosperity Pink Diamond
It therefore doesn't come as too much of a shock that her newest piece of jewelry is a whopping 35-carat diamond engagement ring. The colossal diamond is set upon a much more subtle platinum setting thereby balancing out the ring so that it is not to too ostentatious. The rare and beautiful ring was created in just two weeks; an unprecedented time frame for a piece of this caliber.
Although there are those who will focus on her divorce from Nick Canon rather than her upcoming nuptials with James Packer, we choose to congratulate the world-famous singer and wish her all the best in the newest chapter of her life. May it be filled with much love, happiness, and diamonds, of course!