Every celebrity engagement is exciting for fans/jewelry lovers worldwide, and Nicki Minaj's recent engagement is a homerun in both departments as this woman is always stirring up some trouble. As her vibrant personality may have indicated, her ring is ridiculously huge and gorgeous. It, of course, boasts none another than a very large heart-shaped yellow diamond, as seen on her Instagram page.
The Ring
Just like Nicki, the ring is loud and fabulous. The already unique yellow diamond is not just any shape, but heart shaped, making it even more special and visible. This comes in the wake of Lady Gaga's engagement ring picture, which featured a huge colorless heart shaped diamond. Nicki's ring takes that to the next level by making the diamond a yellow one, and adding two halos around it at that! That's a lot of diamonds, and even more pizzazz. Still, if there is someone who can pull it off, she most definitely is the one.
The Couple
Nicki's and her fiancé, rapper Meek Hill, have been dating since early February. It had been rumored that the two had gotten secretly married, but for now, it can be assumed that the pair is just engaged. No effort to hide the gigantic ring was made. On the contrary, a picture of it was put up on Instagram, and a tweet went out expressing how happy she was.
Yellow Diamonds
Though they are much rarer than the colorless diamonds that most women wear on their engagement rings, yellow diamonds are actually among the colors of diamond that can be found in greater abundance than most. A large stone with a strong yellow color can still more cost quite a bundle. Add the heart shape as another factor and we are quite an expensive diamond. Heart shapes are a rarity among color diamonds, as it does not contribute to bringing out a diamond's color such as the way the radiant and cushion shapes do. A heart shape could be harder for a diamond cutter to achieve and therefore add to the already high price tag.
How Can I Get This Look Without Nicki's Budget?
Want a heart shaped diamond engagement ring too? Consider any of these tips to make this style your own, even if your budget is not in the millions
1. Get pave diamonds instead of one big diamond - using small diamonds and setting them in a heart shape acheives the same look for a fraction of the cost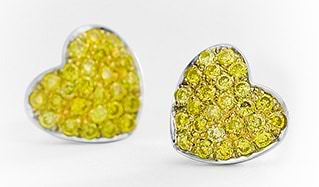 These heart shaped earrings are made of yellow diamonds in a pave setting as opposed to heart shaped diamonds
2. Go for a similar diamond, but smaller, or with a weaker color intensity - Nicki's diamond is a Fancy Intense Yellow, so try a Fancy Yellow to save a bundle

Yellow Colored Diamonds starting from Cape colors (4 stones on the left are from the U-V through X-Y-Z range) continuing to Fancy Light Yellow , Fancy Yellow, Fancy Intense Yellow, Fancy Vivid Yellow and Fancy Deep Yellow
3. Consider a less flashy setting for the diamond, like a solitaire (similar to Lady Gaga's
Every celebrity engagement is exciting news, but this one in particular is a reason to celebrate, as Niki's taste is always eclectic and interesting. Her ring is both out-there and classy, which is a difficult feat to achieve and highly commendable, so congrats to Niki and Meek. Here's to many more beautiful color diamond jewels!
What do you think of Nicki's ring? Tell us in the comments!