I'm not a celebrity, but I want to look like one, said a customer who had called in to LEIBISH's sales department. This unfortunately is the most common myth about fancy colored stones. Granted, the rarer the diamond, the more expensive it will be. However, there are many amazingly beautiful stones that are well within the price range of fine jewelry that contains white stones as opposed to colored diamonds.

Fancy colored diamonds have grown tremendously in popularity over the past 30 years. Many of the rich, famous, and powerful have been seen adorning some of the world's finest fancy colored diamond jewelry. Only, as such a rare and unique item, prices for these stones can often reach quite high.

The problem is that not everyone has an enormous budget for all the luxury items the heart desires.

Both Brown and Yellow colored diamonds are comparatively speaking the least expensive fancy colored stones. The price is so competitive with the others becasue of how unique these colored diamonds are. Although, all colored diamonds are so rarely found, the price of Yellow and Brown colored diamonds are most dominantly affected as a result of their abundance in nature.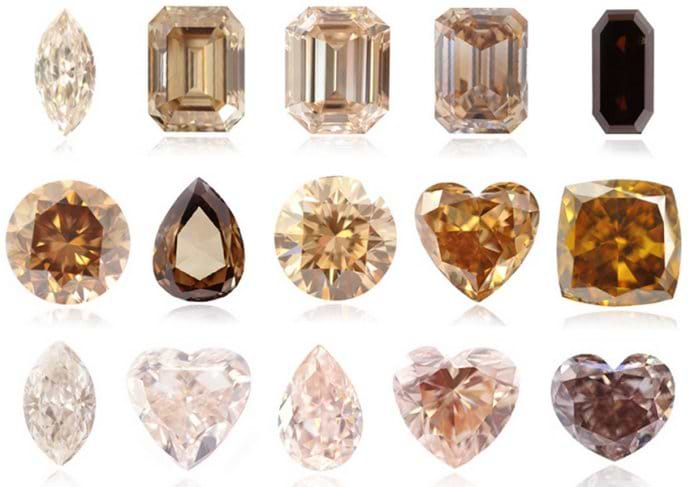 Different Intensities and Color Combinations of Brown Colored Diamonds
The color grade of both Yellow and Brown diamonds actually begins from within the white diamond color scale and then moves into the world of colors. Whereas they are in every which way, fancy colored diamonds, they are most similar to the white diamond family.

Read more about Fancy Yellow Diamonds.

Certain shades of Brown are more in demand with regards to the many fancy colors as a result of their beauty, popularity, and extremely alluring capabilities.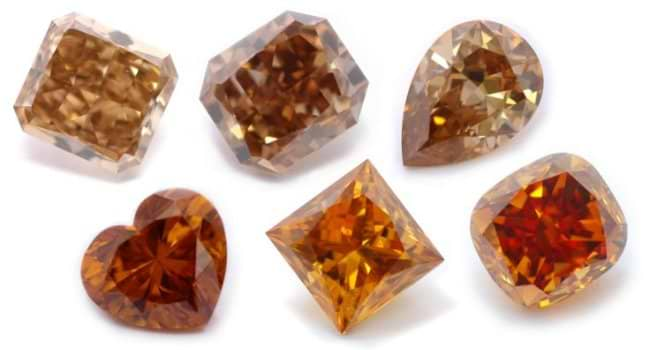 Champagne colored diamonds and Golden Colored Diamonds
Golden colored Brown diamonds are by far one of the most popular shades of Fancy Brown stones. They are sought out by many because of the rich appearance that they posses. The color radiates a natural warmth that magnifies the Golden colors beauty.

Of all Brown colored diamonds, the Golden tone comes with a high demand in today's market. Similar to all fancy colors, various color combinations and different levels of intensities create the effect of colors that the public associates with something similar. The Orangy Brown, or Orange Brown diamonds have such a striking resemblance to the golden shade that this combination of colors actually adopted the Golden Diamond name.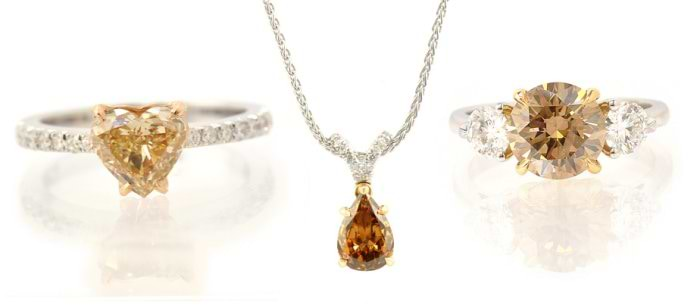 Golden Diamond Jewelry
Still, like all other fancy colors, Golden diamonds can be found with different levels of intensity, clarity, and cut. The price can therefore vary from one extreme to the other. For example, the most famous Golden Diamond is the Golden Jubilee, a 545.67-carat, Fancy Yellow-Brown stone. The amazing rose cut diamond, with an unknown clarity, is known as the largest faceted diamond around today; valued somewhere between 5-12 million dollars.
The fancy Brown color is defined into a number of different shades. A Fancy Light Yellow Brown diamond could be referred to as a Champagne Diamond and a Fancy Dark pure Brown color could be referred to as a Cognac colored diamond. Needless to say, they are all beautiful and only compliment the pieces of jewelry in which they are set. Only, like all colored diamonds, since each and every stone is entirely unique, one needs to first asses the stone and ensure that it is a perfect fit.

Visit LEIBISH's extensive Golden Diamond collection to find the stone that suits you best!
Contributor: Benji Margolese