Fraudulent transactions happen everywhere, not just on the Internet.
I changed the tires of my car. My son- in-law checked them out and advised, "They screwed you! These are cheap Chinese tires and not what they promised you." I made hotel reservations and assumed I found a great deal – until my wife enlightened me that our neighbor managed to book the same room for 25 % less.
I try to comfort myself by saying that perhaps diamond dealers are idiot savants who don't know to how navigate the real word, only the diamond bourse…
A few months ago I received a disturbing mail from a Lady in California. It read as follows:
Hi,
I just wanted to bring to your attention that some other seller is selling the exact same diamonds as you have for much less.
Rgrds
S.

I called the lady and was shocked to find out that someone was offering our stones, which were sold a few months earlier to a Canadian private collector at… a 90% discount! What had transpired?
.
We called our client to confirm the stones had not been stolen. He confirmed that he still had the stones in storage. A smart "vendor" had copied pictures from our sold items and placed them on eBay as his own, of course, at a fraction of the price. A stone we sold for $120,000 he offered for $9,000; a real bargain. A little more detective work revealed more of our stones at similar discounts.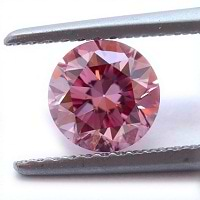 our 0.80ct Intense Pink that was offered by a con man at 9,000$
The solution was really very simple. The "vendor" really didn't have any stones at all. He wanted to "sell" what he did not have, take the money and deliver nothing. $9,000 for an intense pink diamond as pictured is ridiculously cheap; $9,000 for thin air, not exactly a bargain. We notified eBay and they removed the "vendor."



Swaps
Far more annoying but just as common is what happened to one of our US clients recently. He was offered a pair of greens at an unbeatable price. He became suspicious and requested a GIA certificate, as a European Gemological Laboratory report is worthless for a vivid Yellowish green. The seller told him not to worry as he would swap the stones if the client was unsatisfied.
The client was unsatisfied and requested the swap. Not a problem, the vendor would take back the stones and upgrade for much better stones… for an additional $125,000. Now that is what I call an upgrade!
The problem did not end there though. They tried to extort from the client an additional $125,000 for diamonds not even worth $40,000. He was firmly in the hand of the vendor who had told him that the GIA would not grade his stones vivid yellowish green but rather intense green yellow which is worth a fraction of the price they charged him.
The client contacted us to see if we had any suggestions on how to deal with this situation.
So I told him what I'm going to tell you now. If you feel that you are being taken for a ride, don't agree to any exchanges, upgrades, or additional sweet deals as compensation. Try to get your money back.
Sometimes even intelligent people getting carried away by the sales pitch of red, green, or Argyle diamonds - assuming that all these stones have great investment value. However, only mavens know how to truly analyze a GIA certificate. For example, we sold at auction a 2 carat Intense Green Diamond for over $ 600,000 but also have green diamond of similar size for less than $10,000. Here, you compare.
2.36ct Fancy Intense Green GIA VS1.
Sold at auction for over $600,000.

2.50ct Fancy Dark Gray yellowish green

Sold for less than 10,000$
We have a European Collector who asked us about a stone – approx 1.20-carat Fancy Brownish Reddish Orange- a stone with P2 clarity and no luster at all-which was offered to him for $225.000.
I looked at the picture of the stone and sent an e-mail to the vendor asking what the price for the stone is. He probably thought I was a novice when he responded :
Dear Sirs,
Thank you for your request!
This stone seems to be one of the few available diamonds with an instant visible reddish glow! This rarity will surely find its place in a private collection and the owner will appreciate the value through his purchase.
Best regards
I told our client to stay away.
The first test of every Internet transaction is what we call the cornerstone of our business -
Not satisfied, Money Back. If a company does not offer a money back guarantee- don't give them any money.
Doctors and people in the medical field are many times targeted by fraudulent traders as their Internet addresses are readily available and open for sale. As personal data of medical professionals are stored and sold in groups, they receive a lot of fraudulent offerings.

The first commandment is simple - if the deal is too sweet, something is wrong or as the expression goes, "If something sounds too good to be true, it probably is."
Remember, if someone offers you a 0.50-carat Fancy Intense Pink Argyle GIA VS for $10,000, DO NOT buy it - something is amiss. The bride is too pretty.