When I was a child my mother tried hard to make a musician out of me. The wife of a local pharmacist predicted that due to my high forehead I would possess great musical talent. Unfortunately I lack the basic ability to conjure a tune. I tried hard to improve my musical incapacity but with little luck.
I watched with great devotion Herbert von Karajan conducting the Berlin Philharmonic. I could not understand what the big deal was with von Karajan jumping around and shaking his hand and his whole body to the tune of the music. The band plays and he is following the music. It was only years later that I understood – the orchestra is playing according to the conductor's directions as relayed via his baton; von Karajan was not just playing with his hand. The conductor is slightly ahead of the music and the band is following him. If you want to lead the band you just have to be a bit ahead of your time.
In 2006, when Lawrence Graff purchased for the second time the 50.01-carat, D colored, VVS clarity, Emerald-cut diamond, Bank of America stock traded around USD50. Graff paid USD4.2 million for the stone. This month, Laurence bought the very same 50.01-carat, D colored, VVS clarity, Emerald-cut diamond for the third time for USD8.4 million and said, "This is the third time that I have owned this beautiful diamond and I am as thrilled today as I was the first time. Diamonds of this exceptional caliber have a life and legacy that carries on beyond us all. This is one of the finest D-color diamonds in the world and I am delighted to have it back again."
The very same week, Mr. Graff purchased an amazing Oscar Heyman & Brothers ring of the Evelyn H. Lauder collection, a 6.54 carat, Fancy Intense Pink diamond ring for an astonishing $8,594,500.
Today, Bank of America is trading around the USD11 range and the market is still contemplating if it is a good buy or better to say good bye as the market is teetering on the edge of the fiscal cliff. Nobody is getting really excited about buying stocks even though they are apparently trading at low Price/Earnings multiples.
Lawrence did not seem to worry much about the fiscal cliff as around the same time he bought a flawless fancy deep blue diamond briolette of 10.48-carats, for USD10,860,146 (USD1,036,273 per carat). I use him as a barometer for business sentiment in the diamond industry. Lawrence is a master of the game and is always ahead of the band.
With this purchase, Graff set two new world auction records: Price Per Carat for a Deep Blue Diamond and for Price of a Briolette Diamond. Trade speculation is that the stone may be re-cut to improve on the already exceptional color.
I was recently asked what makes people buy fancy color diamonds. I could not provide an immediate answer and just mumbled something about passion. People do crazy things out of passion. Ashton Kutcher married Demi Moore in September 2005, regardless of what such a large percentage of the public felt about their age difference. Unfortunately, they are now getting divorced. During the seven years that they were together, the price of Argyle Pink diamonds has doubled if not tripled, but their romance has come to an end.
Still, it is not that simple. John C. "Jack" Bogle, 83, who built Vanguard into a company with USD2.2 trillion under management, is a man who keeps things simple but most of all is an independent thinker.
Some people buy items for one dollar and others buy for 10 million dollars, but both buy with the same passion for perceived value. They would like to get the best value for their money. We all try to get the best value for our money.
Obviously when you are bidding on a tender or at an auction it is not a measuring stick for the best value. At least auctions are an open game; you can elect to play or to pass. You can bid on the phone by following the flow and hearing how much other people bid. At a diamond tender you are on your own and bidding against the wall. When our GIA GG (Graduate Gemologist), Shmulik, won 17 stones at this year's Argyle Tender he displayed great vision. Like von Karajan and Lawrence Graff, he too was one step ahead of the game.
The engine behind the auction prices are the customer's willingness to buy a pink diamond and pass on overvalued stock.
Why do our customers keep buying from us? 65% of our sales are to returning customers. What do they find at LEIBISH that makes us so special?
Perceived value and customer satisfaction is the real secret of all great brands. As a brand, we too do what we can to stay ahead of the pack.
Best regards,
Leibish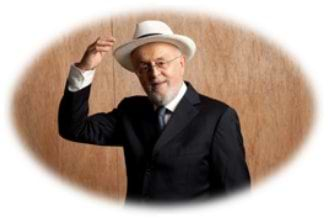 Leibish Polnauer, President and Founder of LEIBISH Fancy Color Diamonds