We have been selling diamonds for over 30 years now. When we started, it was a rather simple procedure. We bought or manufactured a parcel. I would travel to London or Hong Kong, add a few percent profit to our cost, and make a customer happy. Over the years, some stones remained in our possession and were kept secure in one of our safes. The bigger the business grew, the more the stock grew.

The industry is moving at an unbelievable pace. People seek immediate results and look for instant gratification. In the past, I had to reserve a ticket, hotel room, and board a plane just to show a stone and perhaps sell it to one of our customers. It was a logistic undertaking of at least 4-5 days. Today, I can upload an Argyle pink diamond at 4:00 p.m., and one hour later it is sold to a customer in Perth who lives just a diamond throw from the Argyle headquarters.

About ten years ago, we began to sell layout designs in combinations of different fancy colored diamonds. The stones were placed in glass boxes ready to be set according to our customer's request. In 2006 we expanded, and began to make fine jewelry. In fact, one of the first pieces our company made, designed by Chavi Itzhakov, was created for Liz Taylor's company. She was a real lover of jewelry and diamonds. Liz took one look at those earrings and said, "That one's for me!"

Samples of Layout Designs Crafted by Chavi Itzhakov

About two years ago we launched the Create Your Own Ring section on our website. This enabled our customers to choose from a large inventory to make their own designs. They added the stones they fell in love with and chose the ring they most preferred. Then we came into the picture and put together their custom made work of art.
The diamonds we sell did not change over the years. The cut, the clarity, and the fancy colors are all the same. However, marketing our business changed dramatically. Our business is spread over a number of different continents and we now have customers all over the world.

We post a stone on our website and ten minutes later have the first e-mail from Prague, our first customer asking, "Is that diamond for me?" In the same hour we get a short note from Los Angeles, "Amazing! I must have this stone!"
A few months ago I wrote about the 'Tutti Frutti' bracelet, from Cartier. This elegant piece of work was sold in the Sotheby's auction on September 20, 2011 for a whopping USD842,500 after only having been given an estimated value of USD200,000 - 300,000.

Our designer, Chavi Itzhakov, created her own version of the 'Tutti Frutti' styled bracelet with 54ct Rose-cut Fancy Color Diamonds. When I recently took it out of the safe to show off to one of our customers, it brought a smile to my face to see the same wild sparkle it had when it was first made. In fact, all the diamonds in that safe that we collected over the years look as if I had placed them in the safe last night before leaving home from the office.

As time rolls on, business will evolve. Lately we are experiencing a totally new phenomenon with colored diamonds. Both private individuals and larger investment firms are buying fancy color diamonds, just to put them away. They don't even take possession of the stones; they buy, pay, and the stones disappear into bank vaults, not to be seen for years.
The market for fancy colored diamonds is steadily increasing at a phenomenal pace. For example, a magnificent pair of fancy intense blue and fancy vivid yellow diamond ear pendants, with the carat weight of 4.40 and 4.82 was sold in 2004 for only USD190,000 per carat (a total of USD2,517,612). Today, such an item would have been easily sold for USD650,000 - 700,000 per carat.
On September 20, 2011, a stunning Platinum, Fancy Intense Blue Pear-Shaped diamond weighing 2.59 carats and near colorless pendant necklace was sold at Sotheby's New York Important Jewels Auction for approximately USD300,000 per carat (a total of USD782,500). The fancy intense blue pear-shaped stone was almost half the size of the fancy intense blue stones in the earrings sold in 2004. That is a mere six years later, and the price received, which was an absolute steal for such a work of art, was almost twice as much.

It goes to show that the value of fancy colored diamonds in moving in the right direction.
A friend of mine from New York had got his hands on an amazing piece. My Indian broker saw the stone and wanted to introduce me and the American, not knowing that we were actually friends. He dragged my friend aside and told him, using the only English phrase he knows, "Leibish – Pink diamond", "Leibish – Pink Diamond."
I opened the parcel paper and to my complete surprise an amazing 3.00 carat fancy pink marquise smiled at me. It was asking me, "Do you recognize me?" I turned to my son and said "Isn't this the pink we sold a few years ago?" "No," he answered. "I never saw that stone in my life. I'd remember that one!"
I just couldn't get it off my mind, since the stone looked so familiar. I was sure I once owned that stone before. At the dinner table, the following night, it hit me like an anvil that fell from the ceiling. It was the lovely pink diamond I had sold about 15 years ago. My son, who was just fifteen years old at the time, couldn't have remembered that one.
I can see it like it was yesterday. That 3.00 carat fancy pink was set in a blue sapphire ring. We had advertised the ring on the back cover of a magazine. A private, who saw the advertisement, called from Florida and bought the ring after a one minute conversation with our New York office.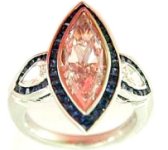 The 3.00 ct Fancy Pink Marquise Set in a Blue Sapphire Ring
I walked over to my New York client who was sitting at the very next table and asked him if that stone happened to have been set in a blue sapphire ring. "Yes" he said surprisingly. "You can have the ring as well if you would like." "I bought it from a Florida private."
The stone was sold 15 years ago. Now, it's back like new, with a new GIA certificate. The stone, which I had last seen so long ago, was sparkling just as bright as it was back then. Only now, the asking price was 3 times as high.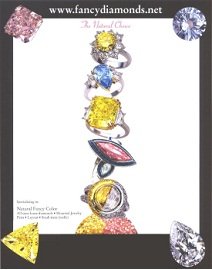 Original Magazine Advertisement with the 3.00ct Fancy Pink Marquis Set in a Blue Sapphire Ring from the Late 90's

History proves itself time and time again, as I have been saying all along, diamonds are forever!
Let me just take this opportunity to wish all my friends "Shana Tova Umetuka! A Happy, Healthy and Sweet new year!
Leibish Polnauer