This week in NY, Christie's auction house will be auctioning off many items as usual at any Gem and Jewelry auction. Of course all are unique and each has a story behind it, but one particular lot caught my attention - Lot #251.
The 3.51 carat Fancy Intense Green modified pear is a diamond that is quite rare to see in the fancy color diamonds arena. This color grade is rarely seen, even at auctions, which are known for the incredible diamonds that they attract. Christie's is estimating the value of this ring to be between $800,000 and $1,200,000 for the stone, which translates into between $228,000 and $342,000 per carat. It seems that the spread is quite a stretch, a 50% range.


Below is LEIBISH 2.06 carat Fancy Intense Blue-Green SI1 diamond. Similar to Lot #251, this is also a one of a kind stone, that cannot be found easily on the market, and in fact, if an individual would be interested in a similar stone, he/she would need the help of many suppliers, and would need to be patient - he might be able to get the newest, limited edition sports car, before getting his/her hands on a stone like this.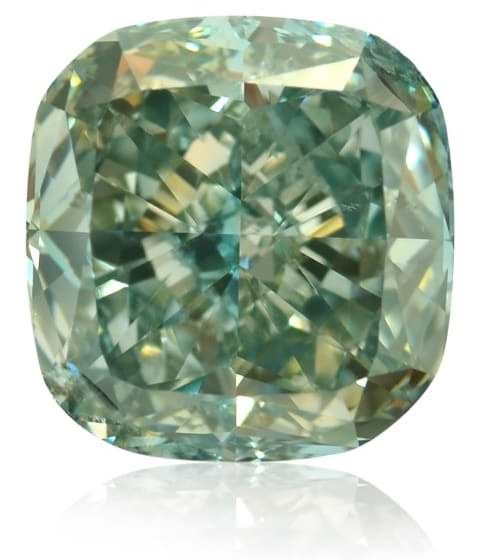 2.06 carat, Fancy Intense Blue Green, Cushion Shape, SI1 Clarity

Most recently, during the Geneva Auction in May 2014, the Ocean Dream, a 5.50 carats Fancy Vivid Blue-Green, was sold for $8,781,637 or just under $1.6m per carat…

The most famous green diamond in the world is the 40.70 carat Dresden Green diamond. The Dresden Green diamond is named after Dresden, the capital city of Saxony in Germany.

Although this diamond does not even approach 40 carats, the fact that the estimate is so wide just stands to show that diamond experts have no idea for how much this ring will sell. The uncertainty is definitely a result of the fact that diamonds of pure green, like those of pure orange and pure purple, hardly every hit the market like this. This creates a unique scenario for the market to completely decide the price of this diamond, as there is little historical data to guide people's decisions.

Let's see what happens when this ring goes under the hammer!