Rubies are some of the most beautiful gemstones on the planet, so it is no wonder royalty and celebrities showcase the beauties every chance they get. The warm and rich red color of rubies looks fabulous on practically everyone and goes well with a variety of colors. Here is a look at some of the most memorable ruby necklaces and bracelets of all times.
Kate Middleton's Ruby and Diamond Necklace
It is no surprise that the Duchess was dressed to kill at the 'Night of Heroes' Sun Military Awards in 2011, but her unbelievable ruby and diamond necklace is worth an extra mention. Reportedly received as a wedding gift, the necklace has a beautiful circular-design base with mini flower-shaped pendants of various lengths, which rested upon Kate's neck. This look went perfectly with her black strapless velvet gown and long brown bouncy locks.
Heidi Klum's $3 Million Ruby and Diamond Necklace
The supermodel and Project Runway host wore a dramatic ruby and diamond statement necklace to the 2010 Emmy's.
Jackie Collins' Ruby Pendant
The English bestseller novelist matched teardrop ruby earrings with her designer ruby pendant and trendy bracelet at the 2012 Oscars.
Keira Knightley's Ruby, Emerald, Sapphire and Diamond Necklace
The British actress wore a 'peacock' style necklace studded with many gemstones including rubies, emeralds, sapphires, and diamond on the red carpet. The extraordinary necklace adorned her bare neck and went well with her black dress.
Renee Zellweger's Ruby and Diamond Bracelets
Renee Zelweger wore twin ruby bracelets to the 2013 Oscars. The stunning pair included 464 rubies on each bracelet, totaling 55 carats, and 120 diamonds, totaling 9.37 carats. The stones were set in platinum and yellow gold. The colorful bangles were the perfect way to spice up her gold-colored gown.
Zoe Saldana's Ruby Layered Bracelet
The sensational layered ruby bracelet Zoe Saldana wore to the 2010 Golden Globes matched her complexion, gown, and ruby rings and earrings flawlessly. The bracelet consisted of several strands of rubies, which hung loosely and gracefully on top of each other.
Nicole Richie's Ruby and Diamond Cuff Bracelets
The reality star, socialite, and designer was as eye-catching as can be at the 2012 Golden Globes in her metallic ensemble paired with rare ruby and diamond cuff bracelets. The bracelets were large, as most cuff bracelets are, and displayed several rubies and diamonds. The beauty combined the ruby piece with a ruby ring, diamond ring, and diamond and pearl chandelier earrings.
Though the ruby is a fairly traditional stone there are endless ways to incorporate it into modern bracelets, pendants, and necklaces. These celebrities have demonstrated several ways of doing so, but there are many more examples as well. Whether a necklace or bracelet is covered in rubies or only has one or two on display, it can be a remarkable piece that will surely steal the show.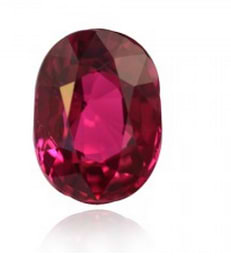 LEIBISH 2.43 ct Vivid Red Ruby