The legendary wealth of the Maharajas of India doesn't sound like a big deal today, as many people have made a fortune. But, according to Forbes All-Time Wealthiest List of 2008, the Nizam Mir Osman Ali Khan was the fifth richest man in recorded history. He didn't sell any stock, or as some might think, inherit the money. He did not start from nothing, but he was an astute businessman, he prospered during his reign of Hyderabad.
The Maharaja had 42 concubines and seven wives. I am not sure that any industrialist on the Forbes 100 list could cope with that. He made part of his money with mining revenues, as at the time the Hyderabad state was one of the only diamond suppliers to the rest of the world.
The Nitzam was a man of gigantic achievements and unmasked desires. Although he indulged himself, his wealth was far bigger than his collection of cars and jewelry.
Jacques Cartier learned about the Maharaja's love for luxury jewelry early on. Understanding that the designs had to somehow be connected to the style of local craftsmanship and materials of India, he let his imagination work. He created the tutti frutti line, which were designs born from the combination of folklore and the Parisian style of gemstones and colors. It was Cartier of the 1920s. In fact, the fine rubies and sapphires involved with Indian carvings are still cut today in Jaipur, India.
He often used Colombian emeralds in the designs as well. The combination of emeralds with rubies was like an exotic marriage of the East and West. It created a contrast of colors and was a backbone for the dramatic effects that still exists today.
Cartier's "tutti-frutti" bracelet will lead Sotheby's jewelry auction in Hong Kong 2017
However, Cartier isn't the only company who uses a unique collection of fine gemstones to create masterful pieces of jewelry. For example, have a look at this extraordinary 4.16 carat ruby, emerald, and diamond ring design of LEIBISH
.
A number of important gemstone and diamonds are connected to Indian rulers.
Harry Winston set an important emerald in a ring which was originally 38.4 carats
This exceptional Colombian Emerald originally 38.10ct belonging to the Maharani but was recut by Harry Winston to a perfect luster and clarity.
Leibish recreated the abundance and beauty with its gemstone and diamond jewelry of the past century.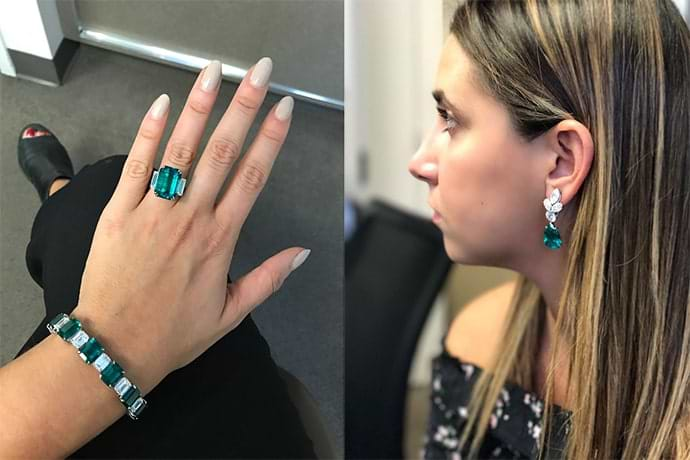 Leibish fine Emerald Jewelry Pieces
A Fancy Intense Purplish Pink emerald-cut diamond ring, mounted in 18K white gold. The ring is styled with scalloped halo, and round diamond accents along the shank.
Some jewelry has been considered as solid investments for generations. As our company is operated these days by the second generation, we take a long term view on values.
Warren Buffet, who I consider as one of the smartest investors of all time, holds stock of Coca Cola and Apple. However, he also owns one of the biggest jewelry stores in America - Borsheims.
As it says, generosity starts at home. Order yourself something pretty which will always provide a lasting beauty for you and for the next generation.
Extraordinary Halo and Multiple Band Fancy Intense Yellow Ring (5.80Ct TW)