At Leibish, we have close personal relationships with our clients. We care, we really do. We were thrilled when one of our collectors announced his engagement and saddened when things didn't work out. We are happy to get involved in our clients, anniversaries, engagements and other romantic and family events. We share their joy and excitement. We delight in the incredible feedback and wonderfully detailed stories we hear from our clients about the giving and receiving of our creations. Our clients want to share these moments with us.
For us the ultimate is when a client asks us to create an original piece of jewellery, which is often seen as a smart financial investment over the long term.
In particular, our in house designer Chavi Itzhakov's adrenalin starts pumping, her excitement rising at the prospect.

One client approached us to create a pendant comprising four vivid color diamonds, blue and green, with a vivid orange at its centre. The end result was a truly original and beautiful pendant unlike anything seen before.
The same client commissioned several pieces, but I want to tell you about one in particular. He expressed an interest in Argyle diamonds which we recommended as a safe and attractive investment. In fact Argyle diamonds see an annual appreciation of around 35%, an attractive investment indeed.

Anyway, our client purchased several colored stones and we then presented him with a number of red stones, the rarest of the pink stones, to choose from.
He selected a 0.52 carat red diamond, which we had purchased at the Argyle tender.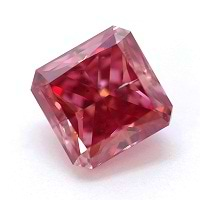 The chosen stone: 0.52ct Fancy Purplish Red
It is one of the finest examples of these rare Australian pink diamonds, a Fancy Purplish Red diamond. This was the moment where a financial investment morphed into an emotional and passionate journey, as our client discovered the romance and wonder inherent in these exquisite diamonds. He worked tirelessly with our designer Chavi to come up with the perfect ring with which to surprise his beloved wife. Chavi offered him a variety of designs which he liked and he decided to combine the best elements to create the perfect ring, which he saw as closely reflecting his wife's personality and taste, a unique design paying attention to the smallest detail. Thus a love triangle was created involving him the jewellery and his wife.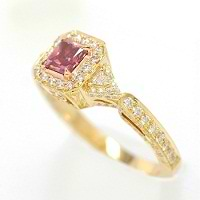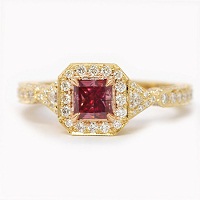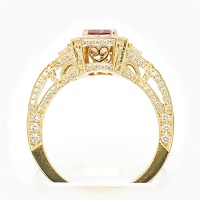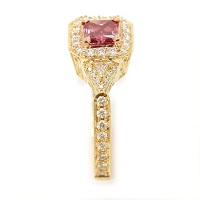 The 0.52ct Fancy Purplish RED Ring
He related the circumstances under which he presented the ring to his dear wife. The couple had gone to visit the site of their new home which was under construction. It was a beautiful morning on a crisp, clear, sunny winter's day. The house was coming together nicely. All was right with the world, when he surprised his wife with the ring. He went on to say, "The ring you made for us was absolutely perfect. We both sat and looked at it for many minutes admiring the exquisite detail that you did on the ring. Again thanks for taking so much time on design. It came out absolutely stunning."

And so together, we were able to help our client surpass his goal with an outstanding investment in exceptional color diamonds providing the romance, wonder and sheer thrill involved in an exquisite piece of jewellery which will provide untold pleasure to his beloved every single day.