The Gruosi Diamond is considered the fifth largest black faceted diamond on the planet. This remarkable heart-shaped, natural fancy black diamond is 115.34-carats. Fawaz Gruosi, after whom this gem was named, is responsible for reintroducing black diamonds to the general public.
After creating an especially attractive black diamond jewelry and watch collection back in 1996, Gruosi managed to start a black diamond trend, which still exists today. The Gruosi Diamond is the largest heart shaped black diamond on the planet and is part of a white gold necklace that also displays 378 colorless diamonds, 58.77 carats worth of small black diamonds, as well as 14.10 carats of tsavorite garnets.
The History
After three years of being cut, the extraordinary large rough black diamond weighing in at 300.12 carats was cut down to 115.34 carats. The stone originates from India and was supposed to be cut into an oval shape. However, because of the stone's fragility, the cutter was forced to go with a different shape. Very often gem quality black diamonds are difficult to work with and do not result in the originally desired stone. Nevertheless, despite the significant amount of carat weight lost to cutting the diamond into a heart shaped stone, the 300.12-carat diamond became a 115.34-carat heart shaped diamond, losing a total of 184.78 carats. In the end, it's all about the quality and not the quantity.
About Black Diamonds
Black Diamonds, unlike most other color diamonds, are only found in one color intensity: fancy black. On one hand this limits those looking for the best of the best in terms of color intensity, but on the other, offers the same color level to everyone looking to buy a black diamond. Of course there are other factors that sets one black diamond apart from another. Size is clearly a significant marker as is the clarity and cut of the diamond. Black diamonds are found in a greater abundance compared to other color diamonds such as pink, green, and purple diamonds. However, the price of each stone depends on the diamond's individual specifications. Another way in which black diamonds are different from many other color diamonds is its color source. Some color diamonds such as yellow and blue diamonds owe their colors to elements present in the stones such as nitrogen and boron respectively. Black diamonds do not contain an element that causes a black coloring, but rather, it is the graphite inclusion and random clustering throughout the stone that gives black diamonds their dark hue. Only found in several locations throughout the world, black diamonds are mainly mined in Central Africa and Brazil.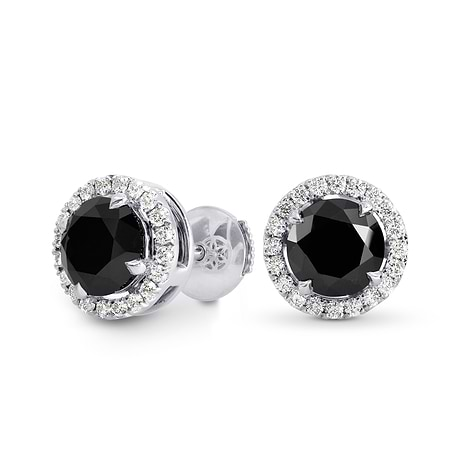 A beautiful example of 3.86 carat, fancy black diamond halo earrings
Other Famous Black Diamonds
Given the fact that black diamonds are more plentiful than other color diamonds, there are quite a few famous black diamonds. Some mention-worthy black diamonds include The Black Orlov, The Spirit of de Grisogono, the Black Star of Africa, and the Raven Diamond. The first famous black diamond mentioned here, The Black Orlov, is a 67.50-carat cushion cut diamond with an interesting legend behind it. The next diamond, The Spirit of de Grisogono, is a 312.24-carat mogul cut diamond, which was originally cut from a 587-carat rough stone. Finally, we have the Black Star and Raven Diamond, which are 202-carat and 12.78-carat stones respectively.
Browse through our wide selection of Natural Fancy Black Diamonds or alternatively, learn more all about Fancy Black Diamonds.
See here for more information about other Famous Black Diamonds.