There was a deep anxiety in the air that soared through the El Al business lounge. Everyone knew to where they were headed, but exactly what to expect remained unknown. A long journey lay before us to a culture so different from what we were all used to. We were off to a scary place where lions and tigers roam about and mystic legends were formed.

I tried to keep calm and controlled and continued to sip on my ice cold Gin & Tonic. I had the responsibility of keeping my team at ease. I assured them that everything will be all right. "Whatever will be, will be," but as the great Maimonides said 800 years ago "The world will continue on its own path."

Upon finishing my drink, I made a statement on the record. "The Hong Kong fair will be an interesting show, where we will see venders settle on differences in prices. There will be many that need the money and will be willing to sell very cheap in order to make their sales. There are also others that will do whatever it takes in order to get their hands on certain items. They will obviously have to pay full price."

There is an old Hungarian proverb that states "Drunks and children always tell the truth."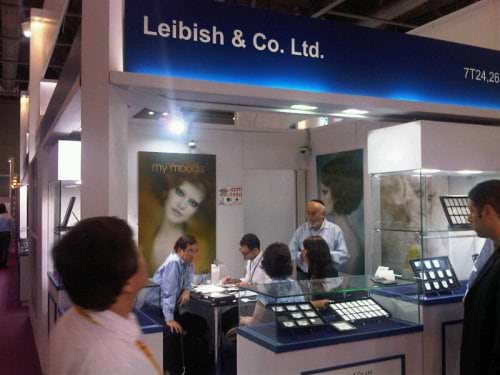 LEIBISH Working the Hong Kong Fair

With regards to Fancy Colored Diamonds sales, the show went exactly as I predicted, better than most had assumed it would be. After the third day of the fair, the anxiety of what to expect wore off. People were getting quite comfortable in their groove and had gone through their sales pitch a numerous amount of times per hour. However, just as soon as the calm began to settle, a new concern emerged from within. What was Martin Rapaport going to do on Friday? What was he going to say and what kind of impression was he going to make on the market? The question that remained on everyone's mind was he going to lower the list or not?
Matrin Rapaport is a very smart man who really seems to have a firm grasp on the overall financial market and its indirect affect on the diamond industry. Also, his son Mordy is great. Talk about a guy full of character and charisma. Even though their list doesn't actually affect my niche of Fancy Colored Diamonds, I am still quite interested in what they have to say and to see what kind of weight their comments will have.


Martin Rapaport is a magnificent hypnotist, as he knows so well how to keep the whole industry in a trance. He really is a smart cookie, and a great entertainer. Some people really dislike him because of the list and the impact it has, but not me. He has his own style of how he attempts to predict what is going to happen in the diamond industry. It's a 50-50 chance and can be a hit or miss but in a big way. However, all in all, I respect Rapaport. He is a great player.
Thursday afternoon, Martin and Mordy descended to the trading floor. Dressed-up for the show, Mordy was sporting a fine striped tie and Martin was wearing one of his optimistic bowties. I looked at them both and I knew from their calm attitudes that they were not planning to touch the list. I overheard Martin was saying in his speech that he considers himself a lot like a banker. If the business is working and there is no need to make a change, he doesn't see any reason to create chaos.

That same morning, the world stock took a major hit. There was a pretty steep 5% dive, but still the value of diamonds continued to rise.

Upon seeing for myself the firm sales at the show, I realized the world economy and the diamond industry are heading for a messy divorce. Countries may go broke, but many citizens still remain wealthy. For a long time the financial market had a powerful effect on the diamond trade prices. If the financial market took a hit, the diamond trade would fall as well. However, people are slowly beginning to realize that one does not necessarily have to be connected to the other. Regardless of the overall financial markets twists and turns, the diamond industry is continuing in a positive direction and at a phenomenal pace.

Diamonds, and especially Fancy Colored Diamonds, will always continue to shine.
---