Color in high fashion and in fancy color diamonds do not always go hand in hand. A fancy color diamond can cost more money than a whole store filled with designer garments. Yet I always dreamed that color diamond jewelry would be sold together with high fashion items as part of a complete outfit.
This year, Pantone Color Institute selected Radiant Purple as the color of the year. Pure purple diamonds have an aristocratic, cool, and subtle air to them. However, when they are mixed with pink as a modifier, the stone becomes filled with sensual warmth that radiates a crispy ambiance.
The purple acts like an exclusive oriental spice - you only need to add a touch of purple to a red or pink diamond and it makes the color "take off" like a rocket.
There are only a few stones above 3 carats with purple as a main color.
We polished many purplish reds, mostly mined in Australia. This 0.52 carat Fancy Purplish Red is one of the finest examples of the enriching effect of the purple color.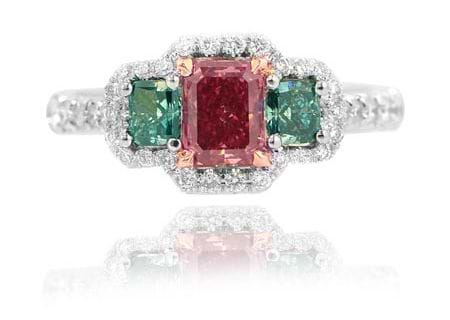 Three stone Red and Green Diamond Ring
The purplish modifier is the most common color mix in the Argyle palette. But I have not yet seen an Australian intense pinkish purple. Argyle stones of this color don't exist, and the chances of happening upon a diamond like this elsewhere is incredibly scarce.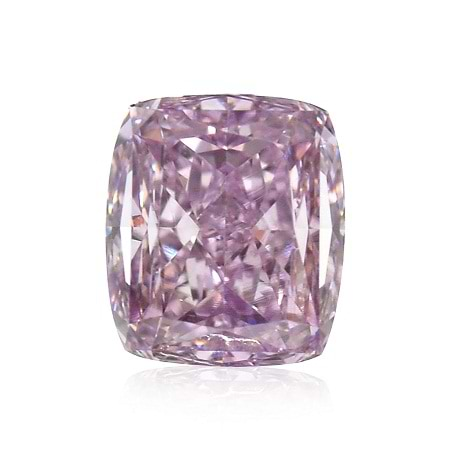 Our 0.51 carat Fancy Intense Pink Purple was mined in South Africa
Over the past 15 years, we haven't seen many polished pink diamonds above 3 carats released from Argyle. In fact, there are only three that come to mind. In 2001 there was a 4.15ct Fancy Intense Purplish Pink, in 2013 there was a 3.02ct Fancy Intense Orangy Pink and who can forget about the magnificent 12.76 carat light pink rough diamond - the Pink Jubilee in 2012. Unfortunately, during the polishing process, the diamond exploded as a result of one major internal fault line that could not be overcome, and its magnificence was destroyed. The polishing process was ceased and the remaining 8.01 carat stone was then donated to the Melbourne Museum.
There are 3 major areas where purple diamonds are found – Russia, Brazil, and South Africa. In Russia, the stones have a touch of blue; the stones are cold and distant. In Brazil, the purples radiate a deep orange pink color with a darkish palette of base color. In South Africa, the purple and intense pinkish purple stones have the best of brilliance and purple sparkle. The pinkish purple color from Kimberly, South Africa is the most appealing purple, with a face up appearance that is seductive and sexy.
The Royal Purple Heart Diamond was cut by and is a joint venture with the Julius Klein Diamond Corporation. The gem has a clarity of I-1. It is not as blue as in shown in the photo above, rather it's more purple than lilac. The girdle is very thick in parts; they were obviously trying to retain weight during the cutting and polishing processes. It was mined in Siberia.
Leatrice Eiseman, executive director of the Pantone Color Institute®, said "The Radiant Orchid reaches across the color wheel to intrigue the eye and spark the imagination." He continued to say "An invitation to innovation, Radiant Orchid encourages expanded creativity and originality, which is increasingly valued in today's society."
Our 3.37 carat fancy intense Purple Orchid diamond inspires confidence and emanates great joy, love and health. It is captivating and fills your heart with joy. We seldom succeed in polishing a diamond which reflects the mood and spirit of the time so genuinely as with this stone.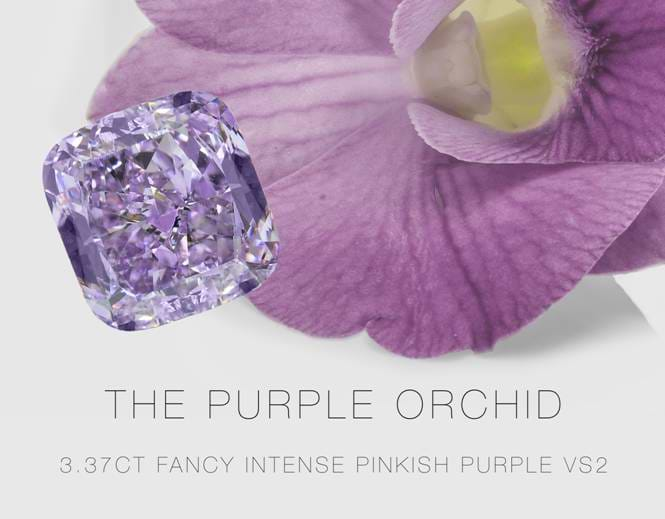 The Purple Orchid - a 3.37 carat Fancy Intense Pinkish Purple Diamond of VS2 Clarity
Presenting such a fine purple color, a true one-of-a-kind diamond, which perfectly matches with Pantones color of the year, might be my dream of fashion and diamonds finally coming together.
I was always a great fan of pinks and purplish pinks, but my first real encounter with a dominant purple happened during my first year in the business. It was a 1.20 carat fancy deep pink purple round diamond. It had a very deep purple color, radiating the dark, moist orange color base of the Amazon. The first stone we polished was from a Brazilian rough with a deep brownish sub-tone.
Purple is the color of royalty, of courage and honor. For years, it was considered the color of kings, as only royalty could afford the cost of purple cloth for their clothing. "Purple Heart medals are given to soldiers killed or wounded in action, as recognition of bravery", wrote William Goldberg.
Exceptional pink and purple diamonds can create real excitement by men and women alike. A dear friend from Geneva, a well-respected jeweler well past 70 years of age (I am 65 this week), recently said to me "Leibish, I buy a stone only if it turns me on. I have to be moved by the diamond, and then I can already picture its setting in my head." I answered "Marco, I don't usually have the stones you're looking for in stock," but then I pulled out the 3.37ct Orchid Purple. He picked up the stone, got up from table looking not taking his eyes of the diamond and said smiling, "we are back in business - how much do you want?"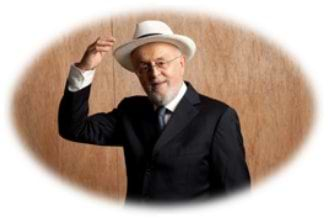 Best regards,
Leibish Polnauer, President and Founder of LEIBISH Fancy Color Diamonds