Recently, ALTR exhibited a 3.99 carat lab-grown pink diamond at Borsheim's and dubbed it, "The Pink Rose," which according to their claim, retails for about $110,000 USD.
The company's mission statement is that they "employ proprietary technology to replicate the conditions whereby diamonds form in nature. ALTR creates certified Type IIA, lab-grown diamonds that are identical to the chemical, optical and physical compositions of the world's finest mined diamonds."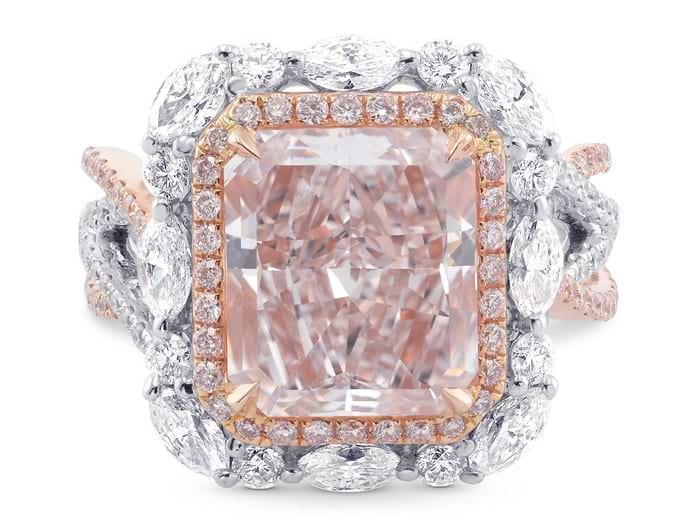 4.04ct Fancy Pink Center Stone offered by LEIBISH
On the flip side, a 4.04 carat, Natural Fancy Pink diamond from Leibish.com retails at $1.7 Million USD. A stone which was created by Mother Nature herself, and mined by man in South Africa.
If both stones are same, why is there such huge difference in price? Maybe I am missing something here...
A number of years back, I bought a fake Rolex on the streets of Hong Kong. This beautiful watch looked identical to the real one, and for $35 it looks like a $15,000 item.
I was very proud of myself at the time, but as soon as I returned home the watch stopped. I took it to my local watchmaker for repair. He took one look at it from across the counter and stated that there was no point to fix it. He asked me, "why do you get taken in by such gimmicks?"
So, I wonder: Are lab-grown diamonds a gimmick, as well? Will they eat up the market share of real, natural, mined stones?
One day, I was sitting in my office happily enjoying the day and going about my business, when an unexpected guest arrived. This man is a builder who has done extensive work for us in the past. He pulled a ring out of a fancy jewelry box which contained a 5 carat diamond. It looked quite pretty, but I smelled a rat.
"I want to sell this ring," he said quietly.
"I am sorry, but the ring is not for us," I replied.
He wouldn't take no for an answer and pushed me to at least look at his ring and give him an evaluation.
"Sorry. my friend. We can't provide evaluations on stones not purchased from Leibish."
"But you are my friend for more than 20 years," he pleaded. "please take a closer look."
We removed the stone from the setting and gave it an in-depth examination. Quickly it became clear that this was not a real diamond.
"How much did you pay?" I asked him.
He started to talk around the question and finally spit it out. "Someone owed me $20,000 dollars for construction work. And when he couldn't pay up, and after pushing him, he gave me this ring and assured me that it is worth $30,000."
I handed him the ring, quietly hoping that he will go away without needing to hear the bitter news that his ring actually worthless.
Once the genie is released from the bottle- we can not put him back again.
I had not choice but to tell him that his ring was worthless and that he was scammed.
He nearly fainted.
The biggest problem with lab-grown diamonds is that they don't have any retail value. Once you purchase the stone, you are done.
Prices of Natural Argyle diamonds have skyrocketed, while prices of lab-grown diamonds are sinking. With De Beers now in the game, offering their Lightbox brand of lab-grown diamonds brand at a fraction of the current synthetic diamond price, it's only a matter of time before all synthetic goods become worthless.
So what is the point in fooling people?
If everyone says that natural, mined diamonds have the same chemical composition as lab grown stones, then why is there such a large price gap between lab-grown and natural stones?
Today you can find real, natural Bulgarian rose oil on Amazon in a 2.3 ml bottle for $55, which makes the cost of 1000 ml roughly $2400.
You can also buy synthetic rose oil which is created with the identical chemical composition for $65 per 1000 ml.

How is there such a huge difference? You see how I am getting confused?
If it is the "same", then why is the the natural oil worth 35x times more? Well because, it is nearly the same...
Perhaps a laymen can not smell or identify the difference between the natural Bulgarian Rose oil and the synthetic one, but do not be fooled. There is over $2,000 in differences.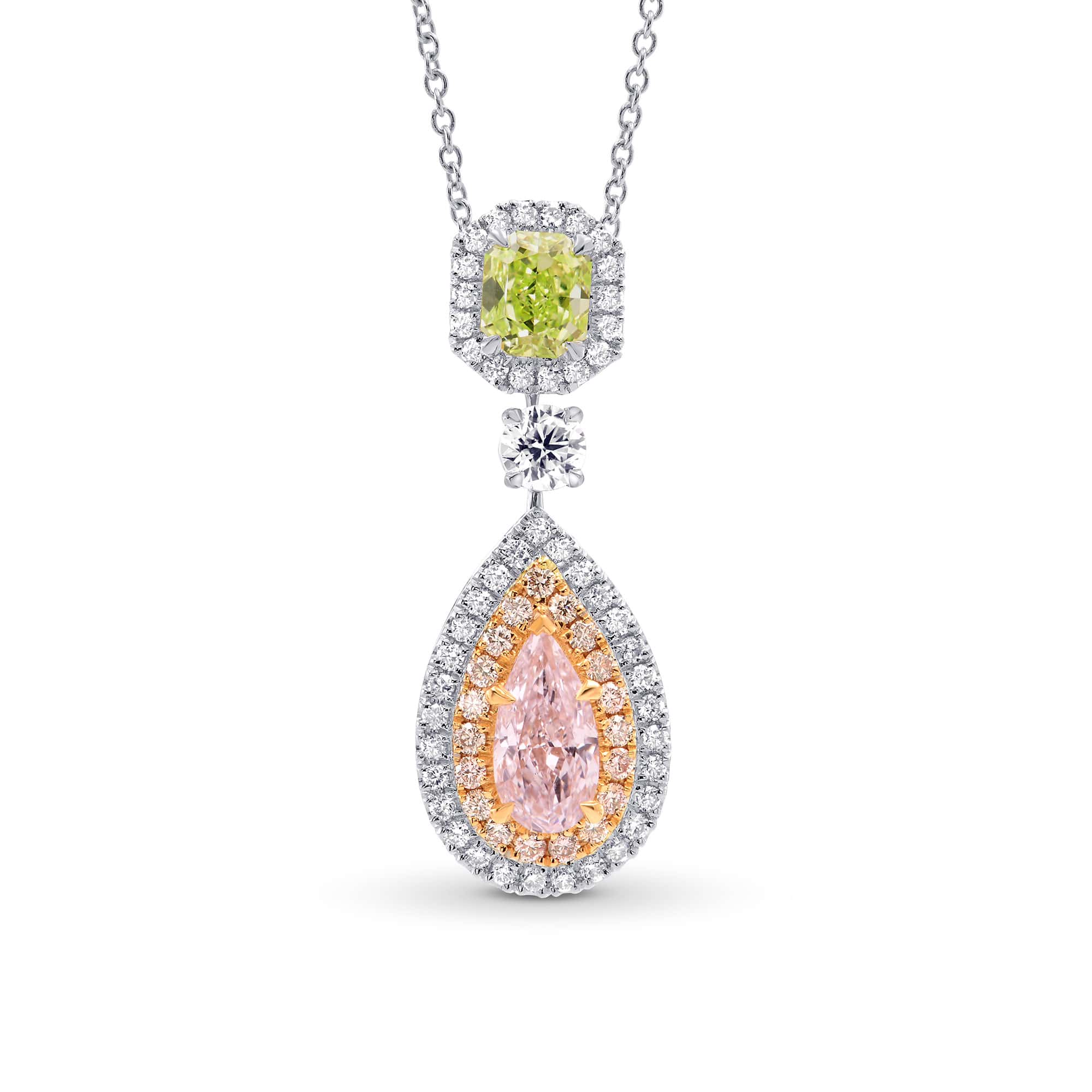 Pink and Green Diamond Pendant
Just last week at the annual Argyle Tender, a 0.67 carat Natural Fancy Red diamond sold for approximately $1 million. A real diamond. Not man-made. A small stone below a carat for one million dollars.
DeBeers has now introduced their own brand of lab-grown diamonds into the market based on the assumption that it will reduce the price of lab grown diamonds - and therefore, will make them the leading authority in the field.
This reminds me of th Hunt brothers when they tried to corner the silver market and control the price of the silver - But the other way around.
Nelson Bunker Hunt and William Herbert Hunt, the sons of Texas oil billionaire Haroldson Lafayette Hunt, Jr., had for some time been attempting to corner the market in silver. In 1979, the price for silver (based on the London Fix) jumped from $6.08 per troy ounce ($0.195/g) on January 1, 1979 to a record high of $49.45 per troy ounce ($1.590/g) on January 18, 1980, which represents an increase of 713% (Excerpt from: https://en.wikipedia.org/wiki/Silver)
DeBeers' marketing move was not well received in the industry either.

De Beers is trying to lower the prices of lab grown stones, and it looks like a smart move - But first kill the competition.
However, in reality no one can control the diamond market. First they shot themselves in the foot by driving the prices of low grade real diamonds down. This will also reduce the sale of lower quality roughs from De Beers own mines.
Our Brand Manager even called me a snob, that I disrespect DeBeers. Ok I am a snob, but I have been a snob for 40 years and I am not worried about that.
So should we be worried that they will hurt natural pink diamond sales? Not at all.
I see this story from an entirely different angle –
A brand is like a steaming pot of hot meat soup, (I am from a little village in Hungary- so I use simple metaphors).
When you add meat and potatoes the soup gets thicker and stronger, but when you add water it just gets watered down. Or as I say, diluted.
So producing and selling their own De Beers Lab grown diamonds- De Beers will hurt its own rough sales and interrupt the sale of real diamonds in the market.
Ultimately, no one can really dilute the natural diamond brand, as De Beers marketed it so smartly once upon a time "diamonds are forever."
Shop our extensive collection of Natural Fancy Color Diamonds and Gemstones today!