There's nothing like receiving a gift, regardless of whether it is expected or not, large or small, or needed or not. A beautifully wrapped item is always so exciting to receive. In fact, perhaps what gets people so excited is the mystery of what's inside. The idea of being thought of and remembered, or the fact that you are about to get something that could potentially make you very happy.
Leibish gifting a yellow diamond ring
Jewelry is one of the most common forms of gifts since the beginning of time. Women (and men) have always enjoyed adorning themselves with stunning jewels, and since these precious items can cost quite the pretty penny, they have become a way of expressing how important someone is to you. Putting that reason aside though, why else does jewelry make such a great gift? What is it about these embellishments that make them worth giving, time and time again? Let us explore the various types of jewelry pieces and the top 10 reasons for gifting them.
1. Jewelry is something one does not generally buy for one's self.
Most people make a habit of treating themselves once in a while to something special or at the very least make sure that they renew the basics such as shoes, clothing, bags, and coats every now and then. However, there are some things that are just not on most people's radar, mostly because it is extra, considered a luxury, and come at a significant cost. Jewelry is one of these items. Unless you are very well off, have an obsession with jewels, or are just not careful with your money, jewelry is not something you spend for on a regular basis. Therefore it is up to others to gift you with this very special item from time to time. Just the fact that this is not an every day kind of gift makes it exciting and unique.
2. Jewelry is a wearable item/gift that is also sentimental.
Practically anything can be given as a gift. If it is needed, wanted, or will make someone happy, it is a great gift, whatever it may be. Nevertheless, there is no denying the fact that some gifts are more sentimental than others. Wearable items such as clothing, shoes, hats, and coats may make great gifts but they are not very meaningful. Sure, you can include embroidery with his or her initials or something similar but it does not compare to jewelry. There is simply something about jewelry that makes it sentimental. Perhaps it is because some jewelry pieces represent very monumental periods in people's lives such as engagements, weddings, births, and graduations. It could also be that due to their higher prices, jewelry takes a great deal of time and effort to buy in order to ensure that the recipient is indeed happy with this important purchase. Regardless, one thing is for certain: jewelry is a wearable item that is not just useful and pretty, but sentimental as well.
3. Jewelry can be timeless.
If you think about gifts you have received over the years, try to think about which gifts are still in use. Even those that are still being used are either fairly new or on their last leg. Clothing fades, rips, gets stained, and goes out of style. Electronics gets replaced by something newer and better before you even fully got to enjoy it. Even cars are on a timer from the day they are bought till the day they start showing signs of growing old. Only jewelry can be cared for and enjoyed for generations. There are endless classic jewelry styles that ensure your piece will never become irrelevant, and even in case it does, settings can always be changed and upgraded.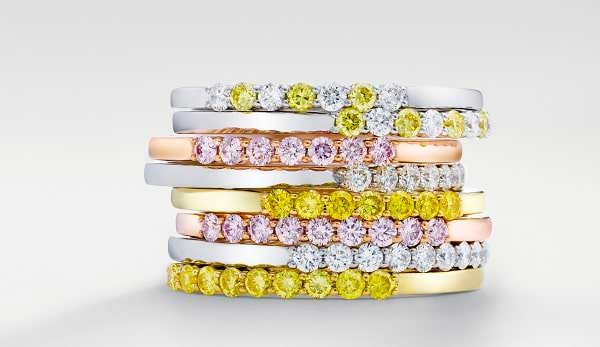 Stackable diamond bands
4. Jewelry is a gift now, and an heirloom later.
There's nothing better than knowing that a gift is yours and all yours when you first receive it. But after you have tired of it or it has served its purpose, it is truly sad to simply discard it or find it a better home. Jewelry, as we already mentioned, can be worn for decades, but even when not in use can be easily stored due to its small size and passed down to the next generation as a useful and meaningful heirloom. Not to mention, depending on the piece it can retain or even increase in value.
5. Jewelry can appreciate over time and thus double as an investment.
Most gifts are not bought with the thought that it will appreciate over time. Gifts are generally about the "now," and that's perfectly all right. However, there is most certainly an advantage if a gift can be used an enjoyed now and in the future, and also have the added bonus of being worth more the longer you hold on to it. Now, not every piece of jewelry you purchase will increase in value. If you were told that, it simply isn't true. However, there are some diamonds, depending on the color, whose value will actually appreciate over time. It isn't easy as 1, 2, 3 to sell later on, but if that decision is made, there is potential to actually make money on the investment in the future.
6. Jewelry can be given to people of all ages.
One of the hardest things about gift shopping is finding something suitable for each age group, and then running from one store to the next. With jewelry, all ages are relevant. From a wee newborn to a senior, jewelry appeals to every generation. Think adorable studs or bracelets for the little ones, a pendant necklace for the teenagers, an assortment of options for young and middle-aged adults, and large statement rings for the golden years. When you gift jewelry, you take care of all ages with one gift idea, and possibly just one store.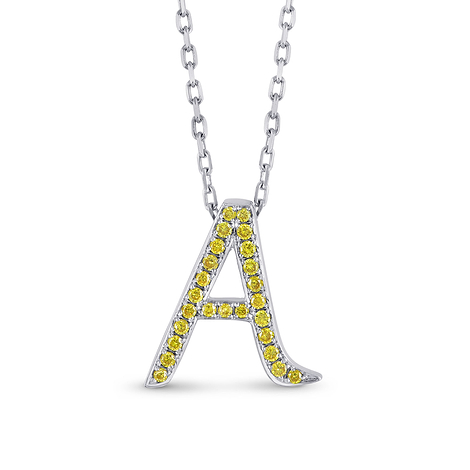 Sample of Pave set diamond jewelry that is great for all ages...
7. Jewelry can be gifted on any occasion.
Anything can be given as a gift for just about every occasion, but some items are more suitable for certain occasions. While perfume may make a nice birthday gift, or event anniversary present, it is less suitable as a gift for a graduation. Jewelry on the other hand can be given in honor of any one of these occasions, and then some. Birthdays, anniversaries, weddings, engagements, births, Christmas gifts, Bar Mitzvahs, Bat Mitzvahs, Sweet Sixteen parties, celebrating a job, promotion, or move, or a thank you gift; all these are the perfect opportunities to give the gift of jewelry. Necklaces, earrings, rings, bracelets, and even cufflinks and watches, are all viable options that will most likely satisfy the recipients.
8. Jewelry can be personalized.
Though most jewelry gifts already have a certain amount of sentiment automatically embedded in them, jewelry pieces can also have the option to personalize them. From inscribed names and messages to pieces boasting one's name, initials, or first letters, personalized jewelry is always a huge hit.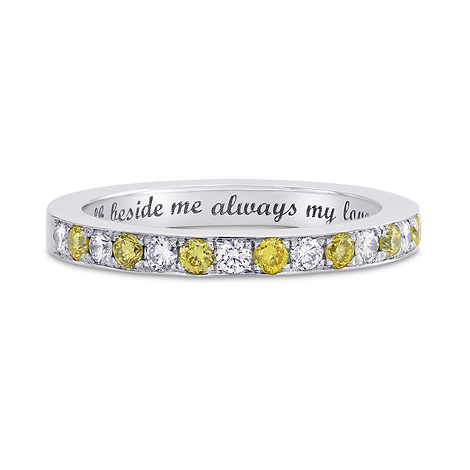 A beautifully personalized fancy intense yellow & white diamond wedding band
9. Jewelry can suit any personality.
When searching for certain items for someone, it can be difficult to determine whether or not it would suit his or her personality. Some gifts are right for some personalities, and are wrong for others. Jewelry can truly suit any personality, from a quiet and withdrawn type to an out-there, bubbly sort. Especially when it comes to colored diamonds, one could select a color that the receiver would truly identify with.
10. Jewelry is appropriate for all body types and skin tones.
Another reason why jewelry makes such a terrific gift is that it doesn't discriminate. One cannot deny the fact that some items have certain body types or skin tones in mind, and are just wrong for anyone who doesn't fit into the box. Jewelry is not like that. Jewels are suitable for and look good on all body types and skin tones, from the skinniest to the largest and from the lightest to the darkest. It's all a matter of finding what looks best on you and what you are most comfortable wearing.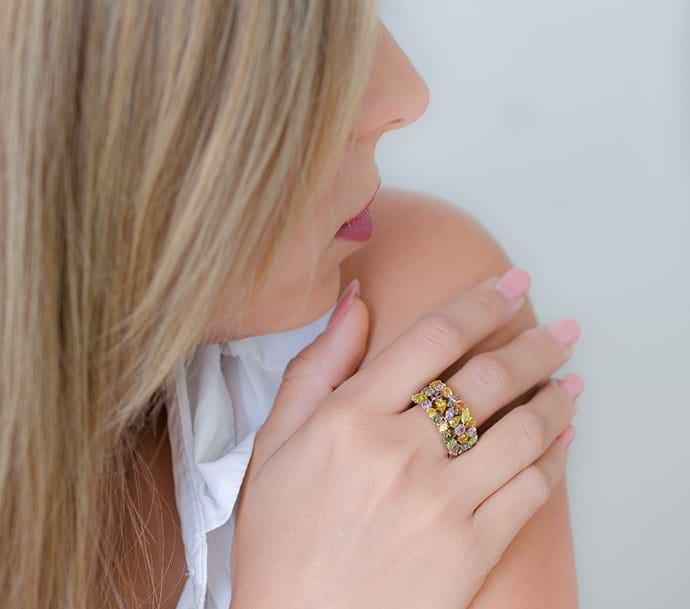 A beautiful multicolor diamond ring by Leibish
It really should be a no-brainer that jewelry is one of the most successful gift ideas of all times, but for those still deliberating, never forget that the options are endless. Never suffice with the thought that your intended recipient already "has" jewelry and get some inspiration to some of the trending jewelry fashion pieces. One can really never have enough and almost no one lives long enough to own the many different desirable looks that are out there. Diamond jewelry, sapphire jewelry, rubies, emeralds, pearls, gold, platinum, and silver galore; the sky is the limit! And trust me on this; you will be shocked to see what a pleased response you'll get when a beautiful piece of jewelry is gifted.