Diamond lovers crave naturally colored diamonds. And as more red-carpet walkers strut their stuff with sensationally hued diamonds, the appetite grows for pinks, blues, and even champagne sparklers. But one dazzling diamond color in particular is turning heads lately and it's for some very good reasons.
Glamorous Yellow
Yellow diamonds, some say, are making a comeback. But did they ever disappear from pride-of-place with true collectors? Recently, at the 91st Academy Awards ceremony in Hollywood, the ever-astounding Lady Gaga stunned fans with her tribute to Old Hollywood glamour. No one could top her selection of jewelry that night. She showed what real star power looks like wearing a jaw dropping 128.5-ct. yellow diamond necklace. The mammoth golden diamond was Tiffany & Co.'s own legendary 141-year-old yellow diamond reportedly valued at $30M.
And while it was the first time the fabled stone ever graced the red carpet, it enjoyed celebrity status in the mid-20th century with another beauty of the day. In 1961, the famous diamond was worn by actress, Audrey Hepburn for publicity shots for the film Breakfast at Tiffany's.
Natural Mood Elevator
So, while yellow diamonds are back in the spotlight after this famous recent outing, they have always had loyal devotees all this time. Fancy colored yellow diamonds brighten up any wardrobe and create a lively focal point for any woman fortunate enough to own one. The sunny vibes that yellow diamonds give off enhance a woman's natural beauty and are a brilliant way to express her personality.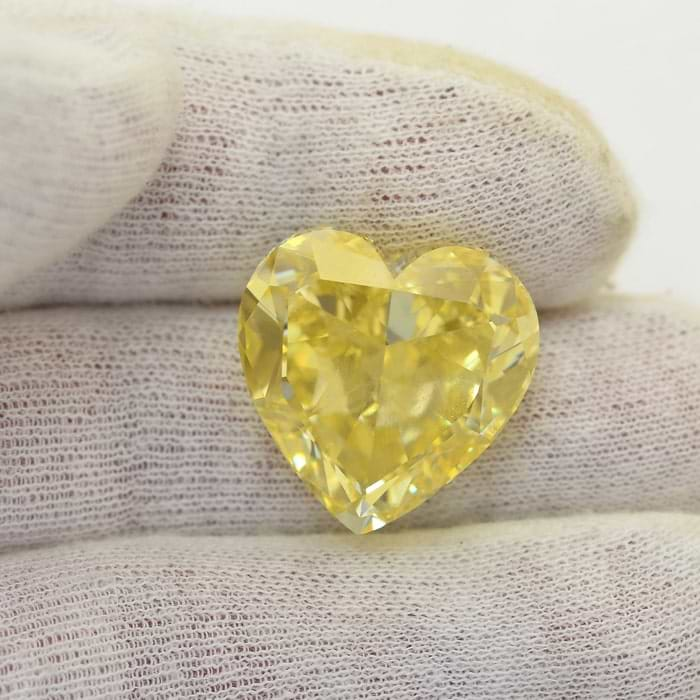 52 carat Fancy Intense Yellow Heart Shape
Call them Canaries or Call them Yellow
There's so much to learn about fancy yellow diamonds. Some of the most vivid stones are popularly called canary diamonds — and do they sing! The intense pure spectral hue of canary diamonds is officially described by GIA (Gemological Institute of America) as fancy yellow — but the canary term is both fun and image-creating.
Fancy Yellow Radiant Diamond Side Stones Ring (5.32Ct TW) SKU: 344575
In reality, fancy yellow diamonds are produced in countless shades of yellow — from the most delicate tints to bold tones, sometimes with other color modifiers. So, every fancy yellow diamond coming from the earth is as actually as unique as the woman owning it. The subtle yellows are enticing with their feminine delicacy. The bolder tones may even exhibit slight secondary hues of brown, orange, even green. Each has its distinct charisma that mesmerizes the sophisticated collector.
How They Get Their Color
Like every fancy color diamond, there is a fascinating story behind the stone itself. All diamonds are made from a single chemical element—and that is carbon. Did you know that diamonds are the only mineral on earth created of just one single element? That's true. But here's where another miracle takes place. When diamonds are being formed in the depths of the earth, around 125 miles below the surface, sometimes an amazing event occurs. A diamond may come in contact with other chemical elements during its formative stage—and that interaction can create color in the stone. In the case of yellow diamonds, the crystal came in contact with nitrogen during its formation, which resulted in the stone taking on a yellow tint.
20.16 carat, Fancy Yellow Diamond, Cushion Shape, VS1 Clarity, GIA SKU: 360912

It's Your Turn to Wear Yellow
Now that you know more about these radiant sparklers, isn't it time for you to explore these exceptional diamonds for yourself? Fancy yellow diamonds with all their charm and endless color variations liven up every woman's spirit and accentuate her individuality.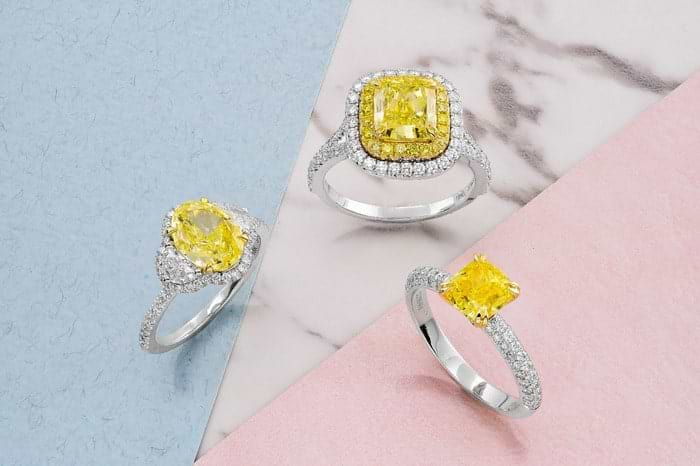 SHOP Yellow Diamond Jewelry now.