Browns and flowers are nice, but to be perfectly honest, they aren't going to flare up that spark she is hoping for. Whether or not you are a Valentine's Day "believer," this holiday is the perfect opportunity to embrace romance, rekindle your love, and enjoy some of the better things in life. Here are some of the best gift ideas for Valentine's Day 2015 that will be sure to downright impress the love of your life.
1. Pink Diamond Jewelry
No matter where you look, come February, everything is absolutely covered in hearts and the colors pink and red. Red diamonds do exist, although they are quite rare and very pricey. Pink diamonds are also very rare, and can be costly, however, they are far more accessible and can be found in certain shapes, sizes, and color combinations that make them fairly reasonable.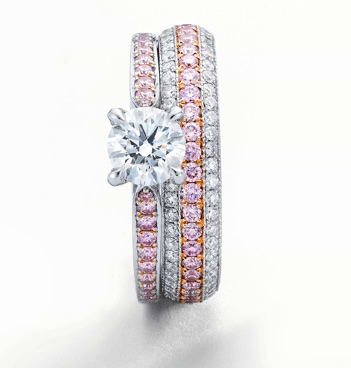 Pink diamond jewelry from the Touche de Couleur collection
Now is the time to invest in a piece of jewelry that incorporates this phenomenal jewel. It is an extraordinarily special color that has become significantly more popular in the last 10 years. Even if your lady is not a "girly girl" she will still be able to appreciate the beauty of a pink diamond, as they are absolutely magnificent. It can be a pair of stud earrings, a pink diamond ring, a pink diamond pendant, or a bracelet of pinks.
If pink diamonds are out of your budget, there are other beautiful pink gemstones that she may love, such as pink sapphires and tourmaline. A gorgeous red gemstone option could be a stunning ruby or spinel piece. No matter which stone you choose, the thought that you put into finding the perfect piece of jewelry for the occasion will make it a beautiful gift.
2. Heart-Themed Jewelry
Heart-shaped or themed jewelry has a very special place during Valentine's season. What's great about the heart shape idea is that it comes in so many variations that there really is something for everyone. Someone may love a necklace with a giant heart pendant, another may want a diamond that is heart shaped, and someone with an artistic flair might actually take to a necklace with a smaller, asymmetrical heart pendant. The heart is embraced because it is the universal symbol of love, and because it symbolizes literally giving your heart to someone else for protection.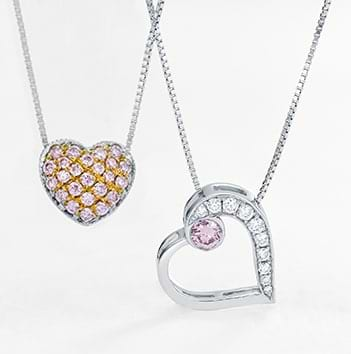 Heart-shaped pink diamond jewelry from the Leibish Amour collection
3. Jewelry With One's Initials
Jewelry is often considered the most thoughtful when it is personal and individual. If you add a detail like yours or her initials to a beautiful piece of jewelry it can be made all that more special, particularly during a romantic time such as Valentine's season. Choose from a pendant necklace showcasing the first letter of her initials, a pendant with initials engraved onto the back, or unique letter-shaped earrings.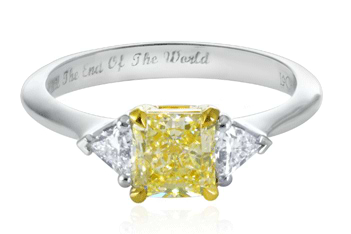 Yellow diamond ring set in 18k gold
4. Engagement Rings
It is no wonder that Valentine's Day is one of the most popular days of the year to get engaged. After all, when romance is in the air and the new year is full of promise, it may seem like an ideal time to propose to the one you love. If this the case for you, forget all the engagement ring myths, and consider a romantic proposal and whether you want to propose with the engagement ring or something to hold its place until you choose a ring together. If you choose to buy the ring, ask friends and family for advice about what she likes, and try to get a ring that she will love. No matter how you choose to propose, that special moment when you become engaged will be magical.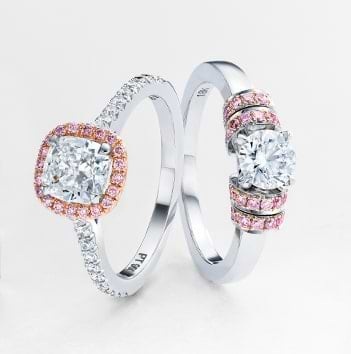 Diamond engagement rings with pink pave set diamonds
5. Love Letters
Similar to adding a meaningful inscription, personalizing the gift is always a direct link to both her head and her heart. Gifting her with a pendant including her own initials set with intense pink or vivid yellow diamonds is sure to get not only her attention, but that of all her friends as well.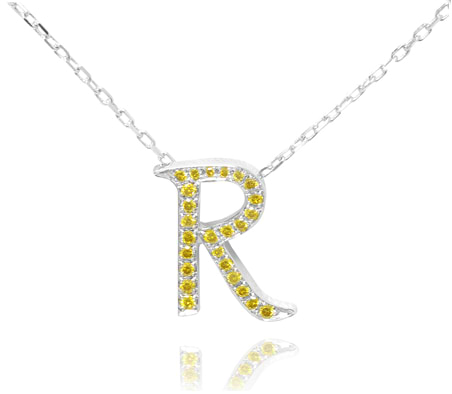 A Valentine's Day gift should involve much thought. Jewelry gifts leave plenty of room for thought and sentiment, and therefore make fabulous V-Day gifts. You must truly feel out your partner's taste and use that as your guide for finding the ultimate gift. In the end, you won't regret you did.