Some time ago, I was looking at the majestic garden of my late friend Roger Warren in Geneva and thinking about the exceptional fancy color jewelry that Roger created for Gianni Bvlgari. Mr Warren's living room overlooking the garden reminded me of a museum for impressionist art with pictures of Pissarro and Claude Monet hanging on the walls. I got to thinking of great creations.
To envision great creations, whether in art, architecture, or jewelry design, craftsmen must have a strong connection with their creation, a spirit that knows no boundaries and, well, unlimited financial resources. So, how can an internet brand, with no brick-and-mortar upscale shop in a luxurious location, create unique one-of-a-kind jewelry? How could they measure up to such historic greatness?
When Cartier made his legendary Tutti Frutti (or Fruit Salad) Bracelet in Paris in the late 1920's, he had no digital images he could transmit over the web to his client, Mr. Roy D. Chapin, so the buyer had to travel for 7 days by steamship over high seas to Paris, to see the bracelet in the Cartier atelier.
When LEIBISH designer, Chavi Itzhakov, envisions a new piece she emails the design to a prospective client and it takes no more than a few moments for it to travel over the web, sometimes half way across the world.
| | |
| --- | --- |
| | LEIBISH 54.84ct Tutti Frutti Bracelet Designed by Chavi Itzahkov , 2011 |

When we purchased the 0.79ct vivid orange diamond everyone in our office was electrified with excitement – what an unbelievable stone! So we wanted to create an event around the vivid orange; an exceptional design with a complete range of vivid color diamonds. First we had to add a vivid pink, than a vivid green. Each and every stone we considered was a gem in and of itself – and together they created the magnificent Four Seasons Pendant.
The Four Seasons Pendant by Chavi Itzhakov
for LEIBISH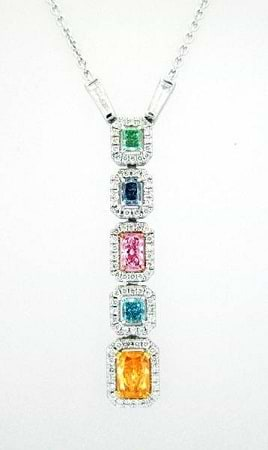 The Four Seasons Pendant
0.15ct Fancy Vivid Green
0.21ct Fancy Vivid Blue
0.22ct Fancy Vivid Purplish Pink
0.19ct Fancy Vivid Blue Green
0.79ct Fancy Vivid Orange
Now, all we needed was a collector with the love and capacity for superlatives in fancy color diamonds. We had one client in mind – one who has shown his love for superior jewelry and his capacity to commission the design of such a magnificent pendant, when he purchased a 5.01ct Fancy Vivid Yellow Emerald ring – a stunning one-of-a-kind Zimi Vivid Platinum ring.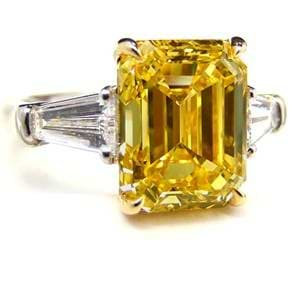 5.01ct Emerald cut Fancy Vivid Yellow with Taper side stones
The Mike & Lisa Four Season Collection
The Four Seasons Pendant was made for "The Mike and Lisa Four Season Color Diamond collection". To be honest, we know very little about Mike and Lisa, although they are frequently returning customers. It is hard to believe that we have never even met each other face to face. I am embarrassed to admit that until this very day, I never heard their voices since we never even had a phone conversation. But we have exchanged hundreds of email and instant messages, and developed a strong digital friendship.
The Four Seasons Vivid Color Diamond Pendant was created through this digital connection and today, it is one of the center pieces of the ever growing Mike and Lisa Color Diamond collection.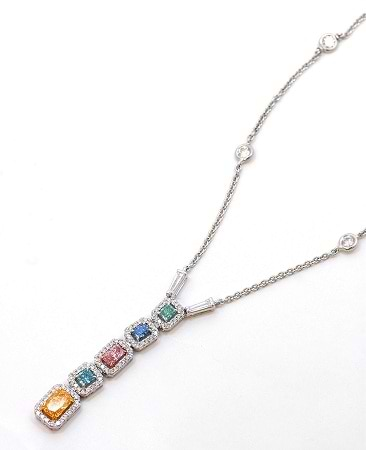 The Four Season Pendant by Chavi Itzhakov for LEIBISH
The Mike & Lisa Four Season Collection
These days, as we are preparing for the BaselWorld 2011 Watch and Jewelry Show on March 24-31 (we'll be showing in Hall 3.1 Booth E60) I'm reminded how, some 15 years back, I was dreaming of finding new ways to reach global markets and show goods in the far corners of the world – to make it easier for customers who wanted to independently buy a unique and special piece of jewelry.

Today I am finally convinced – no trade show can measure up to a digital presentation, which can be seen by thousands of clients simultaneously at a fraction of the cost of trade shows.
LEIBISH's clients are constantly entering our own virtual private trade show. They can view any product on display whenever they wish, anytime – day or night – uninterrupted by sales staff and in the privacy of their home.
Yours faithfully,
Leibish
for more info please conatct us at info@leibish.com
or by phone:
Toll Free: 1-855-LEIBISH (1-855-534-2474)
International: 972-3-6132122