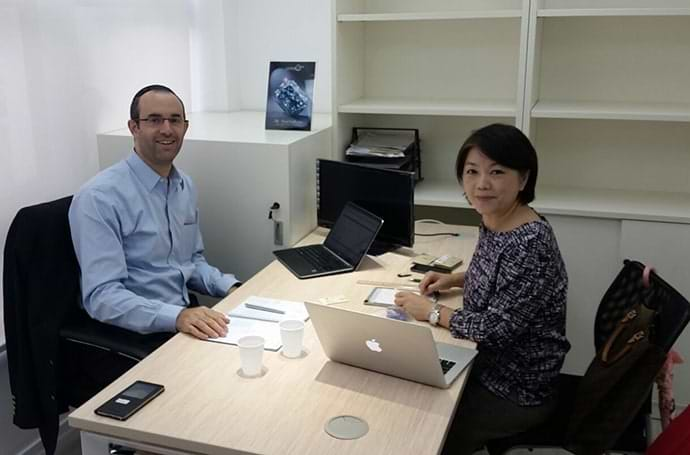 LEIBISH's CEO Yossi Polnauer in the New HK Office
On a recent trip to China, Yossi, our CEO, shared a picture with us. What made the image so exciting was that it was of the first client to visit our new Hong Kong office!
Room 2306-7, 23F,
No. 70 Crawford House Queen's Road
Central, Hong Kong
It was a young lady sitting opposite Yossi who I immediately recognized, as she had purchased her first fancy color layout from LEIBISH seven years ago. The office was almost empty. In fact, it actually isn't even completely finished yet. So how is it that Yossi was able to receive clients, and actually get some work done?
The customer was looking at the digital images on her laptop of the items she was interested in buying. Yossi has the backoffice of our website on his computer, and from there he can see the entire stock.
I noticed as well that not a single diamond was on the table.
I recall a sales trip to Hong Kong, roughly 30 years ago on the very same street. I was sitting together with Thomas Wong, the managing director of Chow Tai Fook. There were at least 20 diamond parcels sitting on the table in front of us, and we were negotiating for hours on deals over all the goods.
At the time, Chow Tai Fook didn't even have a single shop in China, and I was a young diamond dealer, fairly new to the diamond trade. Only, 30 years in China is like 100 years in Europe. Chow Tai Fook has today 2,055 shops and about 12% of the entire China jewelry market.
The size, magnitude, and strength of the Chinese market are unbelievable. Why is it that the Chinese locals love foreign products so much, when they manufacture fantastic items for so much less?
Let's look at Apple's China business that experienced such a strong increase in 4G subscribers of China Mobile and China Unicom in July. Also, UBS' Steve Milunovich released a Lab survey which showed 50 million or more iPhones being sold in the September quarter. Tim Cook said that he is extremely upbeat on China and Apple future sales in the Middle Kingdom. No one can ignore China and as a result all the high-tech executives are lining up to see Xi in Seattle.
Some of you might remember an old article I published back in November 2013, called The Terracotta Warriors. Back then, Xi was complaining about the lack of respect he received. Not to worry. There is no more complaining about the lack of respect by Western leaders, as today Xi is center stage.
No one is more keen to enter China than Marc Zuckerberg, who had dressed up for this Chinese Internet Industry Forum, wearing a red tie. But but it will take a lot more than a red China made silk tie to get Facebook in to China.
Internet brands like Facebook and Amazon, have great longings after China. Only, so far, most of the western Internet concepts haven't successfully entered the Chinese market in depth. Leibish has a Mandarin website, but I wouldn't call it a great success, so far.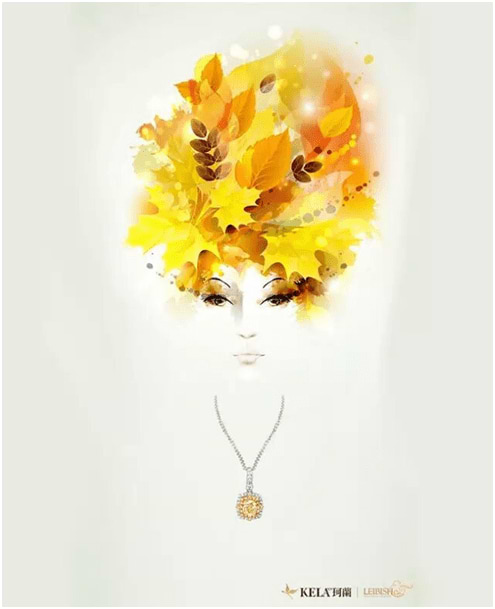 Leibish and Kela Autumn Promotion
We have a lot of Chinese customers, but we haven't yet conquered China.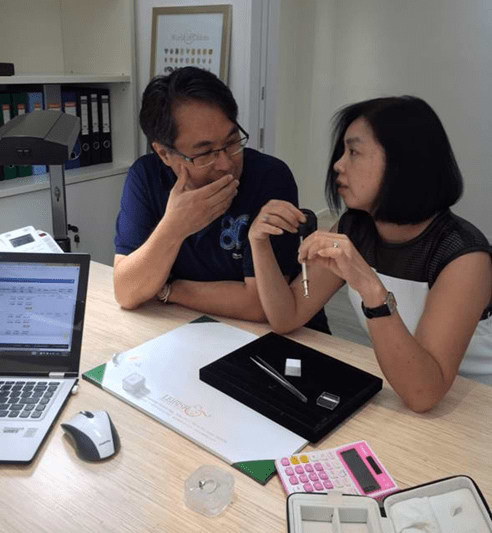 Clients in the LEIBISH Hong Kong office
Like I had said, we are not the only ones trying to find the right way in. Genghis Khan, Google and many other warriors tried before us.
Marc Zuckerberg and Genghis Kan had similar ambitions to conquer China. But It didn't work for either of them.
Internet censorship in Mainland China includes about 3000 sites and Facebook is one of them. Even if Marc Zuckerberg would be willing to wear a really nice tie every day of the week or dress up in Chinese military gear, it wouldn't change a thing.
Marc would love one billion new accounts in a single shot in China. But the Chinese are not interested in opening a political platform in the magnitude of the Facebook to everyone.
The Chinese couldn't care less if Marc was wearing a necktie or not. China currently has bigger issues to deal with than freedom of information or granting access of their citizens to Facebook.
The slowing economical growth, which is still around 7%, caused a bigger concern to the Chinese leadership and to western economists.
Rio Tinto projected strong and continuous economic growth for China a while back. They therefore invested billions of dollars in increasing the mining of iron ore. Just 2-3 years back it appeared to be a much better use of their capital, than investing the $2 billion to start underground mining in Western Australia for Argyle pink diamonds.
A good friend of mine, Julian Sinclair of Talisman Capital, warned me at the time that mining companies tend to forget about the cyclical nature of the iron ore.
China is the biggest consumer of iron ore. In fact, 2/3 of all the world production is used in China. That is the big boy's game, which is why it caused a gigantic miscalculation and over production since their market decrease.
Since then, the prices of Argyle pink diamonds sky rocketed, and iron ore is down to its lowest level in 6 years.
Commodity prices sunk to their lowest level since 1999. Iron ore prices collapsed this year as the biggest miners committed market vandalism.
After analyzing the fall of Iron Ore prices, I came to an interesting conclusion. The iron ore consumption is similar to diamonds. It won't increase in total sales with lower prices. The moment the demand is met, no further price reductions will help. The market is saturated and no sales are taking place.
Diamond production went up as well over the real demand, and it made the prices collapse. Luckily, the prices were not affected as bad as iron ore, but bad enough. Though, this isn't the case at all with Argyle pink diamonds, where the demand is much bigger than the supply.
The deadline to submit the bids on the Argyle tender is approaching quickly. I am looking forward to later this month to see how pink diamonds will beat Iron ore.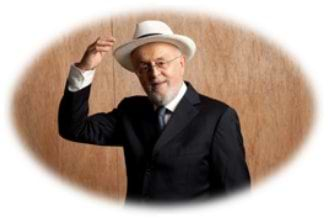 Best regards,
Leibish Polnauer, President and Founder of LEIBISH Fancy Color Diamonds