Smoldering embers can be difficult to extinguish as often they prove nearly impossible to isolate at its source. Much like the annual wildfires native to the west coast of the US, they take on many forms, confounding us by repeatedly busting into flames in disparate places. It's difficult to pinpoint a single locale beneath all that smoke.
Is Our Industry on Fire too?

We are witnessing a similar simultaneous combustion within the jewelry trade. The world's economy is groaning under a burdensome strain. The varied sources for this universal gloom include the war in Ukraine, a post-Covid Syndrome affecting millions worldwide, and another clampdown in China, plus a jarring lack of leadership, all of which keeps the world off-balance.
One of the main reasons behind the recent decline, beside the general economic woes – in my opinion, are rising interest rates.
But when I speak about the widespread crisis, I don't mean LEIBISH own sales. Thankfully, our trade is up even when we compare it to an earlier season we call our "Boom Year." Neither did we take a hit from the spike in LGD sales. Because that's simply not our niche. Our customers would never consider looking at them.
LEIBISH 0.19 Carat, Fancy Intense Purplish Pink Diamonds, 5PP, Argyle
Live & Learn
There's wisdom to be learned from our current economic climate. I believe the jewelry industry is suffering from self-inflicted wounds. They are cutting down a robust tree they enjoyed sitting under just to harvest a bit of firewood. The huge profit gap between selling LGD against natural earth-mined diamonds is at the crux of this turmoil. Some men have simply succumbed to the temptation of making quick money.
The day DeBeers introduced its own Lightbox LGD brand, they believed in their naiveté they'd control the emerging LGD industry. But instead, it turned out to be a colossal miscalculation, much like the Hunt Brothers blunder who unsuccessfully tried to corner the silver market in 1980. Well, that ended in disaster.
For those unfamiliar with the scandal----
In 1980, brothers Nelson Bunker, William Herbert, and Lamar Hunt, heirs to billions of Texan oil wealth, attempted to corner the market on silver by hoarding over 1/3 of its global supply not held by governments.
It created a calamity for other silver purchasers like Tiffany, whose brand relies heavily on silver for its jewelry and accessories. Tiffany bought a full page ad in the New York Times in March 1980 condemning the brothers. "We think it is unconscionable for anyone to hoard several billion, yes billion, dollars' worth of silver and thus drive the price up so high that others must pay artificially high prices for articles made of silver".
The Hunt brothers borrowed heavily to finance their hoard but were unable to meet their obligations when prices began dropping. The Hunts faced a potential $1.7B loss plus bankruptcy, and government officials feared a collapse of Wall Street brokerage firms and banks if that happened. So, US banks gave a $1.1B line of credit to the brothers, allowing them to pay off the debts. While the brothers lost over a billion dollars through this fiasco, their family's wealth survived. But in 1988, the Hunt brothers were found responsible in a civil court of conspiracy to corner the silver market and ordered to pay $134 million (valued at $324M today) to compensate a Peruvian mineral company which suffered great losses from their scheme. This forced the brothers into bankruptcy, in one of the largest such filings in Texas history.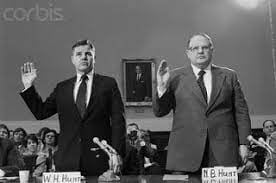 The Hunt brothers were dragged before Congress for a brutal scolding and charged with manipulation and fined again.
No one can control the market - when the genie is let out of the bottle--it can never be put back in again.
De Beers Miscalculations
For De Beers, the most excruciating side effect, aside from the pain dealt to their own rough diamond sales, was the disastrous message of legitimizing a fake product as nearly identical to the real deal. Diamonds have been their core product since the discovery of the De Beers mine in 1871. Now, they've skewed perceptions so badly that even luxury watchmaker TAG Heuer openly declared that the majority of their watches will be set with LGDs by 2025.
In a deeper sense though, De Beers has terribly undermined consumer trust from their iconic message that Diamonds are Forever and can't be replaced by something fake or a substitute.
Where we Stand
Don't get me wrong --- we're not suffering from a lack of trust or lack of sales with our own customers. We just finished cutting all the stones to be placed in a multi-million dollar Intense yellow diamond watch. None of our trade or private clients have ever asked us to make our jewelry with LGDs.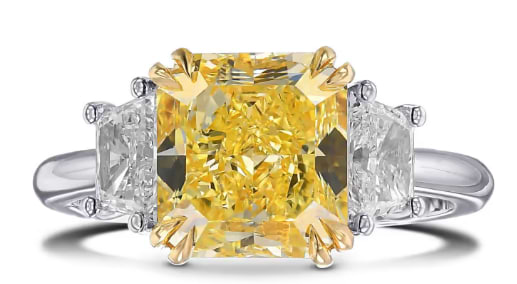 LEIBISH Fancy Intense Yellow Radiant 3 Stones Diamond Ring (3.82ct TW)
Believe the Numbers
My favorite diamond analyst is Edahn Golan whose statistical data shows real global trends, providing tangible direction to readers.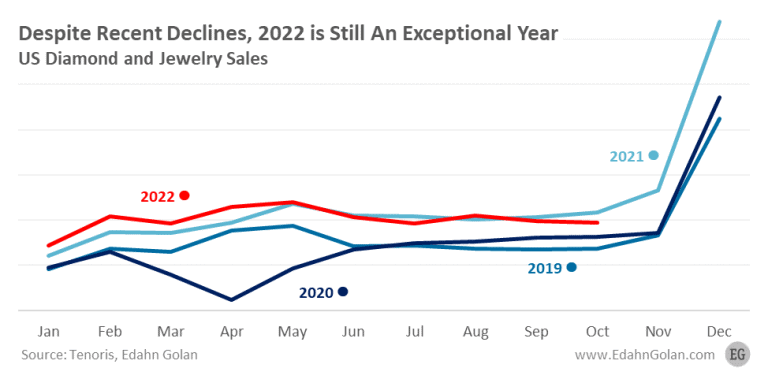 According to Edahn Golan, Year-to-Date sales of natural diamonds were down 5.2%, falling 25.4% year over year in October alone. Retailers responded to this decline and cut back unit purchases 46.4%. In that same time frame, sales of LGD increased dramatically by 41 %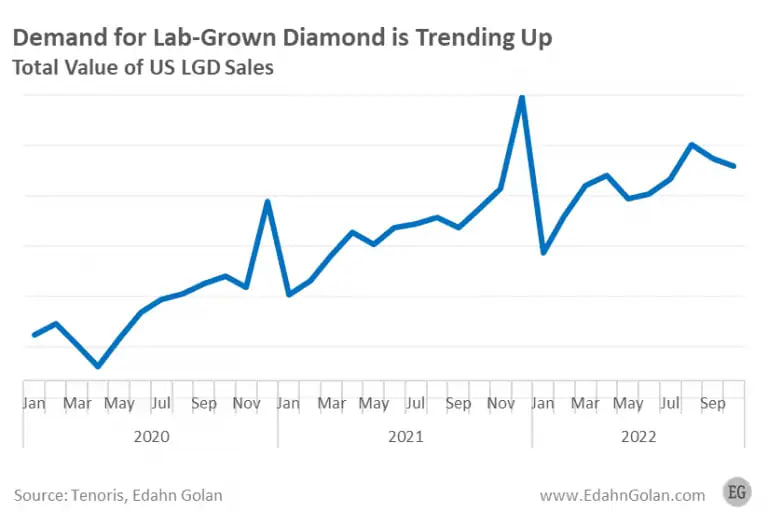 Chairman of Rapaport Diamond Corp, Martin Rapaport takes an optimistic stance on global jewelry sales especially when it comes to rare items and fancy color diamonds.
Recent Rare Items of Note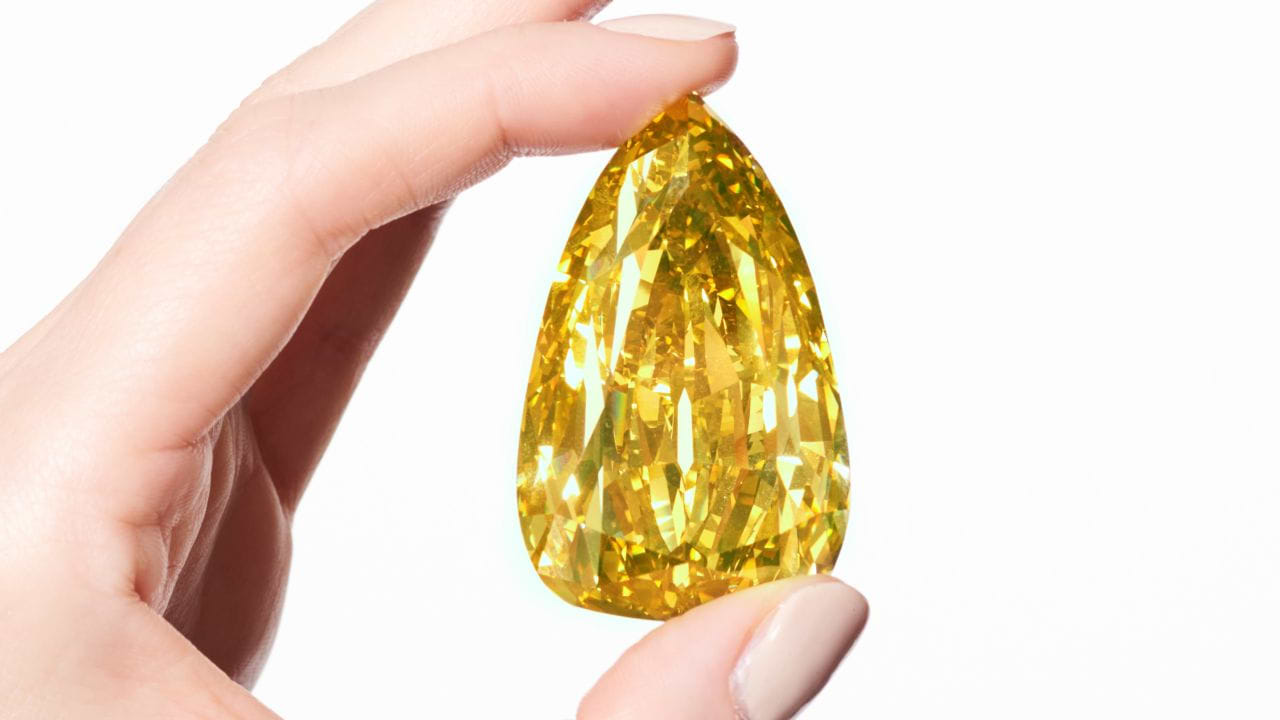 On December 7, 2022, at Sotheby's Magnificent Jewels auction in New York, the 303.10 ct Golden Canary Diamond fetched $12.4M becoming the 3rd most valuable yellow diamond ever sold at auction, according to the famed house. Observers pointed out that the extremely rare 303 ct Fancy deep Brownish yellow diamond sold below its lowest pre-sale estimate of $15M.
However, I rarely look pre-auction estimates as they mostly reflect attempts of the auction house to grab important items and sell them to their top customers. This was not a vivid yellow, but rather a fancy deep brownish yellow. Big difference. I am wondering how much a 125 + ct Fancy vivid yellow VS2 Radiant would fetch today? For now, it is relaxing in our safe just waiting for the right client.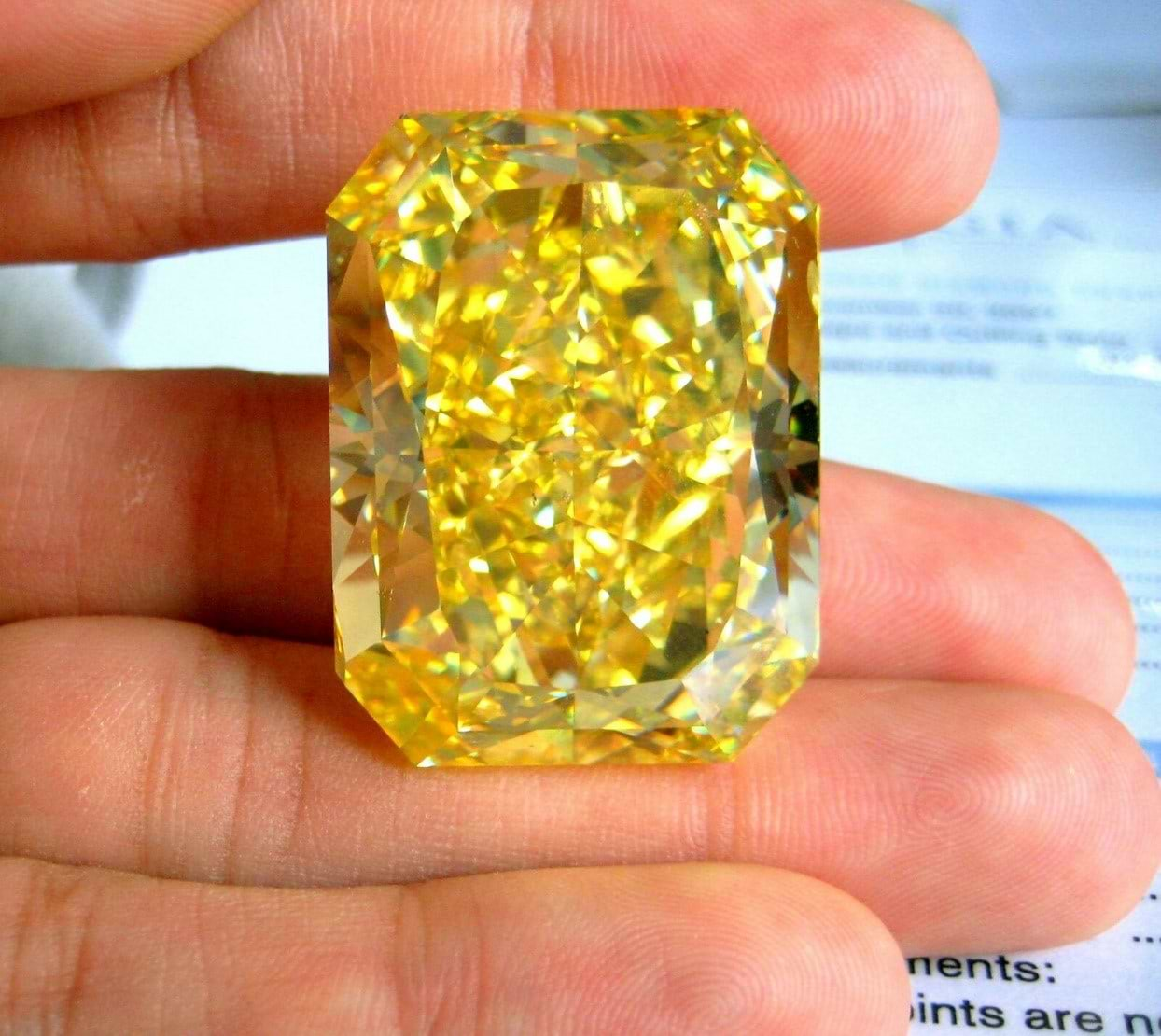 Where the Value Is
Instead of looking at pre-sale estimates – I observe real market values of rarity and quality.
For example, I previously wrote about important emeralds with a fascinating story about a 5.25ct Colobian emerald recovered after laying hidden for 400 years in the shipwrecked Nuestra Señora de Atocha off Florida's coast.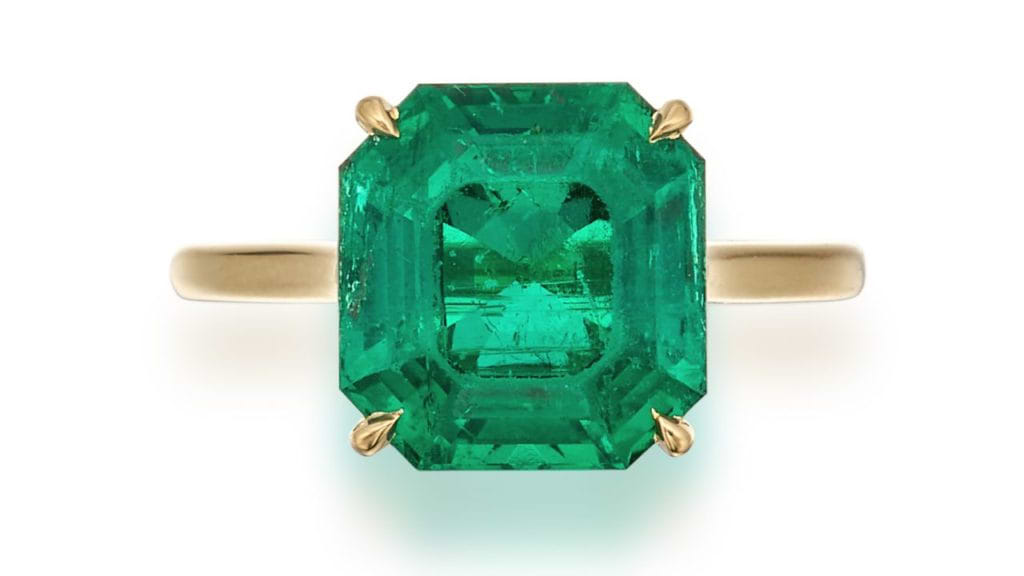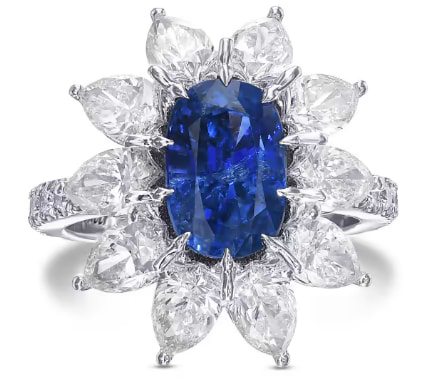 Extraordinary Unheated Kashmir Sapphire and Diamond Halo Ring (8.68ct TW)
Prior to its sale, it was estimated to fetch $70K. However, it actually sold for $1.2M causing many to wonder, "why so much?" Objectively, it was not the highest quality stone, but it possessed an element of great value with its magnetic appeal -- a timeless allure plus a fascinating history. This beauty withstood over 400 years of it being hidden below the ocean in secret-- with no one even knowing it was there.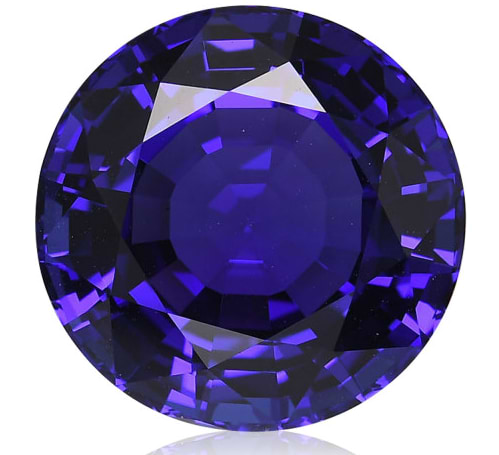 LEIBISH 15.76ct, Tanzanite
All of us are looking for rare and genuinely proven commitments. And we would also like to be the guardian of objects of beauty with everlasting value and timeless appeal.