Diamonds on their own are always fabulous as are colored gemstones of all sorts, but pairing the two together results in something even more sophisticated and festive. It is for this reason that diamonds and gemstones are often seen together in various jewelry settings. There is, however, yet another reason why retailers are combining diamonds and gemstones.
While some gemstones can cost significantly more than a standard diamond, there are plenty of precious and semi-precious gemstones available in various sizes that could drastically bring down the price of a jewelry piece if they replace diamonds. Jewelry pieces comprised of both colorless and color diamonds are magical, but they generally don't come cheap. Replacing some of the rarer color diamonds with colored gemstones can supply one with a similar look for a much more affordable price.
Diamond Accents
Colorless diamonds have no problem looking spectacular when set as solitaire stones in a platinum or gold setting, with or without sides tones, but colorless diamonds can have other purposes as well. The clear, brilliant stone is the perfect gem for accenting colored gemstones with rich colors. This can be done through the popular and mesmerizing halo design, or by lining and framing the setting of various gemstone jewelry pieces. When on a strict budget, the main stone can be a colorless diamond with the accenting stones a mix of different gemstones. This brings some color to the piece without having to pay exorbitant prices.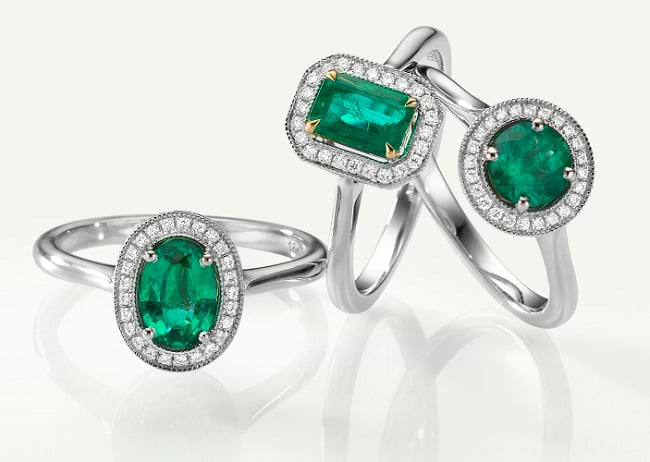 A pile of LEIBISH Emerald and Diamond halo rings
Blue and Green Gemstones
While diamonds are found in every color, most colored gemstones are only found in one or two colors. Still, there are several types of gemstones with the same color allowing plenty of choices when it comes to finding alternatives for color diamonds. Blue and green diamonds are beyond remarkable. They are also incredibly rare and therefore pretty much out of budget for most individuals. Luckily there are some sensational gemstones with beautiful blue and green shades that can be phenomenal alternatives. Some blue gemstones include tanzanite, sapphire, tourmaline, and even aquamarine for a lighter blue-green color. Emeralds and tourmalines are great examples of beautiful green stones, with the latter stone also available in a romantic pink hue.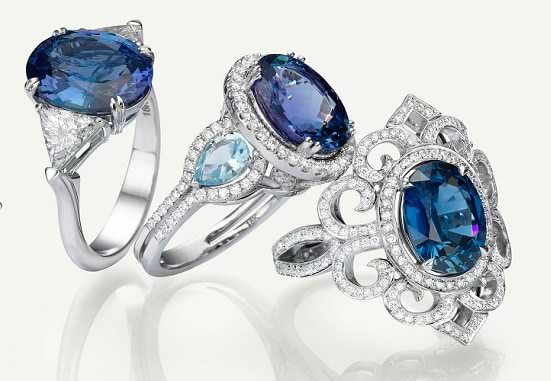 From left to right: A Tanzanite and trilliant diamond ring, a Tanzanite, Aquamarine, and Diamond Halo ring, and a Sapphire and Diamond decorative ring
Yellow and Orange Gemstones
Yellow diamonds are among the less expensive color diamonds and are both beautiful and unique. However, some of the larger and better quality stones can still cost quite the pretty penny. Sapphires are mainly known for their deep blue stones, but sapphires are also found with a stunning yellow color (as well as pink and purple). These stones, as well as citrine and quartz gemstones, can provide a diamond jewelry piece with a little more pizazz than an all-diamond piece. Orange can be found in sapphires, tourmaline, moonstone, citrine, and fire opal. Retailers understand that they can achieve these unique colors by incorporating various gemstones into diamond jewels.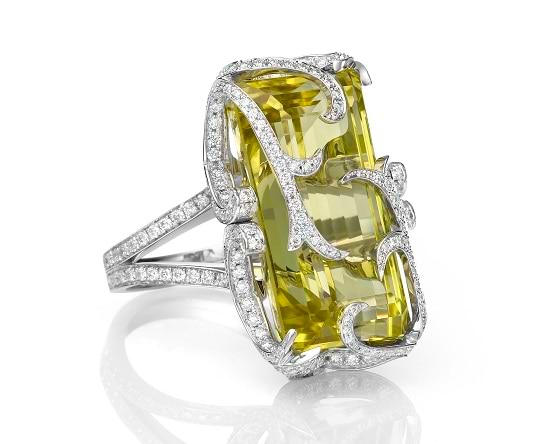 A Belle Citron Lemon Quartz Diamond Ring
Red, Pink, and Purple Gemstones
Many people envision rubies when they think of red gemstones, but truth be told, there are a few other gemstones that also display a rich crimson hue. Since red diamonds are both the rarest and most expensive of all diamonds, it may be best for you to go with a colored gemstone in order to achieve this regal and impressive color. Aside from rubies, red color can be found in rubellite (red tourmalines), and garnets. Very light rubies are known as pink rubies, but other pink stones besides for the much-adored pink diamond do exist. They include quartz, pink tourmalines, and sapphires. Amethyst is the go-to purple stone, especially since pure purple diamonds are hard to come by and extremely pricey. Sapphires, tourmalines, and spinel are other examples of purple gems.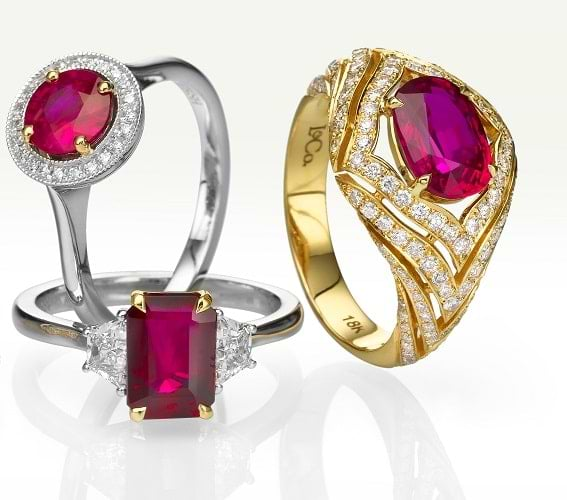 Ruby and Diamond jewelry
Black, Gray, and Brown Gemstones
The classic black stone is onyx. It is quite different than the opaque but shiny black diamond. Sapphires and tourmaline can also be found in black. Gray diamonds are on the less expensive side, but alternative stones can be spinel, moonstone, tourmaline, and fluorite. In addition to yellow diamonds, brown diamonds are the most affordable and common color diamond. Having said that, brown tourmaline, smoky quartz, and imperial topaz can bring great brown color to a jewelry piece and will blend beautifully with diamonds.
From Left to Right: a pair of Onyx, Moonstone, Ruby and Diamond Earrings, a pair of Moonstone, Ruby and Diamond Earrings, and a Moonstone, Ruby, and Diamond Ring
Jewelry boasting a great deal of diamonds will always be considered lavish and sophisticated, however, there are so many other wonderful gemstones on this planet that can and should be utilized. Not only will it lower the price of the piece in most cases, but it will also provide a bit of character and perhaps even texture to an otherwise very familiar type of jewelry piece.
Do you own any gemstone jewelry? Tell us all about it in the comments!