The prices for vivid and intense pink diamonds continue to rise, I am becoming more and more skeptical if the love women have for these stones will rise at the same rate prices are going up?
A two carat vivid pink stone retails today for nearly USD2.5 million dollars. Stones like this possess an endless beauty, directly from the Argyle mine.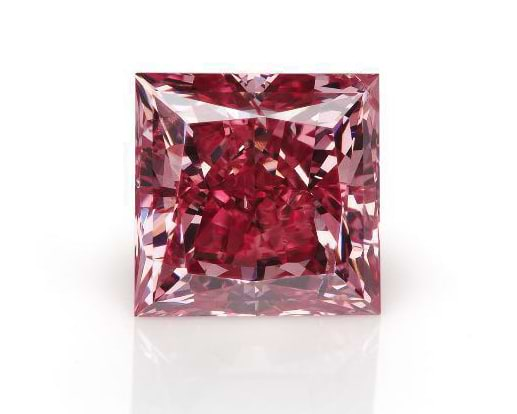 The magnificent color of a 2.01 carat Fancy Vivid Pink princess cut diamond
LEIBISH is considered a premier source of fine pink diamonds. We have been around for well over 30 years, participating yearly at the Argyle's Pink Diamond Tenders.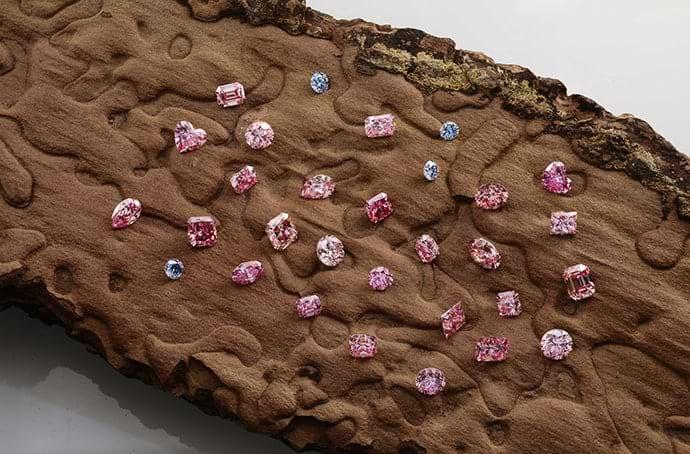 A fantastic collection of Argyle pink and blue diamonds LEIBISH won from the Argyle Tender
The goods there are priceless, but market sentiment sets limits even for beauty.
This was one of the main reasons we began manufacturing fine gemstone jewelry in our studio. Some people have no problem going after what they want, and the fact that it is a high asking price matters less. But we as a company have to ensure that we have what to offer all of our customers. We have quite a large customer base, and therefore needed to introduce new products with pink and red colors in a more affordable price range than a natural pink diamond. As it is important to us that all our products are high quality goods, we always offer the pieces at an excellent value.
Collecting pink diamonds reminds me of tracking the Himalayas. Each year, thousands of tourists are out there attempting to master the Annapurna base camp trek. In fact, my wife Rosi and I were among them. But, only a select few of them are capable of reaching the two peaks at 7,000 and 8,000 meters.
A 0.50 carat Fancy Red Argyle diamond by Leibish retails today USD350,000 total for the stone. A piece like that is truly a magnificent gem. When you acquire something like that, you know that you now own something that no one else has. It is one of those truly unique pieces that is reserved for a very small select few.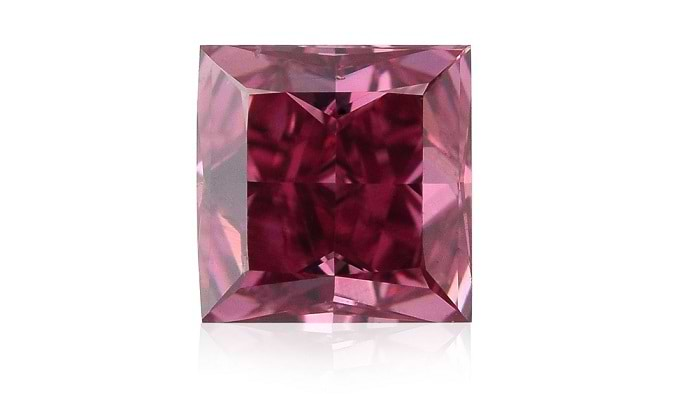 This 0.50 carat fancy red diamond was sold the same day we got it
This beautiful 2.07 carat Ruby sells for just below USD10,000. Upon seeing the stone for the first time, I quickly decided to take it into our collection. I figured that a stone with such a gorgeous color and an excellent price point, would make for a very fine piece of jewelry.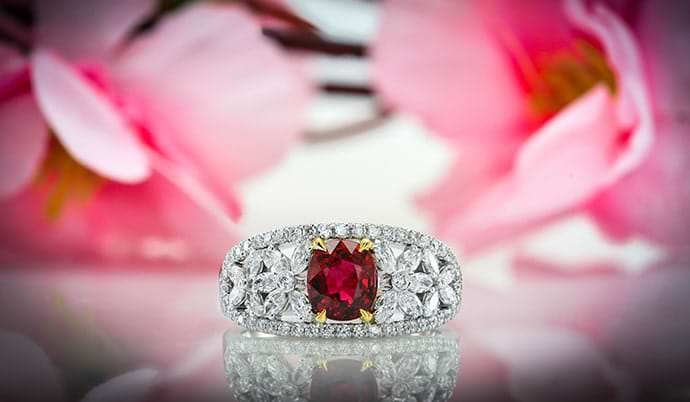 Unheated Ruby & Diamond Dress Ring
This extraordinary, unheated, oval shaped ruby has a beautiful vivid red color. It is mounted in a gorgeous 18 karat white and yellow gold ring, adorned with collection colorless marquise and round brilliant stones.
A ring like this promotes remarkable colors. It is a high-end luxury piece, but available at a price point attractive to all of our clients. It might not be every day that one goes out to buy a $12,000 ring, but when it comes time to get that special anniversary gift, this is the one.
But if a woman wants a pink diamond, no one can stop her. Perhaps by coincidence, but Australia is our strongest market for Argyle goods. When she wants a fine Argyle pink diamond, there is no point in even offering her a ruby or a Spinal that might be two carats bigger and still cost less. A ring we just made with a fancy light pink which was offered at USD12,000, was available for only one day.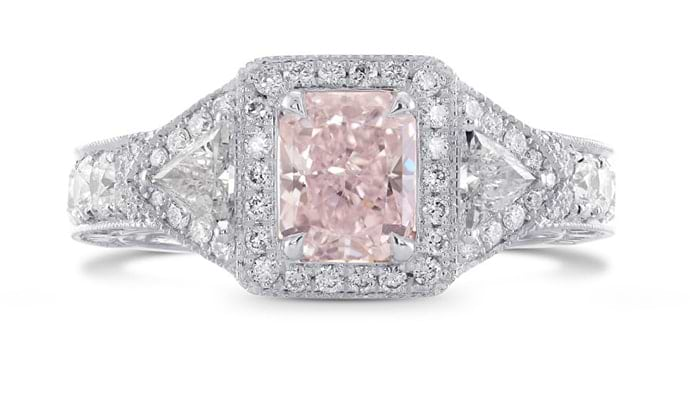 Fancy Light Pink Radiant Diamond Dress Ring
We have hundreds of customers who are looking only to spend a limited budget for their jewelry. These people still want to express themselves with the power that colors hold, and it's up to us to attain their business. We face the customer demand for pink and red colors with limited budget in visible sizes. The majority of the buyers won't cross the border of $25K. So, we had to create jewelry for this wide market segment. It was a difficult task as we had to start competing with our own brand with products priced so much less.
We faced a great dilemma of offering more color for less money. We found it was only possible with precious stones.
The jewelry and diamond market has moved in three visible directions, each totally contradicting the other. The Wall Street Journal just released a big piece about utilizing these stones as an alternative investment. We now see more companies trying to jump on a the bandwagon and more investors showing interest is using colored diamonds as a tangible asset for long term conservation of assets and a secure appreciation. This market segment is pushing the prices of pink diamonds further up.
The mainstream, where most of the engagement rings are traded, is the bulk of the jewelry business. We have hundreds of different styles in all colors, including both diamonds and precious tones.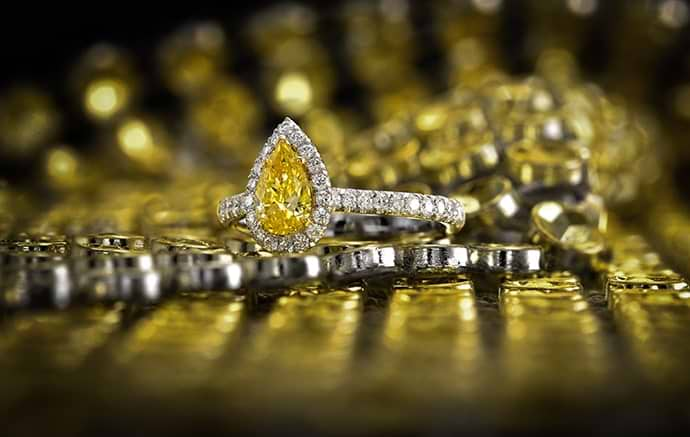 0.59 ct fancy vivid yellow pear
The third segment is the rapidly growing Pandora market with tickets below 500 dollars. Chow Tai Fook, with his 2,000 stores in China also feels the pain of this segment. He is aware that Pandora is eating its market share, and just recently began fighting back with his own charms at a lower price point.
Chow Tai Fook has overtaken Pandora in terms of forward 12-month price-earnings but Pandora's revenue in China has more than doubled in the third quarter from a year earlier, and increased 40 percent at stores over the last 12 months. That's an astonishing outcome when set next to Chow Tai Fook, which has seen sales decline in nine of the past 11 quarters.
Obviously Pandora is a relatively small player compared to Chow Tai Fook, but no one can ignore the trend and the strength of smaller tickets. Perceived value with a bigger look, stronger color, and smaller budget, is the name of the game.
Leibish is not Chow Tai Fook and doesn't want to be Pandora either. Our Brand is in the sky above 5th Ave in the heart of New York city. We compete with all the luxury brands on the street below.
I received a mail yesterday from my son, Itzik, who is building up the US office on the 23rd floor in 580 Fifth, overlooking the Fifth Avenue.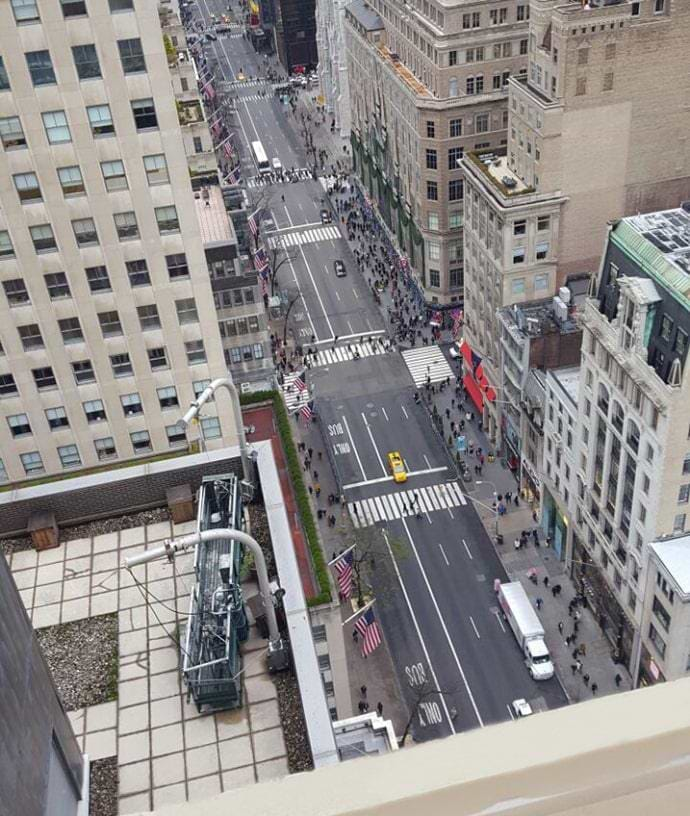 The view from the LEIBISH offices in New York city
Dear Itzik,
I saw the Tiffany stone yesterday. It is a beautiful stone and a beautiful ring, and somehow, decent value for a 1.9 FV VS. However, I prefer to give you my business. I like that you're a family business, I like your passion and knowledge about the stones. And, I really appreciate that you've taken a long view with me as a customer. You've made me feel comfortable and relaxed throughout the process.
It was such a pleasure looking at your amazing collection, I REALLY enjoyed that, and even more so meeting your son. Children are the most wonderful gift, especially in what feels like uncertain times.
I look forward to hearing from you.

A.
At least I can rest assure we are doing something right. Wishing all our friends a happy Chinese New Year!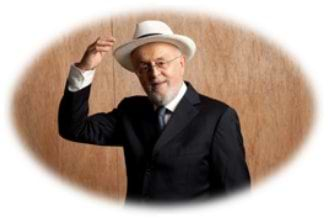 Best regards,
Leibish Polnauer, President and Founder of LEIBISH Fancy Color Diamonds