The jewelry industry has evolved in leaps and bounds since the Internet became pervasive. The digital arena has been a real game changer for the jewelry industry and those who have embraced it, and those who helped pioneer it have especially flourished. Those who did not accept this change have not fared so favorably.

Prior to the acceptance of jewelry sales over the Internet, jewelry purchases were made in person in stores. When someone had no knowledge or experience to guide them to a reputable jeweler, they had to rely on a recommendation from a friend, or just hope for the best. There was little transparency on product and prices in the industry, as you could not conceivably go from jeweler to jeweler to compare. Similarly, educating yourself about jewelry meant that your information came from many different jewelers, many with their own agendas rather than your best interests at heart. Luckily, the Internet has changed all of that, as it is easy to discover an online jeweler's reputation, compare jewelers at your leisure, and educating yourself is only a mouse-click away. However, jewelry E-tail is still significantly fledgling and has yet to reach its peak in terms of growth or scope. It remains to be seen how jewelry E-tail will evolve over the coming decades, as both technology and information dissemination develop. This exact challenge is what faces the newly established team of the Harvard Business School and the Gemological Institute of America as they tackle this conundrum head-on.

A LEIBISH 3.61 carat Fancy Purplish Pink Radiant Diamond Ring

Oh How the World Has Changed?

Who would've thought even ten years ago that you could safely buy a diamond ring for a six figure sum (or even more!) in total confidence from a jeweler you never met, on the other side of the world, without actually touching or seeing the ring "in the flesh"?
Well, for those brave souls who had the vision and the fortitude to dream that people would send their money across the world so that they could buy quality jewelry, their dreams have indeed come to fruition. For those who placed their faith in these industry leaders, many of their dreams have no doubt also come true.

E-commerce (electronic commerce) is the term used to describe transactions performed over the Internet. While it is one thing to risk a few dollars on a cheap generic purchase, it is completely different to part with large sums on something as mystifying as jewelry. One of the great "levelers" in this respect, that has subsequently become prevalent in this industry, has been customer testimonials. The truth is that people generally feel comfortable not being the first to take a risk, especially when that risk may involve a loss of a lot of money. Hearing that someone else has already taken the risk and emerged victorious is a huge reassurance, and often the last impetus that one needs in order to finally take action and make the plunge. However, the enigmatic dilemma that faces jewelry E-tailers still remains - how do you build up customer and brand loyalty?

Some Things Never Change

The answer to building a successful online jewelry store is no different to building a successful bricks and mortar jewelry store – provide the best service and the best merchandise for the best price. However, some things do change, and the Internet gives online jewelry stores an opportunity to take service to the next level and make the shopping experience so phenomenal that customers will keep returning for more, and recommend you to everyone they know (just like how it used to work with word of mouth jewelry recommendations!)

An online store is open 24/7. It is never cramped, and the salespeople are never asked to service three customers at once. Similarly, clients need not feel intimidated by salespeople. They can browse as long as they like, educate themselves about their prospective purchase from links on the website that serve to educate the public about jewelry, and even comparison shop without feeling guilty about any inconvenience, and without even leaving the comfort of their home. If you want to look at a piece of jewelry that someone else is interested in, you don't need to wait your turn to inspect it; simply click and zoom in! Of course, customer testimonials can be inspected, and off-site reviews can be read in order to verify the jeweler's bona fides.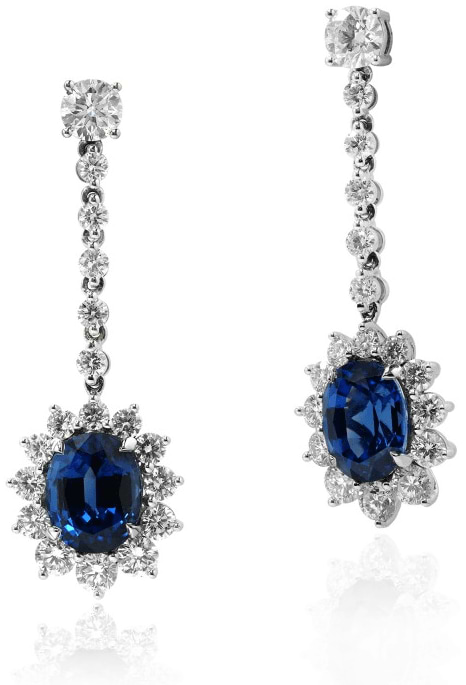 LEIBISH 12.15 carat Deep Blue Oval Sapphire and Diamond halo Earrings

The Internet has lowered the mystique of the jewelry business. Jewelers with a long-time online presence have helped to shed light on an industry that has traditionally been viewed as mysterious. Those jewelers who kept to their "old ways" have borne the brunt of the ramifications of not evolving with the times, and no doubt regret the fact and its result. The truth is that the potential for online jewelry sales is limitless, but remains underdeveloped as the birth of jewelry E-tail is relatively recent, and has quite a ways to go before it overtakes jewelry retail in sales, both in quantity and total annual sales.

From the GIA to HBS

Having finally stepped into the 21st century, the diamond business has realized that it must stay at the cutting edge of E-commerce. The esteemed Gemological Institute of America (GIA), the premiere authoritative body in the diamond and gem industry teamed up with the venerable Harvard Business School (HBS) to create a global leadership program to ensure that the jewelry industry could identify and adequately address the unique challenges that it faces. The joint global leadership program, for 44 senior executives from gem and jewelry countries from 15 countries took place April 28 - May 1 at the Harvard University campus. During the four-day program, the participants examined issues faced by global businesses and how to apply the experiences of other sectors and industries to their own, as well as discussing challenges facing the industry. Given the success of the inaugural program, GIA will hold another global leadership program at HBS in June 2015.

The Harvard Business School is renowned for its case study method of teaching the best way to analyze and improve upon an industry. In its history, it has analyzed innumerable challenges and shed light on significant changes that could be implemented to change the face of a company, niche, or industry entirely. Therefore, it is entirely apropos that the GIA would approach them with the query of how to best approach this new branch of E-tail, and how to maximize its potential. Be it strategy, customer centricity, or the leading of high performance teams, there are numerous issues that need to be addressed in the precious gems and jewelry industries. With the deep industry knowledge of the GIA, and the rigorous analytical experience of the HBS, this issue is likely to be addressed in the optimal capacity with the preeminent conceivable results. The outcome of this collaboration between two industry-leading organizations will result in developments that will likely change the face of the industry for both retailers, (E-tailers!) and consumers.

Time stops for no one and change waits for nothing – you either embrace it or get left behind. The jewelry industry and at least some of its participants have embraced change and helped initiate its introduction into their industry. They have had the foresight and courage to see the benefits that the Internet could bring. It may not have always been easy, but fortune favors the bold… and their clients!