Pierre Cartier travelled to the East and fell in love with gemstones during his first trip to India. It wasn't long before he became the favorite house jeweler to the Maharajas.
In 1911 he designed a ceremonial necklace for the Maharajah of Nawanagar, which surrounded a 136.26 carat diamond named the "Queen of Holland." The stone was named after its original owner, the queen of Netherlands. Cartier mixed in an array of colored diamonds including a 12-carat olive-green diamond and a blue diamond. The immense wealth of the Maharajas and their love for ornamental jewelry for royalties created unlimited potentials for Cartier.
The Maharajah of Patiala, Yadavindra Singh once owned the Patiala Necklace. The necklace was made for the Maharaja in 1928 by Cartier, weighing almost 1000 carats.
The bib-like Art Deco necklace featured five rows of diamond-encrusted platinum chains and many large gems. It included as its centerpiece the famous De Beers diamond, a cushion-cut yellow diamond weighing 234.69 carats.
When Cartier returned from India, he was completely fascinated by the colors these gemstones displayed. He was full with new material and fresh ideas to create new pieces of jewelry. The first multicolor bracelet he created, and refined in many ways over the next 30 years, was the Turri Frutti bracelet. It is viewed as the perfect mix between the East and West because it is made of brightly colored sapphires, rubies and emeralds all carved using Indian techniques and mounted in a French platinum and diamond setting.
I was always fascinated by this master piece, as there is something so attractive about all the colors. Nearly every stone in the bracelet had a different shape and size. Due to the limitation of manufacturing at the time, they could not cut stones in regular shapes. Art sometimes benefited from shortcomings and physical limitations.
The most prosperous period of glassmaking was in the middle ages, as they could not make glass in big surfaces. The day they developed the rolled glass technologies, the art of painted glass died in one generation.
Inspired by Cartier's Tutii Frutti designs, my daughter Chavi Itzhakov, also created her own version of the Tutti Frutti Bracelet. It was made with 112 magnificent fancy color rose cut diamonds, set in a 175mm long bracelet weighing a total of 54.84 carats. Her magnificent design won the JCK Jewelers' Choice Awards in 2014.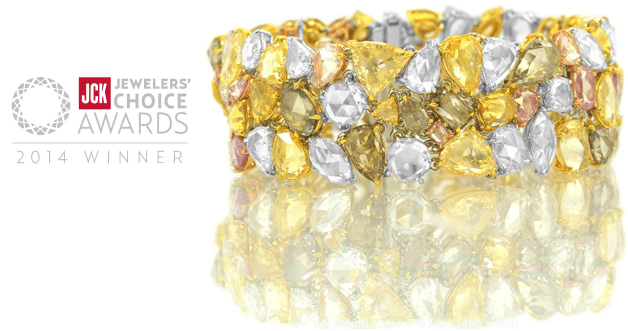 The award winning Tutti Frutti Multicolor Diamond Bracelet
Mixing different colored gemstones with white or fancy colored diamonds provided many possibilities for designers. The legendary Tutti Frutti designs were made by Cartier in many different variations. His bracelet, shown above, was sold at a Sotheby's auction in December 2014 for over 2 million US.
I have been in love with colors for many years, but I never felt confident enough to introduce precious gemstones into our jewelry collections. I was worried about the perception of the Leibish brand, and the stereotypes of gemstones compared to diamonds. My visit to the Cartier exhibition in Madrid changed my view on the world of colors. I realized that by mixing fancy colors and precious stones, the contrast between two worlds of entirely different materials will create a dramatic effect which gives the jewelry an exciting and exotic appearance. It took some time, but I finally realized the potential gain was so much greater than the potential loss.
With regards to the cost compared to fancy colored diamonds, colors like blood red rubies and deep green emeralds can be offered for much less, and in bigger sizes. I felt it enabled an opportunity to the younger generation, who hasn't yet saved up enough to explore the world of colors that diamond jewelry offers.
A magnificent mozambique Ruby, Intense Yellow and White Diamond Pendant by Leibish
After promoting our diamond and gemstone jewelry online, we received a lot of positive feedback from our clientele. Among my favorite pieces was this bracelet, which was ordered by a gentleman form the United States for his wife's 40th birthday. The rubies in this magnificent multicolored bracelet were highlighted with intense yellow diamonds. The total weight of the bracelet was 36.95 carats, and it was all set in 18kt gold.
Along with all the fantastic fancy color diamond jewelry we offer, my company has continued creating a large variety of diamond and gemstone jewelry. We acquire extremely rare pieces and create exquisite jewelry designs.
The extraordinary mix of fancy yellow diamonds and precious gemstones
People want to be unique, people want to be exciting, and people want to be beautiful. We live in a world filled with color, so why would one only want to dress themselves with black and white? Life is full color, so enjoy it.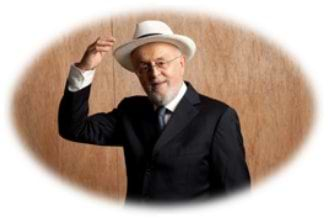 Best regards,
Leibish Polnauer, President and Founder of LEIBISH Fancy Color Diamonds