The world isn't moving according to economic or financial considerations. There are no declarations, plans, or stimuli that have lasting effects on America. Restarting the engine of the United States, and all its other components, relies entirely on emotion. It doesn't matter who will be the next president - it will make little difference.
A few months ago in the President's Corner, The Great Salamander, I went on record as stating that 2012 will be the year of the Great American Recovery. The fun has already began; picture New York at 5 below zero, the heart defrosts slowly. However, the American spring makes New York blossom.

I met a great number of people during our media week in New York. I appeared on CNBC with Melissa Lee. I said a number of times in my press appearance that the Fun Factor which drives the fancy color diamond business will be the engine of the Great American Recovery in 2012.
People want to enjoy the money they have and want to invest in things which are not just safe, but fun. If you buy 10,000 IBM shares or a kilogram of gold, it may be a great investment but it is definitely less fun than owning the 1.68 ct, prosperity pink diamond....
Leibish Prosperity Pink at the New York Event - World Of Colors
If you buy a pink diamond ring, you can wear it for 10 years and it will not lose its sparkle or age a day - it has no shelf life. The longer you wear it, the more valuable it becomes. Can you show me any other product on the face of this earth which is so much fun to have and increases in value annually? You can wear it every day, bequest it to your children and it will maintain and increase in value.

Spring is in the heart of the American people – it's a time of rebirth and resurrection. The country is fed up of having to carry the economic and political problems of the whole world on its broad shoulders. The U.S. left Iraq and it will leave Afghanistan as well. It will stop worrying about the Euro, Greece, and the other problems we have and then the engine of emotional and economic recovery will be ignited.
Warren Buffet is bullish on America – with good reason. No doubt he has copious data to support his theory; while I only have my gut feeling about the future - driven by the Fun Factor.
In Hong Kong or in Shanghai, people are talking about luxury living. Although in New York, living in style is center stage. To wear fancy color jewelry is a display of great fashion and luxurious design.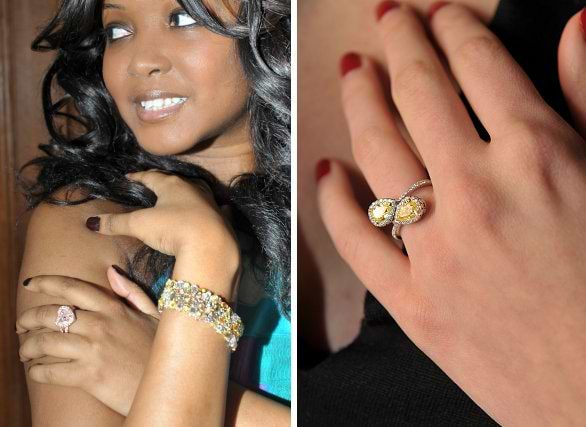 Kittie Smith with the LEIBISH 54.84 Carat 'Tutti Frutti' Multicolor Diamond Bracelet and a 3.57 Carat, Heart-shaped Ring and the 2.02 Carat, Matching Pair of Fancy Yellow Pear-shaped Diamond Ring
An excellent example of style is Kittie Smith, the Editor in Chief of www.Kittenlounge.onsugar.com. Kittie modeled some of our most exquisite pieces while she hosted our 'World of Colors' reception at the St. Regis Hotel.
During my CNBC interview on "Squawk on the Street" and at other press events this week, I stated that if you were to invest in a 5.01 carat fancy intense pink heart shape diamond 10 years ago, you would have paid USD600,000. If you would have sold this stone today, you would have received USD 2.6 million – a 333% return.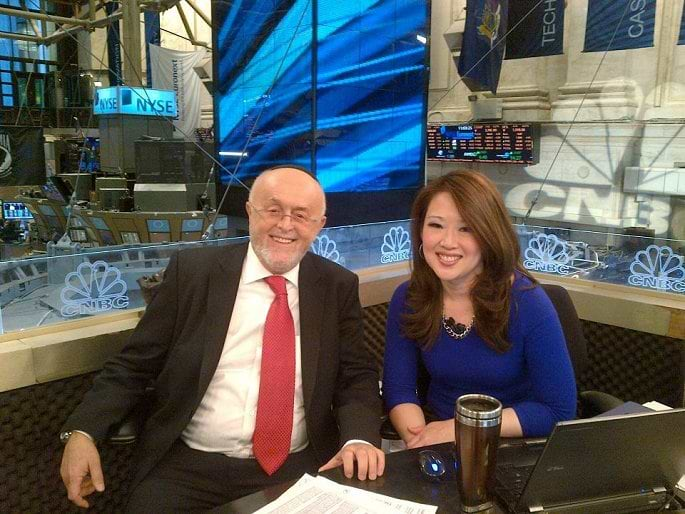 Leibish Polnauer and Melissa Lee on the CNBC Set

If instead you bought blue chip stocks on the day that Sotheby' sold this 5.01 carat fancy intense pink diamond, dividing your money between GE, Coca Cola, and Berkshire Hathaway A shares, you would have been lucky to get your USD600,000 back!
I won't even begin to discuss the Fun Factor of having owned the fancy intense pink for 10 years rather than a piece of paper.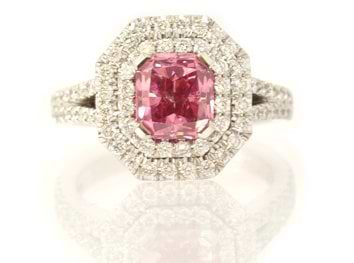 The Leibish Prosperity Pink Diamond Ring
The greatest moment of this latest US media campaign, was our meeting with Lisa and Mike. We had developed the Mike and Lisa Four Seasons Color Collection, an investment portfolio of over USD$1,000,000 of fancy colored diamond jewelry. This trip was the first time we had the pleasure of meeting each other. I never saw these people in my life, yet they trusted me enough to make such a large purchase and investment over the phone.
As they entered the revolving door in the Prime Grill restaurant in New York, we looked at one another and I nearly cried. Mike gave me a wide open straight smile. This genuinely amazing young couple trusted me by investing their hard earned funds in my jewelry.
I did not ask him to, but at the 'World Of Color' event, held at the St. Regis Hotel on that freezing cold Wednesday evening, Mike stood up and told his story about LEIBISH He explained about how he searched both on and off line for close to half a year for the best place to acquire high end jewelry at the best prices possible – and from someone he felt he could trust. He continued to describe his experiences with dealing with us a company and appreciation of conversing with us as friends.
He was genuine and authentic, and he told our secret of the Leibish brand-reliability - honest appraisal and great value!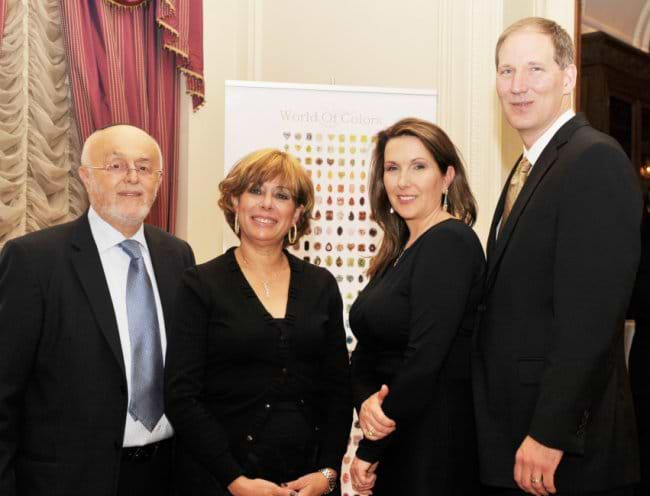 Leibish and Rosi with Mike and Lisa