Have you ever wondered why the man presents the women with a ring while proposing his marriage? Why isn't it a leopard skin, a cell phone, or perhaps the latest BMW in the market? Sure, there are a number of myths about engagement rings, but there must be some sort of magic since all religions and nations, from America to Africa, adhere to nearly the same custom. In fact, in my religion, a man puts a ring on the finger of the bride under the canopy and declares loudly in front of at least two witnesses 'with this ring I sanctify you to be my wedded wife in the unity of marriage.' Just like that, it's a done deal.
Are women really excited to receive a ring and be taken possession of by the man? Perhaps we won't go too deep into that one. But, I will be honest, I actually like the idea of both receiving a ring. It isn't often, but from time to time we get a request to design a matching diamond ring for the man as well. This way, both the man and the woman at the wedding can exchange rings and then vows. I believe that many men would also love to get a ring for their engagement, but people tend to roll on with the traditions of the world - secretly.
Let's have a closer look into these traditions…
2800 BC: The Egyptians were buried wearing rings made of a single silver or gold wire worn on the third finger of their left hands.
1477: The first diamond engagement ring ever recorded was presented to Mary of Burgundy when Archduke Maximilian of Austria proposed. The ring was set with thin, flat diamonds in the shape of an "M."
As you can see in the image above, it didn't look like the rings Grace Kelly or Jacky Kennedy received for their engagements, but there definitely is a strong direction of today's everyday diamond engagement ring.
1886: Tiffany & Co. released their "Tiffany setting," which was designed to maximize the diamond's brilliance by raising it up from the band with a six-prong setting.
This was a marvelous idea which heavily added to the magic of the diamond engagement rings we see today.
In 1953 John F. Kennedy presented his wife, Jacqueline Bouvier, a remarkable diamond engagement ring. It consisted of a 2.88 carat diamond mounted next to a 2.84 carat cut emerald with tapered baguettes. In 1962 the ring was reset, with a little more flash, which included 0.66 carats of round diamonds and 1.46 carats of marquise shaped stones.
In 1968, the beautiful 40.00 carat marquise Lesotho III diamond was given by Aristotle Onassis as a gift to Jackie Kennedy. The ring was considered such a prize, she supposedly only wore the ring twice, and otherwise left it locked away.
That same ring was actually sold at Sotheby's auction in 1996. Although only being estimated between $500,000 - $600,000, the 40.42 carat, L color, marquise shaped diamond with a VS2 clarity grade sold for $2.59 million!
1920: Cartier designed the trinity ring, introducing me styles to the market where artists would be able to sell their own designs. The ring was comprised of three gold colors intertwined with one another and was purchased by Jean Cocteau.
1940: By this time, jewelry already hit department stores, but before long diamond engagement rings became the top sellers among all other pieces.
1944: I guess men began feeling left out, since it is reported that a Catholic priest asked permission of the American Ecclesiastical Review as to whether he would be permitted to marry a couple in what he called a "double ring" ceremony. The formal blessings according to Roman rituals only included blessings for the bride's ring.
1946: The hansom and quite famous cultural icon, Humphrey Bogart, publicly adorned his first gentleman's ring once married to Lauren Bacall.
"My mother says I didn't open my eyes for eight days after I was born," said Elizabeth Taylor. "But when I did, the first thing I saw was an engagement ring. I was hooked." Liz Taylor was the greatest promoter of diamond rings. It was no surprise the Elizabeth Taylor collection realized a total over $150 million in December 3-17, 2011.
Liz Taylor was married eight times to seven different men.
1950: Conrad Hilton Jr. presented Liz, then 18 years old, a 4 carat diamond platinum ring, which was worth $10,000.
1952: Michael Wilding gave Taylor her a cabochon sapphire engagement ring. This was actually the beginning of a new trend of sapphire engagement rings.
1957: Mike Todd proposed to her with a 29.4 carat, emerald cut diamond. The ring was magnificent in comparison to the first two. This piece was said to have been one of the more regal pieces she received from her lovers.
1959: Eddie Fisher gave Taylor an engagement bracelet set with 50 diamonds. He also gave her a 10 carat yellow diamond ring for her 30th birthday and a mirror set with emeralds.
1964: Richard Burton gave her the 'first' engagement present, which was a platinum-set Bulgari pendant featuring a 18.61 carat emerald surrounded by diamonds, designed so it could be detached and worn as a brooch.
1975: After they divorced each other, Richard Burton re-married her once again in Botswana, Africa. This time he presented her with the Grand Duchess of Russia's emeralds which Taylor unveiled at her second wedding to Burton. Set by Bvlgari, the suite included earrings, a necklace, and a bracelet. She received her most famous jewels from Burton including the Krupp, Taylor Burton Diamond, and La Pelegrina.
1976: Although rumors spread that he was against "Hollywood stuff" and said "that and jewels will have to go," Senator John Warner proposed with a diamond ring, while others say that he proposed with a dazzling ring made of rubies, diamonds and emeralds. After all, it definitely wasn't an easy decision choosing what to gift a woman who already have so much, and on her 7th engagement!
1978: Taylor put the 68 carat Taylor-Burton Diamond up for sale after her divorce from Richard Burton. Her jewelry collection was auctioned off at Christie's, and became historic.
1991: Larry Fortensky, a construction worker who was 21 years younger than she, met Taylor at the Betty Ford center. Details about the ring weren't found, but she supposedly was seen wearing a pave set wedding band. Their $2 million famously "wacky" wedding took place at Michael Jackson's Neverland Ranch.
2002: One of the most exciting fancy color diamond engagement rings was the 6.1 carat pink diamond Ben Affleck used to propose his marriage to Jennifer Lopez. The Harry Winston diamond was worth $1.2 million then, and she reportedly returned it when they broke up in 2004.
Its a shame she gave it back, as the ring would fetch today approximately $2.4 million dollars. We have made many spectacular diamond rings. Though our business is not necessarily for stars. These days far more are aware of fancy color diamonds and enjoy the idea of something unique, something different. Most of our products are designed for the everyday people who are thinking out of the box and want to go along a slightly different path. Amazingly, because there is such a wide variety of colors available, they aren't even more expensive than a white diamond, and most aren't even aware of this.
One of my absolute favorites, is a ring we made for a lady in Eastern Europe. Her husband presented the stone to her in New Zealand, on a trip when he proposed. He sent us a picture from their romantic getaway, a true authentic image that believe it or not wasn't even touched up in any way.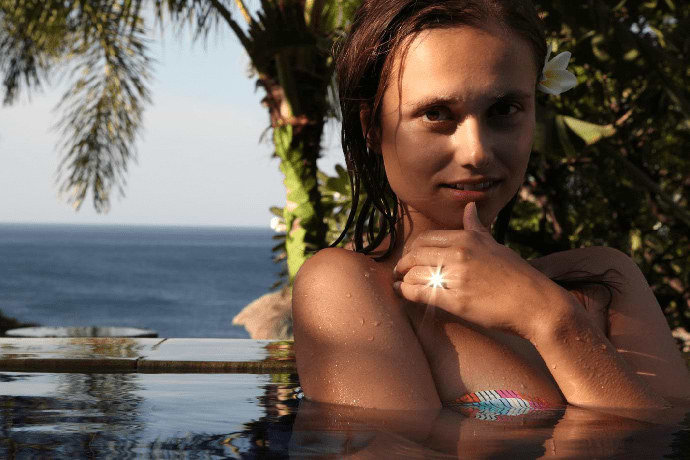 Our client from Eastern Europe
I remain in contact with many of our customers, and I am proud to congratulate this couple on the birth of a beautiful baby boy!
To me, the magic of the ring, reflects the beauty of life. Like a circular motion... life continues on.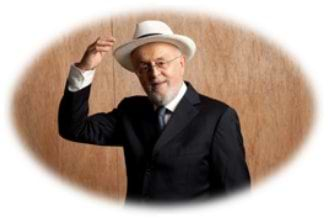 Best regards,
Leibish Polnauer, President and Founder of LEIBISH Fancy Color Diamonds
Sources:
My Love Affair with Jewelry by Elizabeth Taylor, Elizabeth Taylor, A Passion for Life: The Wit and Wisdom of a Legend by Joseph Papa, My Love Affair with Jewelry by Elizabeth Taylor, Elizabeth by J. Randy Tarraborelli Recordsitereviews.com, WeddingTipsBlogspot.com, Thenaturalsapphirecompany.com, Huliq.com,Liveabsolute.me,
FashionJewelryBrands.com, 1791Diamonds.com, Weddingroundups.com,People.com, dailymailUK.com, Access Hollywood.com,
imdb.com, Vianvi Jewelry,lusterofsatin.tumbler.com