Diamonds are girls' best friends, but every woman needs something unique to allow them to stand above the crowd. So where does black diamond jewelry fall into the equation? Well, black diamonds are natural diamonds, just like colorless ones, except these unusual gems have been dyed black by nature. As beautiful as colorless diamonds may be, these precious pieces display a dark, mysterious, and classy look. Although black isn't a bright color, or even a color per se, it adds a superior edge one's jewelry and goes with many different outfits. Here is a little bit more about various black diamond jewelry pieces.
Black Diamond Earrings
Black diamond earrings for women are all the rage right now. Earrings can be worn in an array of ways, from studs, to drop earrings, to chandelier earrings. Black diamonds look terrific in all these styles. LeAnne Rimes wore Neil Lane black diamond and platinum earrings and a Neil Lane black diamond and platinum Bombay ring to the CMA awards.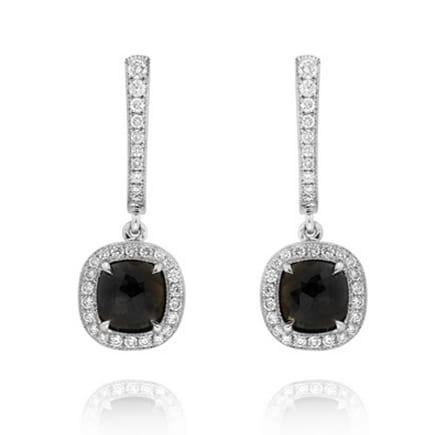 LEIBISH Black Diamond Earrings

Black Diamond Bracelets
Bracelets are harder to notice, but no one would miss a black diamond bracelet! Ciara wore cuff bracelets set with black and brown diamonds as well as sapphires by Ofira and Lorraine Schwartz to the 2011 Costume Institute Benefit. The dark and intriguing Kirsten Stewart wore a stack of Neil Lane black diamond and onyx bracelets to the premiere of Twilight Saga: New Moon. Jennie Garth also wore a Neil Lane bracelet to the premiere; a platinum bracelet set with black and white diamonds.
Black Diamond Necklaces
Chanel has been known to create some remarkable pieces, and the black and white diamond brooch and pearl necklace is one of them. At the Chanel celebration of Fashion's Night Out in 2010, an unbelievable flower-shaped black and white diamond brooch upon a pearl necklace was put on display. Black diamond necklaces for women in general are becoming quite the hot item, as they are classy, yet have a flavorful twist by displaying that mysterious black color.
Over the years we have seen celebrities showcase many jewelry trends, and more and more of these trends these days are including black diamonds. Whether used alone, along with colorless diamonds, or any other gemstone, these black stones make marvelous additions to any jewelry piece.