One of the most basic tenets of financial investments is not to fall in love with an investment. The ideal is to detach the emotional element from the intellectual element of our decision making when it comes to investing. As a result of this, no professional investment manager manages their own money - it's an understood rule! The professionals know that there is a natural emotional attachment to an individual's money. This begs the questions that if people always have their investments managed by professionals, does this rule apply when investing in fancy color diamonds?

Emotional Connection

People tell us time and again how surprised they are once they have the chance to view our fancy color diamonds in person. Whether they choose them for their high end jewelry collections, or for personal investment purposes, our clients find it difficult not to immediately stare and fall in love! Upon inspecting fancy color diamonds, and their amazing depth of color and cut, one cannot help but become emotionally enraptured by the experience. Something special happens between people and their diamonds, similar to Love at first sight! We call that connection a Passion Investment.

A Passion Investment

In the case of fancy color diamonds, there is absolutely nothing counterproductive about falling in love with them. If you buy these for your custom made high end jewelry, go right ahead and get emotionally attached, as it will only deepen your connection and desire to wear them even more! The beauty of fancy color diamonds never wanes and they can weather any economic conditions. If you buy fancy color diamonds for investment purposes and their long term appreciation potential, then we suggest to make decisions not only based on the emotional attachment, but also to consult a professional fancy color diamond dealer who can help you balance your emotional state with an intellectual approach. A professional dealer will help you maximize your passion investment, and will guide you in the right direction to investing in exactly what appeals to you.

Balancing With Financial Goals

Some time ago, we had a couple approach us with the intention of creating a high end fancy color diamond jewelry collection. The husband was leaning towards the side of investment potential and value appreciation over time, while the wife, naturally, was interested in the diamonds that most suited her chic tastes. In fancy color diamonds, unlike with colorless, the color of the diamond is the foremost characteristic and the quality which most significantly contributes to its value. We helped them choose their ideal pieces by narrowing down the choices where only her most desired color was chosen. The wife chose yellow as her favorite diamond color. To blend her passion for yellow with her husband's desire for an appreciation of the value over time, we narrowed this down to Fancy Vivid Yellow, which based on historical statistical information, had the most appreciation potential possible. We highly recommend a similar course of action for people who want jewelry that suits their tastes but will deliver a high return.
As a result, a pair of fantastic earrings came to life – the LEIBISH Eiffel Earrings, a pair of 12.54 carats Fancy Yellow Radiant Cut Diamonds stones are set in magnificent setting of 18K White & Yellow Gold and flanked with 2.84 carats of collection color diamonds and 2 shield cut light yellow diamonds totaling 2.50 carats.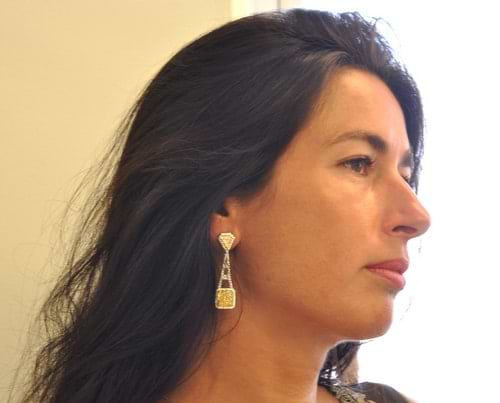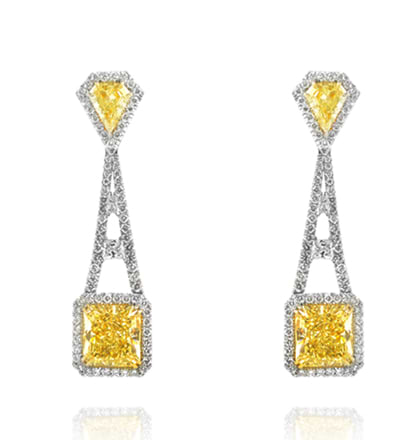 The LEIBISH Eiffel Earrings
For the second item to the collection we chose the 5.01 ct Fancy Vivid Yellow Emerald cut VVS2 diamond, and mounted it on a beautiful 18kt white gold ring surrounded by 0.90 carats collection colored baguette diamonds:
5.01 carat Fancy Vivid Yellow Emerald cut diamond ring
Go ahead and fall in love with fancy color diamonds - make a passion investment, but don't forget to consult a professional on your choice. Everything in life needs balance!