Before you decide to make an investment, in whatever industry it may be, you need to have some indication that your money not only has a good chance of remaining safe, but that it will appreciate significantly over time. While stocks and bonds were safe enough for many until the recent financial crisis jolted serious investors worldwide and made them realize that their hard earned money needs to be put somewhere more secure. Now, more than ever, tangible hard assets such as Fancy Color Diamonds have become very appealing investment opportunities.
In order to demonstrate fancy colored diamond price appreciation over time this articles presents two types of price results. The first section is prices realized at the world's largest auction houses as they can easily be backed and verified against Sotheby's and Christie's websites. Only, those are more often than not only relevant for important and somewhat expensive stones. The second section focuses on the market value of diamonds which are more affordable. However, since there is no price list for colored diamonds publicly available, LEIBISH pulled the data from their sales records.

Color Diamonds in the Auction House

Sotheby's and Christie's, two of the most famous auction houses around, have sold many impressive Color Diamonds including dozens of record-breaking stones. In just the past six years, a total of fifteen price records were set and broken. Despite the quality and sizes of the stones sold, even the experts in the field were floored by the results realized.

The first example is all Fancy Intense Pink Diamonds relatively close to one another in size.
In 2003, a Fancy Intense Pink 3.58-carat diamond was sold for USD115,000 per carat.
In 2007, a Fancy Intense Pink 3.86-carat diamond was sold for USD390,000 per carat.
In 2010, a Fancy Intense Pink 4.59-carat diamond was sold for an amazing USD625,000 per carat.

The price appreciation from these stones shows an unbelievable 443% appreciation.
The second example is Fancy Vivid Blue Diamonds all relatively close to one another in size.
In October 2007 a 6.04-carat Fancy Vivid Blue Diamond sold for $1.32 million per carat.
In May 2008 a 3.73-carat Fancy Vivid Blue diamond sold for $1.33 million per carat.
In May 2009 a 7.03-carat a Fancy Vivid Blue diamond was auctioned for $1.35 million per carat.
The price appreciation from these stones shows a fantastic 110% appreciation over the past five years.
Furthermore, the highest prices ever paid for a diamond at auction were both colored stones. The Wittelsbach Graff, a 31.06-carat Fancy Deep Blue, internally flawless stone was sold for $24.3 million and the Graff Pink, a 24.78-carat Fancy Intense Pink, potentially Flawlwss diamond sold for $46.1 million.
Price Performance of Commonly Traded Colored Diamonds

The colored diamonds LEIBISH has had the pleasure of owning over the years have seen mind boggling numbers. The prices these more commonly traded stones have sold for can give you some perspective in terms of diamond investments the average person would make.
Ten years ago, in 2003, a 0.50-carat Fancy Intense Pink diamond was priced at roughly $30,500 per carat.
Five years ago, in 2008, that same diamond was already at $50,000 per carat.
Prices have continued to increase since leaving us today at $145,000 per carat.
Below is a price chart of a Fancy Intense Pink diamond over the past ten years.
Now let's take a look at yellow diamonds:
Ten years ago, in 2003, a 2.00-carat Fancy Intense Yellow diamond with a VS+ clarity grade cost $5,000 per carat.
Today, that same stones goes for $13,500 per carat.
There is a 170% appreciation over the last decade and this stone has the highest market value among all fancy colored diamonds.

Color Diamonds Vs. Colorless Diamonds

Before Fancy Colored Diamonds were recognized for their investment potential, some investors looked towards colorless stones as possible investment opportunities. As with all diamonds, colorless diamonds are assessed by the same diamond characteristics (the 4Cs), but it is not enough for a colorless diamond to receive a high grade in all four categories. In order for a colorless stone to see a serious price appreciation it must be an extremely large exceptional stone.

If you look at the colorless diamond's appreciation over the past few years you can see that although they are versatile, the price has increased by 35%. In January 2006 a 1.00-carat colorless diamond stood at $8,000 per carat and less than a year ago sold for slightly under $11,000. This is after it hit a peak where a 1.00-carat diamond was worth over $13,000.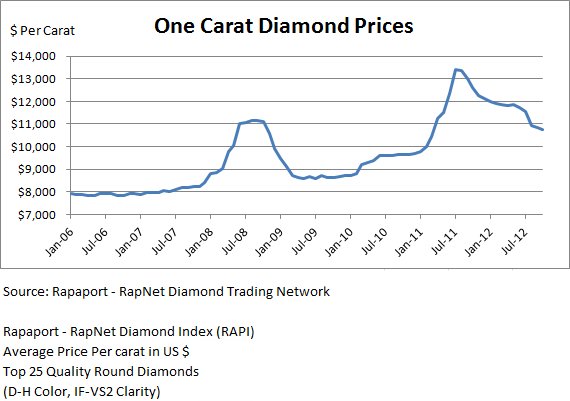 2012 - $10,838 p/c

The common denominator among all of these examples is that the value of Color Diamonds has constantly been rising. Not only has their value increased, but significantly, and quite rapidly as well. When compared to colorless diamonds, the numbers of colorless stones pale in comparison. Color Diamonds are so rare and the demand for them is extremely high and only increasing with time. The numbers don't lie, and the pattern has been solid and steady enough to declare that there is an obvious trend of positive appreciation for Color Diamonds and will hopefully continue to be for many years to come.
Contributor: Benji Margolese