6 Homemade Jewelry Cleaning Hacks You Wish You Always Knew
One of the reasons we like buying new items so much is that they are just that: new. Everything new and shiny looks great, be it a cheap plastic toy or an expensive piece of jewelry.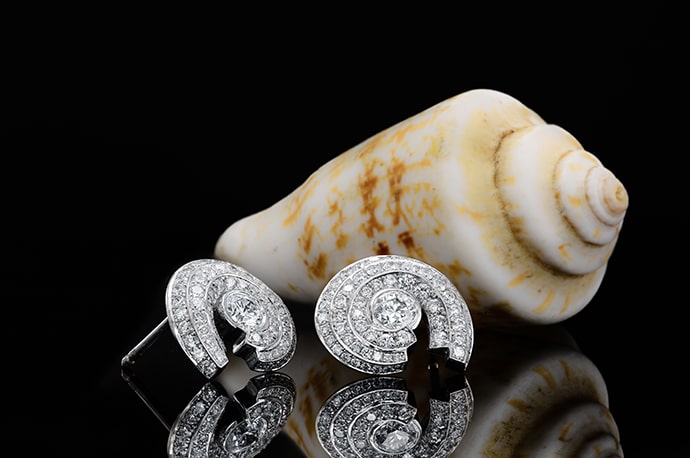 White Round Brilliant Halo Stud Earrings (1.60Ct TW)
However, even the most costly of items can reach a stage where it has seen better days. Dirt and grime can get anywhere, and unless it is dealt with it could temporarily ruin the appearance or functionality of whatever the piece is. In extreme situations, the object can suffer irreversible damage. This is why it is crucial to care for and clean your jewelry as you would your other valuable and invaluable belongings. Let us take a look at the easiest, fastest, and most inexpensive hacks that will change your lives.
In extreme situations, the object can suffer irreversible damage. This is why it is crucial to care for and clean your jewelry as you would your other valuable and invaluable belongings. Let us take a look at the easiest, fastest, and most inexpensive hacks that will change your lives.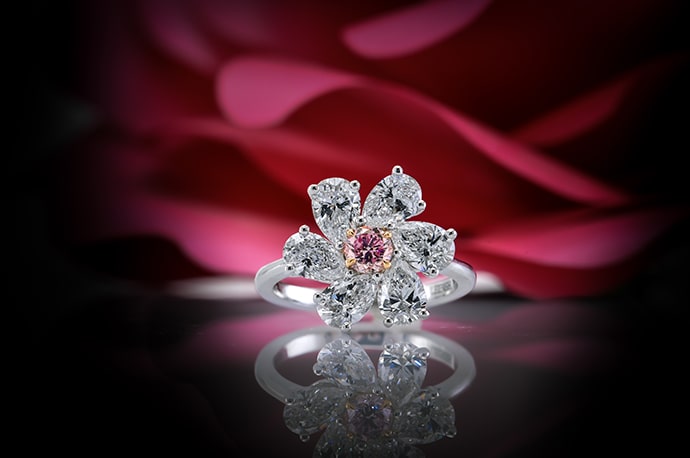 A 2.86 carat (TW) fancy intense purplish pink diamond ring in a floral design
How to Clean Jewelry? Read on For Our Top Jewelry Cleaning Solutions
1) Dish Soap, Water, and a Toothbrush
The best and easiest way to clean all types of metal is actually with substances and items that you already have at home. (Read more about the different types and colors of gold used in your jewelry.) To keep your jewelry extra squeaky clean, all you have to do is prepare a solution of very warm water and a few drops of dish washing liquid. You need to soak your jewelry for 20 to 40 minutes depending on how much dirt there is. Use a clean toothbrush to loosen any stubborn dirt that is still clinging onto your jewels. Finally, rinse and dry before enjoying your gleaming jewelry. If needed, you can repeat the process once more.
A Tanzanite Pear Side Stone Ring
2) Beer and a Soft Cloth
This great hack is for cleaning solid gold rings. All you need is a little beer and soft cloth to bring back that shine to your faded ring. Just pour a bit of beer on the cloth and rub the ring gently. Do not clean the diamond with beer, and avoid dark ale beer at all costs. You can then dry the band with a dry clean cloth.
3) Windex and Hydrogen Peroxide
While not every household stores hydrogen peroxide, you can pretty much find Windex or another generic window cleaner in every home. These two partners in crime can easily help you clean your gold or silver diamond ring. In a small bowl combine equal quantities of Windex and hydrogen peroxide and place your ring inside for 15 to 20 minutes. Between the Windex, which gets rid of all of the dirt your ring collects on a daily basis, and the hydrogen peroxide, which kills all of the bacteria your ring comes into contact with, you ring will be spotless and ready for a rubdown with a clean soft toothbrush to remove any extra residue. When you're done, you can rinse the ring or piece of jewelry with cold water and dry with a clean cloth.
How to Clean Jewelry - Silver
4) Jewelry Cleaner With Baking Soda or Vinegar
If you happen to have a silver diamond ring or silver jewelry that you are interested in cleaning, this hack is for you. Take a half a cup of white vinegar and mix it with two tablespoons of baking soda in a shallow bowl. After mixing the solution so that the baking soda is dissolved well, you can place your jewelry in the bowl and leave it there for 2 to 3 hours. When your jewels are nice and clean, rinse them and dry with a cloth.
5) Ketchup
Another great hack for cleaning tarnished silver jewels is with ketchup! Fill a small bowl with ketchup and put your jewels inside for just a few minutes. Using a small toothbrush, gently rub the jewels so that the dirt can be removed from every single tiny crevice. After that is done, wash the jewelry well with water and dry with a clean cloth. It is important to work fast and not to leave the ketchup on your jewelry for more than a few minutes.
6) Ultrasonic Jewelry Cleaner
Aside from the first hack, which is good for all types of metal, there is also always the option of a non-abrasive and chemical free ultrasonic jewelry cleaner. Now, if you're not familiar with this machine, it might sound like something big, bulky, and expensive. But, there is no need to worry, it isn't. You can grab one from eBay or Amazon for roughly $20 or less, and it works wonders with regards to cleaning your diamond jewelry. If you decide to go this route, it is imperative that you confirm that the cleaner or polish does not contain any chemicals as this can permanently discolor your jewelry or cause it to be less durable.
There are several top-rated chemical-free jewelry cleaners that are good for all types of jewelry out there. These machines are small and very simple to use.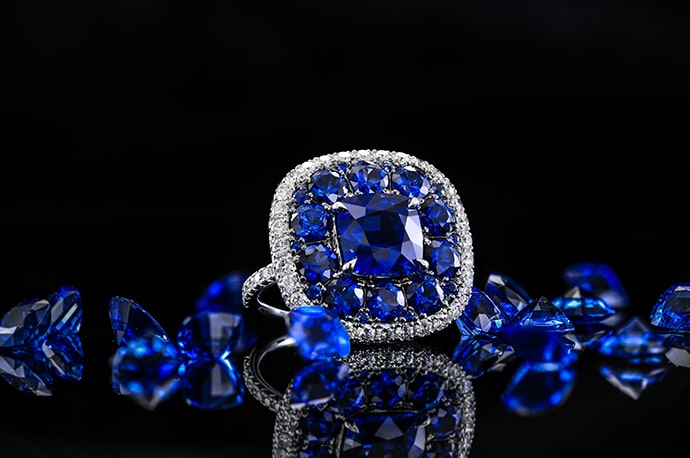 \
An extraordinary 8.56 carat (TW) sapphire and diamond ring
There you have it, six very helpful and useful hacks for cleaning your jewelry simply and quickly without spending much money at all. In addition to cleaning your jewelry from time to time, try to avoid contact with certain substances such as thick lotions, food, oils, and chemicals. This means removing rings and jewelry when cooking, cleaning, washing dishes, and even swimming. Chlorine can, unfortunately, have a negative effect on your ring. Furthermore, you should avoid wearing jewelry during activities that would cause it damage such as sports activities, hiking, intense exercise, and gardening. It is advisable to have your jewelry inspected every so often, especially if it is under warranty, so that you can prevent stones from falling out. A loose prong might be difficult for you to identify for it is an everyday task for a jeweler.
Check out our wide selection of rings, earrings necklaces, or all jewelry.