The image below is not of an ordinary basket of apples, as it contains the Apple of Wisdom. It was gifted to me from Martin Rapaport (founder of Rapaport Diamonds) at the Diamond Show in Basel one week ago.
I wanted to bite into it, but then I remembered what happened to Adam in Paradise when he bit into the forbidden fruit. Rapaport's Apple of Wisdom is on the top, the good looking green one with a piqué in the bottom left corner.
After spending four days together at the Diamond Show, Martin and I had a few heated conversations about the diamond business and his views versus mine. Contrary to many who claim that Rapaport is a little crazy, I must admit he makes a number of valid points from time to time. He definitely has a clear overview of what is cooking in the industry.
His conclusions of market prices are a little too far fetched for me, and to be honest we really don't agree on everything, but the fact remains; There is indeed far too much white goods in the market, and not enough liquidity.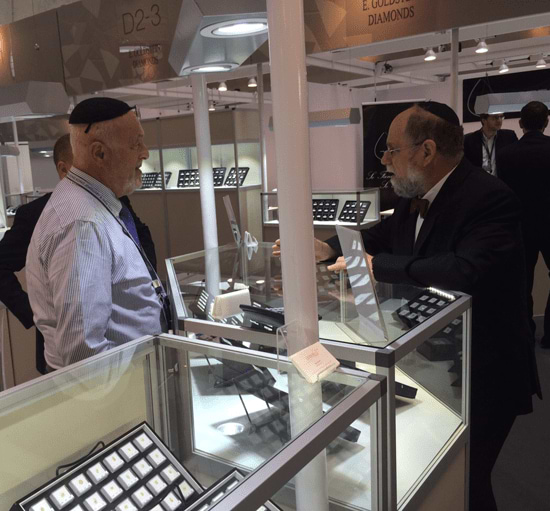 Leibish and Martin in Discussion
Retailers are having a rough time. From the supplier's side, there is an endless quantity of white goods produced from India. From the competition, large online retailers are taking very large bites of the pie from the jewelry stores, and heavily pressing on prices. In parallel to all this pressure, Rapaport is reducing the published prices forcing them to sell their inventory below or near cost. Suppliers are looking for any alternative ways to escape and somehow make a profit. They can't depend on goods published on Rapaport because it is controlled by the list. They would buy if the list would remain stable or just disappear for good, but as they are afraid the prices will drop again, causing the value of their inventory to further decline, they can't afford to hold onto their goods. The whole attitude is pushing prices further down making it more difficult for suppliers to buy the goods they need, but it is out of their control. It's a vicious circle that no one is benefiting from. The classic question: what was first, the chicken or the egg?
Was it the lackluster in the market or Rapaport's price reductions that managed to push the prices down even further?
I admit, it wasn't Rapaport that brought the prices down. He merely tries to reflect the weakness of the market as a whole. Perhaps you are not familiar with the Rapaport list, but over the past few months, there has been a significant decrease in prices of white diamonds. After the first reduction, the market worsened and dealers were afraid to commit. He hit the break again, and the next time the market reacted by almost completely stopping the trade activity. As a result, Rapaport reduced the prices of round goods by 3%, just a week before the Basel show, which began on Thursday, March 19, 2015.
During this time, Martin Rapaport gave an interview on CNBC. He spoke about the prices as he sees it, but more importantly let the market know what he feels about utilizing diamonds as an investment. Like any diamantaire would say, he still sees diamonds as a girl's best friend. However, unless purchased at the prices inspired by his own transparent Rapnet list, he said that diamonds would not be the best investment tool.
The desire to own an important color diamond as an alternative investment, with the purpose to use as a hedge against economic and political instability, is increasing worldwide. Although fancy color diamonds and your everyday colorless stones are related, they are essentially two very different markets. Color diamonds are not part of the Rap-list and have no preset prices. I can't say what was first, the chicken or the egg. Was it the customer demand or the jewelers push which motivated people to buy fancy color diamonds as a long term investment proposition? Retailers need alternative products with sex appeal and a price point to earn a decent living. Still, Baselworld amazingly produced some record prices in fancy color diamonds!
A 5.00 carat vivid Yellow was sold at 170.000 per carat
A 4.00 carat intense Blue earned a record price (which I unfortunately cannot disclose)
A 13.00 carat fancy Blue also fetched a record price (which I unfortunately cannot disclose)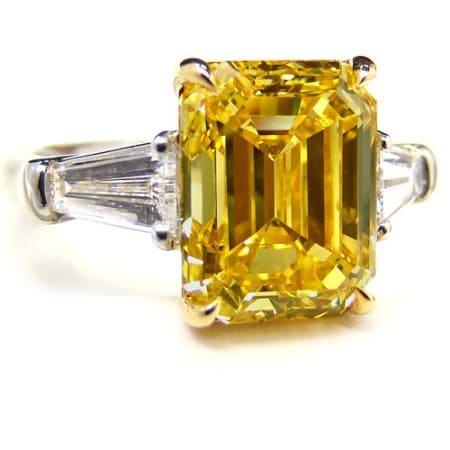 A 5.01 ct Fancy Vivid Yellow Emerald-Zimmi- by Leibish- similar to the stone sold in Basel
Contrary to the concept that Mr. Rapaport presented, some believe that diamonds shall not be treated as a commodity sold on a price list, like iron ore or aluminum. Dior or Chanel may use the same fabric as Old Navy, but their garments sell for ten times the price. How is that? Why is it that so many in the diamond industry are fixated on the Rapaport list?
If you ask me, irrespective of the current market, the best colored diamonds around are affected by the price reductions in the least. The color is King. Rubies, Sapphires, and Emeralds also experienced fair demands.
Graff and Chopard are leading the way, showing the public that great colors with a price point will sell even at challenging markets. However, the most intelligent points I heard over the show was from my old friend Ishay Ben David from New York:
"Do you want to know why the market is so bad? The Russians lost half of their money, and their desire to buy is gone. The Chinese are stuck with their money in China, and the Arabs aren't buying because their Oil is selling at discount prices. It's only the Americans remain in the game." Upon my return home, I had a brief look at Google analytics. I wanted to see where the traffic on our LEIBISH website is coming from. From the 100,000 visitors that were in our virtual store www.leibish.com, 65,000 were indeed from America.
Welcome to the Goldene Medina (golden country), Leibish on 5th Ave.