When Father's Day comes around, we often take a look at what gift giving opportunities are available for the men in our life. And as time goes by, we're more and more interested in giving gifts that have meaning to those we love--such as gifts which have a sense of permanence ---just like the love and admiration we have for those who are important to us.
The men we care for don't have to be father's of course, although some have that role. A husband, brother, son, uncle or friend may be on our mind lately. And who said self-purchasing went out of vogue? Now's a good time to buy that ring you've been eyeing.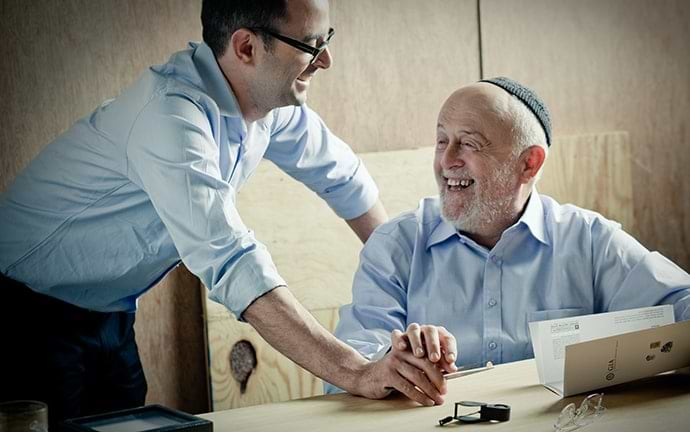 Leibish and Son, Shmulik
LEIBISH MEN'S RING COLLECTION
At LEIBISH, we create men's jewelry with the connoisseur in mind. With so many jewelry options available now, we know that discerning men today may pass over several jewelry types while searching for something that they'll wear all the time--a statement piece that reflects their taste.
HEAVY METALS
The precious metals in men's rings are an integral component to the overall design. While women's rings may be styled with more delicate shanks and feminine detailing, a masculine ring design has more metal in its overall composition, resulting in a stronger look.
Platinum, white or yellow gold can be central to the overall design. Many men prefer platinum which is a heavy, substantial metal. When you are wearing a platinum ring, you know you have it on. Platinum's white sheen softens to a lustrous patina over time with regular wear. It's a prized characteristic of this precious metal that collectors love.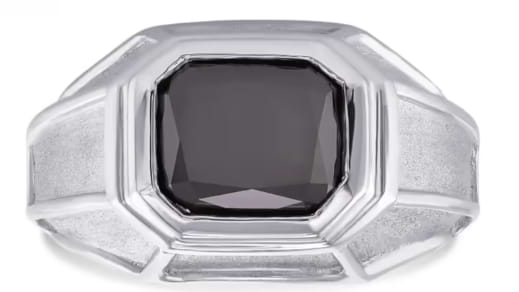 LEIBISH Platinum Fancy Black Radiant Diamond Men's Ring
White and yellow gold each have their own allure. This metal can be customized to a dazzling high polish or treated with a number of finishes like a satin sheen, for instance. Every finish is part of the overall ring's design. Whether it's cool white or warm yellow, gold lends its personality to the ring's story.
MEN'S DIAMOND RINGS
Diamonds are critical to the gemstone repertoire in the men's ring category. Their colorless brilliance is a classic focal point with handsome looking men's jewelry. Fancy color diamonds, especially the natural browns and luxurious yellows are ideal for masculine ring designs too.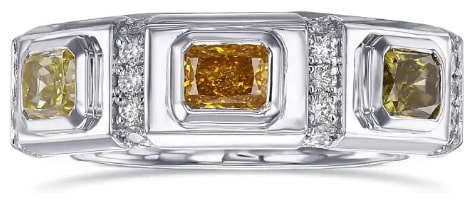 LEIBISH Mix Color 3 Stone Men's Diamond Ring
You may not be familiar with black diamonds, but this natural stone is perfect for creating a high-end ring with a monochromatic appeal. Sleek, and neutral, black diamonds are many men's favorite pick.
CHANGE IS GOOD
If you select a Chameleon diamond for your man's ring, you've got a fascinating stone with surprising talking points if you share the phenomenon that this stone exhibits. Diamonds referred to as Chameleons are naturally occurring stones that exhibit one color in their stable state. But when they are subjected to dark storage—something as simple as being stored in a jewel box for a while—or if the stone gets positioned near extreme heat (a jeweler's torch for instance) this enchanting stone changes color! The stone, in true chameleon fashion reverts to its stable color soon again. This special effect is infinitely repeatable. The man who wears this stone is as rare as the diamond ring he owns.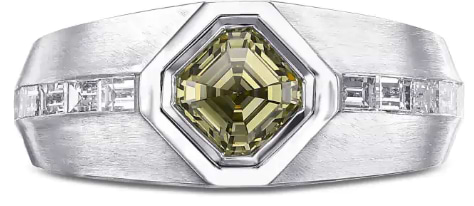 LEIBISH Chameleon Asscher Men's Diamond Ring
HARD CHOICES
But other classic and unexpected gemstone choices provide the men's ring niche with some fascinating options. Sapphire for example is a timeless jewel that belongs on men's rings too.
Men often use their hands more actively in the work place and perhaps in life generally. When that's the case, colored stones like sapphire, ruby and even fancy color sapphire will be smart choices for a masculine ring. This is because these gems are almost as hard as diamonds, so they can handle the day to day wear without risk of damage (under normal usage). The harder the stone, like sapphire and ruby, the longer it will stay brilliant and scintillating –just like the first day it was worn.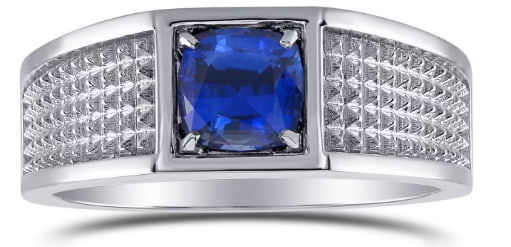 LEIBISH Blue Sapphire Cushion Men's Ring
CUSTOM IS ALWAYS A GOOD OPTION
Lastly, there's also an option of choosing one of our stunning loose stones for a ring that is completely customized to the wearer. There's a singular affection we have to jewelry that is one of a kind—made especially for the wearer. There's pride in knowing we'll never see our ring on another hand--it gives us great satisfaction.
So if you're looking to self-purchase, or shopping for a special man in your life, there couldn't be a more ideal time to find a ring that fits that special someone. •