GET MARRIED IN YELLOW!
LEIBISH LAUNCHES A HUGE SALE OF UP TO 25% OFF SELECTED YELLOW DIAMONDS AND YELLOW DIAMOND JEWELRY!
Ramat Gan, Israel - March 18, 2013 – LEIBISH, the world's premier online natural colored diamond company, announced today their launch of a massive sale, Get Married in Yellow, of up to 25% OFF on their loose yellow diamonds and yellow diamond jewelry.
Natural Fancy Yellow Diamonds are known to reflect the most magnificent light, and it is said to flaunt the inner aura of those that wear them. With their beauty and magnificence there is no surprise they have managed to capture so much attention over the past few years. With such a wide selection of natural yellow diamonds in stock, LEIBISH is once again presenting the general public with a golden opportunity.

"The spring season is upon us, so let's give people the ability to let some sunshine in." Natural Yellow Diamonds are by far the most popular of the fancy colored diamond family. Still, they remain so unique that they enable the wearer to stand high above all others" said Polnauer.

Only one of 10,000 carats mined classifies as a fancy colored diamond of gem quality, and is only then released into the market. Although many have read about the more famous yellow diamonds, such as the 128.54-carat Tiffany Diamond, the 110.3-carat Sun Drop Diamond, and the 101.29-carat Allnatt, the remainder of famous important yellow diamonds throughout history are not much more than twenty. More recently, fancy yellow diamonds have been seen on some of the most famous celebrities, such as Jennifer Lopez, Katie Holmes, and Paris Hilton, which only helped increase their already growing popularity. For such as a rare and precious item, these extremely unique pieces have seemingly made quite a splash, while still remaining an affordable introduction to the world of colors.

Sourced from various different places throughout the world, the majority of yellow diamonds originate in the Ellendale Mine which was recently acquired by Goodrich Resources in February 2013. Although they are so scarce, as a result of their popularity yellow diamonds can now be found in some of the well known colorless diamond market places. However, it is usually not more than just a few options to choose from.
LEIBISH offers one of the largest online selections of
natural yellow diamonds
. As well as variations of pink, red, champagne, blue, green, orange, purple, black and every color in between. The user-friendly website allows buyers to browse and compare large images of individual stones and jewelry, as well as an abundance of easily access all gem specifications.

Yellow Colored Diamonds starting from Cape colors (4 stones on the left are from the U-V through X-Y-Z range) continuing to Fancy Light Yellow, Fancy Yellow, Fancy Intense Yellow, Fancy Vivid Yellow and Fancy Deep Yellow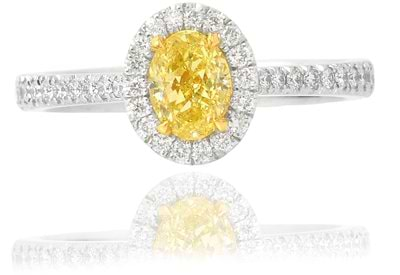 An elegant 1.09-carat Fancy Yellow Diamond ring with a 0.60-carat GIA certified Oval Fancy Yellow Diamond
Pave set with 0.49-carats TW collection color D-F, with VS1-2 clairty diamonds in 18K white and yellow gold
# # #
About LEIBISH:
Founded in 1979, LEIBISH is the world's premier online resource for natural fancy colored diamonds. Based in Ramat Gan, Israel, and with customers around the globe, Leibish enjoys an unparalleled reputation for integrity and service. The Company offers a wide array of GIA-certified colored stones as well as a unique collection of multi-colored diamond jewelry designed in-house. The LEIBISH website features a comprehensive knowledge center for the Fancy Colored Diamond Industry, including informative articles and investment materials, and also offers a direct purchasing channel for global buyers. For more information, please visit
/
For all press inquiries: