Everyone knows that wedding bands and engagement rings are given and received separately, and are ultimately two separate rings. Yet once both rings have been placed on one's finger they are often seen as one, or at the very least, as a pair. This results in the desire to keep the two together as much as possible. Some go as far as to solder the two rings into one. While some have a sentimental reason for doing this, or for even wanting their rings to be as close together at all times, others simply desire to have their rings fit together nicely for comfort and aesthetic purposes. Interestingly enough, there are actually those who prefer to wear their two rings separately, on two different fingers and sometimes on two separate hands. Here are a few ways to keep a wedding band and an engagement ring together.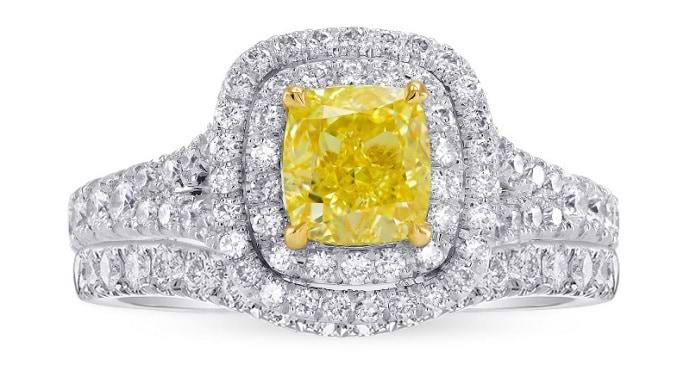 Fancy Intense Yellow Cushion Diamond Double Halo Engagement & Wedding Ring Set (1.85Ct TW)

Simple Ways to Keep Rings Together
One of the easiest ways to keep your rings together, whether it's because you want them to be seen as one or you don't want them to twist around, is by doing something ahead of time. This entails buying a wedding set. Depending on the shape of the engagement ring, the wedding band is sometimes contoured to perfectly fit.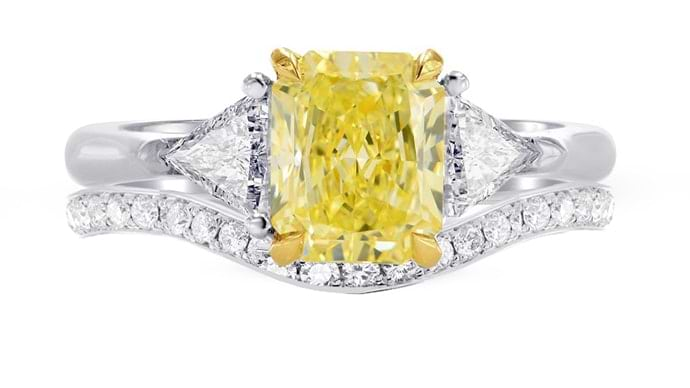 A Fancy Yellow Radiant & Triangle Diamond Engagement Wedding Ring Set (1.80Ct TW)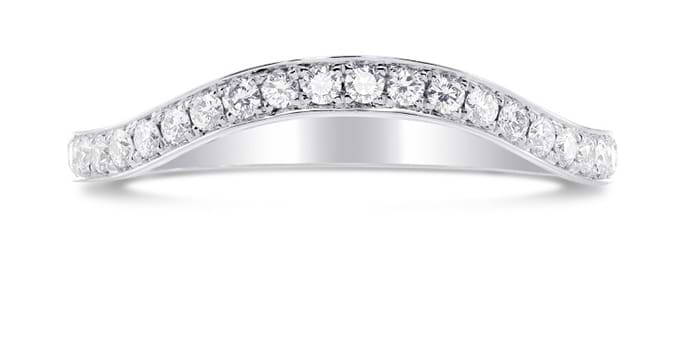 A contoured wedding band to fit the shape of the engagement ring, set with colorless round brilliants and a closed pave setting
Other wedding sets come with a piece which can interlock the two together. This allows the rings to be completely connected while the piece is in use, and to be worn separately when the piece is removed. Another idea that needs a little bit of planning is the wrap-around wedding band. This band is designed to wrap around your engagement ring. You can buy the two together or separately, and you have the choice of wearing the rings as a pair or as individual rings. If the issue is just keeping your rings in place, there is always the option of buying ring guards. These little plastic or metal guards, which are inserted at the bottom of your rings, protect the rings from knocking into each other, and make them snug so they won't move. The last simple idea is buying ring adjusters that can make your rings smaller and attach them together.
Soldering Your Rings
Those who are perfectly happy wearing their wedding bands and engagement rings separately, as they are, with the advantages and disadvantages, may be unaware of the term "ring soldering." This is the process of attaching the metals of both rings together, essentially creating one larger ring. This is done for a number of reasons but ultimately results in a ring that fits properly, does not move around, is always centered, and requires less re-plating since the rings are no longer rubbing against each other. There are those who like the idea of joining the two rings together as one after the wedding. It's symbolic and meaningful to them. While soldering does solve many issues that people have with their rings, there are certainly pros and cons to consider before making this important decision.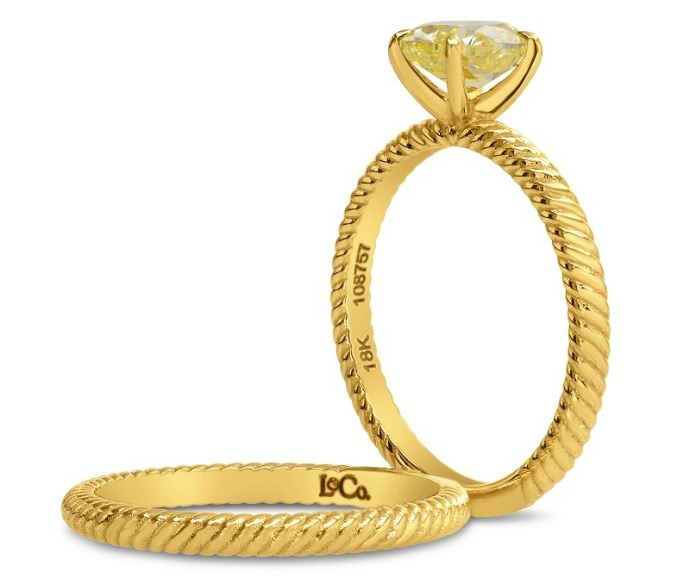 Fancy Intense Yellow Oval Engagement & Wedding Ring Set
Pros and Cons of Soldering
As mentioned earlier, one of the main pros of soldering is reducing the need to re-plate one's rings. Anyone who has white gold rings understands the frustration when the rings begin to lose their luster and start to look a bit yellow. It's both a nuisance and a financial burden to constantly have to bring the rings to be re-plated. Soldering the rings together reduces the need to do this because the rings no longer rub against each other, removing the plating. Another main benefit is the comfort of wearing one solid ring that is always in place. Lastly, since the rings will be soldered together in the way that you prefer, there will be no more playing around with them so that one is perfectly centered with the other. Pros are great, but there are also always cons. In this case, the main con is that the rings may be damaged if one ever decides to separate them. Another major downside is that they always need to be worn together, so if you ever have an instance where an engagement ring is not suitable, you will have to leave your wedding band at home as well. Of course soldering the rings also doesn't give you the freedom to play around with your rings. You can't get a new band to wear with your engagement ring, or just wear another favorite ring with it or with your wedding band when you feel like it. You lose all flexibility.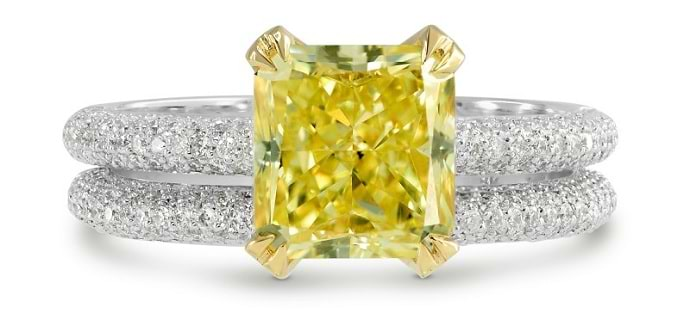 Fancy Intense Yellow Radiant Diamond Wedding Set (2.56Ct TW)
Keeping one's rings together is not something that occupies every ring-wearer's thoughts, but those that are troubled by the discomfort that wearing rings together can cause, can rest assure that there are helpful solutions out there. It would be advisable to try out some temporary or easily reversible solutions before doing something permanent like soldering.