LEIBISH is well known for their fabulous selection of Natural Fancy Colored diamonds as well as their elegant jewelry designs. Now, the company is spreading its wings by adding gemstones to its jewelry collections, specifically the natural tanzanite gemstone.
Tanzanite is beautiful and quite rare, but what is especially interesting about it is the fact that it was only discovered several decades ago. The blue or violet colored stone, which can be a reddish brown color when it is found, was discovered in Tanzania. This is why Tiffany's decided to call the stone tanzanite. Though there is nothing like the sparkle of a diamond, tanzanite has a warm and sensual quality to it that is quite unique as well.
LEIBISH proudly introduces the spectacular tanzanite jewelry designs in their new collection. Here is a look at some of these pieces.
Oval Tanzanite and Triangle Diamond Ring
This first piece of the LEIBISH tanzanite jewelry collection is an 18K white gold ring displaying a 4.92-carat oval tanzanite stone with two triangular 0.76-carat diamonds on the sides. The ring would be a lovely addition to any jewelry collection, makes a stunning piece to pair with eveningwear, and can even be given as an engagement ring. The stone is certified by in house grading.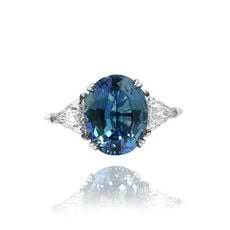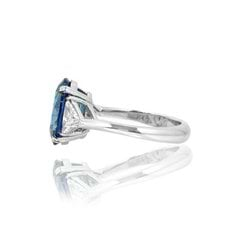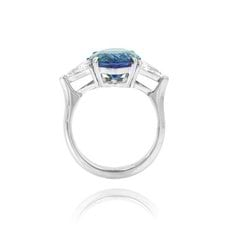 The 5.68 Carat, Oval Tanzanite and Triangle Diamond Ring

Heart-Shaped Tanzanite Pendant with White and Fancy Vivid Yellow Diamonds
The heart-shape is a remarkably romantic and symbolic shape to begin with, but when a 3.90-carat heart-shaped blue tanzanite stone is paired with white and Fancy Vivid Yellow diamonds and set in an 18K gold pendant setting, the result is truly mesmerizing. The pendant combines 0.39 carats of brilliant round Fancy Vivid Yellow diamonds with 1.26 carats of white round brilliants displaying D-F color and VS1-2 clarity. The stone is certified by in house grading.
Colored diamonds can in no way be replaced. However, having said that, since certain colors such as blue are so hard to come by, especially larger diamonds with intense colors, why not look into gemstones that boast phenomenal colors and look fantastic when placed in jewelry settings? LEIBISH has taken their jewelry expertise as well as their vast diamonds knowledge and has created a beautiful and sophisticated gemstone collection featuring the exotic tanzanite stone. The final products speak for themselves, and as with all LEIBISH products, the tanzanite collection does not disappoint.