An old Irish legend has it that during a leap year, on the 29th of February, women can propose to men and the answer will be yes. Now, even those who do not believe in such things can take a leap of faith by disregarding tradition and popping the question to their men. With the right engagement ring, possibly one that features a colored diamond, who knows? He might just say yes. Whether you plan on presenting your fiancé with an engagement ring or just want him to have one too, there are many options to choose from. From white to black to cognac or champagne diamonds, men's engagement rings can be sophisticated, stylish, and quite masculine.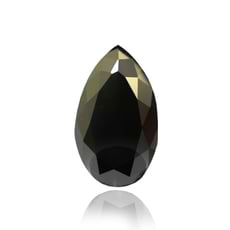 As well as female engagement rings, Fancy Black Diamonds look great in men's rings
Black Diamond Rings

Not only are white diamonds less manly, but also they are less unique. Black diamonds are the most common colored diamond used for men's engagement rings. A black diamond ring can provide your special someone with a classy, solid piece of jewelry. Natural fancy black diamonds are becoming more and more popular for their striking appearance as well as competitive prices. Black diamonds are very rare; therefore most of them are heated in the rough. This accounts for their relatively inexpensive prices. Titanium and platinum are great metals for a man's engagement ring and look perfect when paired with a black diamond. White side stones can be added to spice things up, or alternatively, a band combining small white and black diamonds can have a dramatic effect.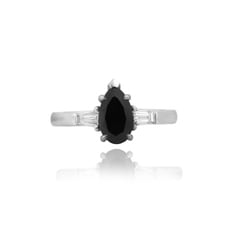 An example of a Men's Black Diamond ring
Champagne (Brown) Diamond Rings

While black may be bold and macho, brown can also be. A brown diamond, also known as a champagne or cognac colored diamond, can be glitzy yet subtle at the same time. Let him feel glamorous and mannish simultaneously. Used as a primary stone, or dotted throughout a band, brown diamonds are sensuous and romantic. As an added bonus, brown diamonds are often less expensive than other colored diamonds, so you get more for your money. You can find a variety of shades including Fancy Yellow Brown, Fancy Dark Orange Brown, Fancy Light Brown, as well as others.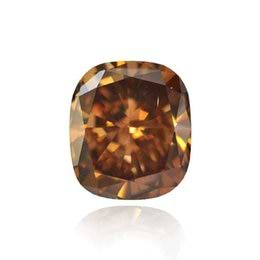 Fancy Brown Diamonds are attracting attention of the male gender
Champagne shaded fancy colored diamonds have just the right amount of color to take on the role of a diamond suitable for a man's ring. There are many ways to showcase champagne diamonds on an engagement ring. The metals can also vary, from yellow gold to white gold and platinum. There are many choices in this department, and he will surely be content with your choice.
A Champagne Colored Male Diamond Ring
Orange, Yellow, Green, and Blue Diamond Rings

If the subtler and more commonly found colored diamonds do not suit your guy's taste, there are many other options, including orange, yellow, green, and blue diamond rings. Of course there are the rare pinks and reds as well, but those are extremely expensive and may not be appropriate for every man. Orange diamonds can take on a brownish color. It can be right for someone who wants a bit of color but not to overdo it. Yellow diamonds are for those who want loud. Most men do not sport yellow diamond engagement rings, but it is definitely a possibility, as are green and blue diamonds. The latter also fall into the very-rare category of colored diamonds but are beautiful and eye-catching.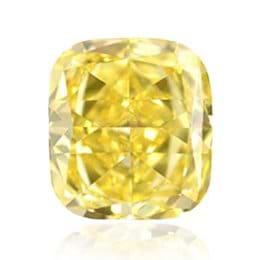 A Natural Yellow Diamond
Different styles of Yellow diamond men's rings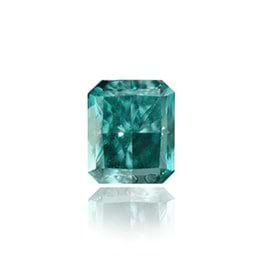 A 0.19 carat, Fancy Deep Blue Green, Radiant shaped diamond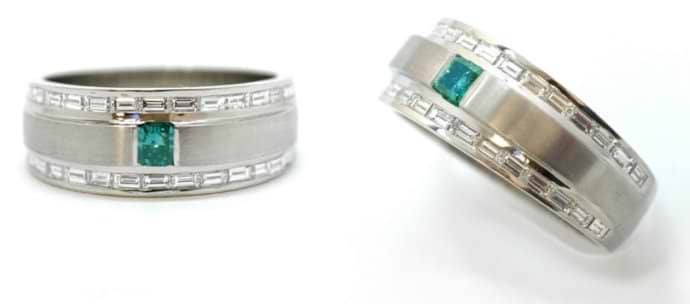 Engagement rings for men come in many styles, sizes, colors, and types, but there is something for everyone. Turn the tables and put the ring on his finger. Otherwise, you will have to wait another four years. Legends are legends, but they can be fun and exciting. Why not take the opportunity to do something daring? If not on Leap Year Day, then on any other day when the time is right.