To most people, diamond rings do not summon images of colorful jewelry and yet a diamond ring is fully capable of presenting a rainbow of colors. Although the majority of the general public is familiar with colorless stones, and many have heard of yellow diamonds, rubies, and sapphires, people are unaware that they too can explore the world of color. From a single colored diamond paired with a diamond of a contrasting color to multi-toned stones, there are many ways to introduce a combination of colors to your diamond ring.
Halo Diamond Rings
One of the most popular diamond ring styles that incorporate a bunch of color is the halo ring. This is because the design is tailored for combining or contrasting color in the form of a halo. While halos can be created around a stone of the same color, it is generally used to add an additional color. For instance, a colorless diamond can be surrounded by a halo of yellow diamonds and vice versa. Or, two colors can be used and alternated as long as it fits within the design. Different color metals can also be used for the various diamond colors which will also add color to the piece. An example can be a two-toned diamond ring incorporating colorless and pink diamonds. The colorless stones can be set in platinum or white gold while the pink stones will be contrasted best when set in rose gold.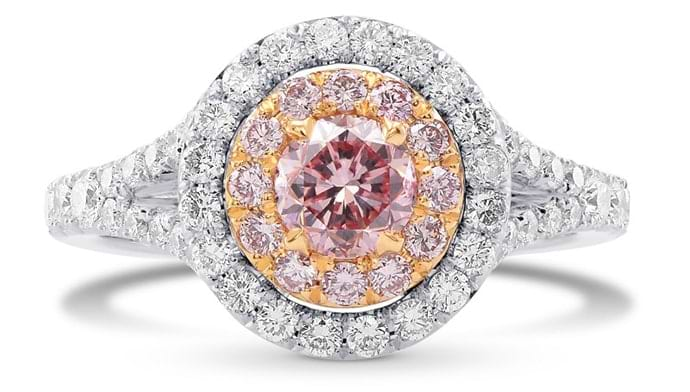 A fancy pink round diamond halo ring with an inner halo of pink diamonds and an outer halo of colorless stones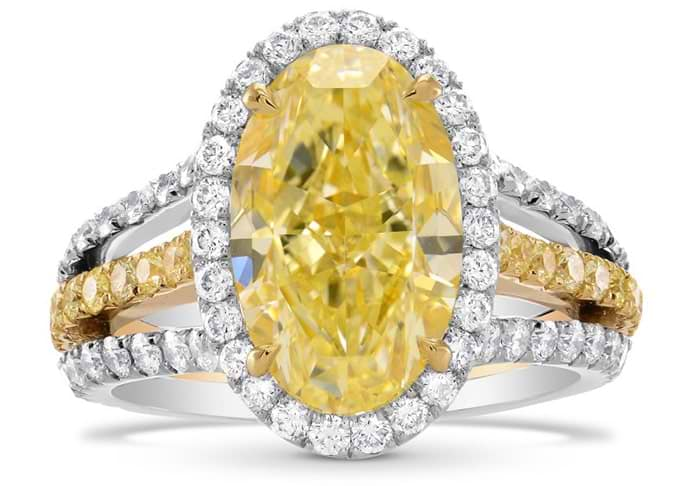 A fancy lLight yellow oval diamond halo ring with different colored gold, and different colored diamonds
Secondary Colors in Color Diamonds
Most natural fancy color diamonds are found with a secondary color if not several. In fact, it is quite hard, and generally rather pricey, to locate a color diamond with a pure hue. More often than not a color diamond will possess overtone colors due to compound elements within the stone. Diamonds with multi-color overtones can be quite beautiful and are often paired with matching diamonds, or alternatively, with contrasting stones. For instance, a purplish pink diamond can be matched with pink side stones or contrasted with blue or gray diamonds.

A fancy purplish pink three stone diamond ring by Leibish
Side Stones
Perhaps the easiest and most straightforward way of turning your ring into a multi-color diamond ring is by introducing side stones to your solitaire ring. Pink diamonds can flank a colorless diamond, a yellow center stone can be paired with colorless side stones, or a yellow or colorless diamond can be matched with a combination of yellow and colorless side stones. Similar to side stones, there's the possibility of making your solitaire ring a three-stone ring. This can allow you to add color through the additional stones. A pink center stone can be contrasted with two yellow diamonds, a green diamond can be surrounded by two pink diamonds, or you can go more neutral with a center brown diamond and two additional colorless diamonds.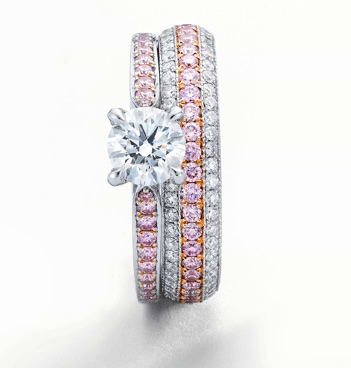 Colorless diamond with pink diamond side stones
Multiple Center Stones
Another way to promote this style is with an explosion of color right in the center of the jewelry piece. Instead of using one center stone, another option is using many colors of similar or different shapes to create a collage of color. Although this might sound strange trying to picture it in your head, once you lay your eyes on one of these designs you will clearly understand, whether it fits your taste or not, the piece's allure.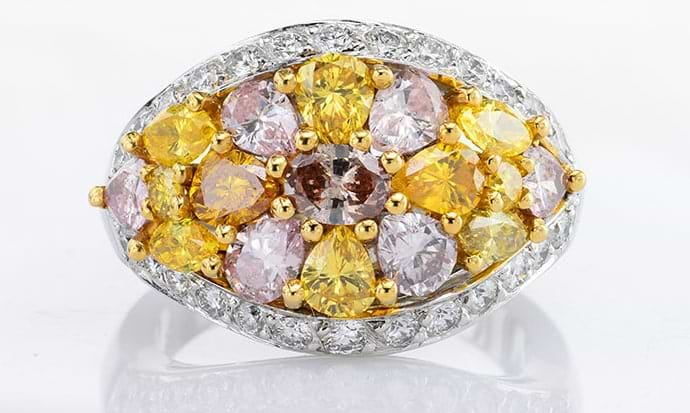 Leibish's wife's multi-colored diamond ring
Multicolored diamond rings
The world of color diamonds opens the door to so many colorful options; it's simply spectacular. All you have to do is decide which colors suit you best and how you would like to add them to your ring. Alternatively, browse through our collection and let us know what interests you most!