Rare Blue Diamonds - A Unique and Noble Investment
Every blue diamond is a one-of-a kind creation. Certain shades of Blue are amongst the rarest and most expensive of fancy color diamonds. There are not too many diamond mines that produce these stones throughout the world. The Cullinan Mine in South Africa is renowned as one of the primary sources for blue diamonds, while Rio Tinto's Argyle Mine in Australia is known to produce many of the smaller Violetish, Grayish hues of these amazing fancy colored diamonds. As is the case with all mines, production is depleting and at this point in time there are not too many replacement mines on the horizon.
The Blue Diamond Color scale by Leibish & Co.
Given the existing strong demand for blue diamonds and the limited supply, the investment potential is apparent. The demand side of this equation continues to strengthen as the investment potential of rare fancy color diamonds in China, India, and America is beginning to be understood. Similarly, the supply side is becoming even more constrained as mines deplete and no new mines are being developed to take their place.
Together with the increase in demand for blue diamonds, is a raised awareness in all markets of natural fancy color diamonds as an asset class and an alternate investment form. This enlightenment will only grow as once the proverbial cat is out of the bag it is impossible to put it back in, with forecasts of the Chinese and Indian demand for gems exceeding that of the U.S. by 2015.
Blue at Auction

The demand for quality blue diamonds at auction is insatiable, with prices reaching approximately USD1.5 million per carat for particularly fine examples. Amazingly enough, record auction prices for blue diamonds were setting records even during the Great Financial Crisis (GFC) of 2007-2008 - talk about resilience. Furthermore, they continue to break more auction records today, such as the 10.48 carat, flawless, Fancy Deep Blue, Briolette-cut diamond that was sold on November 14, 2012 for a whopping USD$10,860,146 (USD$1.04 million per carat). It set a new record for the highest price paid for a fancy deep blue diamond and the highest price paid for a briolette diamond at auction.

With U.S. debt now in excess of $16 trillion and a never ending quantity of new money being printed as part of Quantitative Easing 3, the real value of the U.S. dollar is being constantly eroded. Colored diamonds are one asset that definitely cannot be printed on demand.

Market Value

With the price of blue diamonds continuing to display incredible strength in the auction market, is it any wonder that the retail market for these blue gifts of nature is eternally vibrant? Although the blue diamonds that do make the headlines may sell for the tens of millions of dollars, there are smaller stones for sale that are more reasonably priced. These stones have excellent depth of market, liquidity, and investment potential.

Fancy intense blue diamonds exceeding 5 carats appreciated by 368% over the 12 year period from 1998 for an annualized return exceeding 30.5%. This time frame spans both the "Tech Wreck" of 2000/20001 and the GFC of 2008. Fancy intense blue diamonds of between 2-3 carats appreciated 1000% over the same period for an 83% annualized return.
Source:
In 1998, a 5.32ct, Fancy Intense Blue sold for USD285,000/carat
In 2007, a 5.04ct, Fancy Intense Blue sold for USD570,000/carat
In 2011, a 6.60ct, Fancy Intesne Blue sold for USD830,000/carat
In 2011, a 7.64ct, Fancy Intense Blue sold for USD1,050,000/carat
Famously Blue

The Hope diamond was first unveiled almost half a millennium ago. This fact alone is sufficient evidence of the historical significance of blue diamonds. As history always repeats, you would have to be very brave to question the integrity of fancy blue diamonds.
The Hope is a pear-shaped, cushion cut, 45.52 carat, Fancy Deep Grayish-Blue, VS1 diamond. It was previously known as "Le bleu de France" and it is the largest deep blue diamond in the world. It was mined in India and has been housed at the Smithsonian National Museum of Natural History for the past fifty years - a donation from Harry Winston. It is possibly the most legendary diamond in the world, steeped in legend and mystique that has linked it to religion, theft, and curses.

The Wittelsbach (Graff) was a cushion cut, 35.56 carat. The diamond, of Indian origin, dates from 1664, when it was given by Philip IV of Spain to his daughter. In 1722 it came into the possession of the noble Bavarian Wittelsbach family. It was originally cut with an unusual pattern of 82 facets. In 2008 it was sold at a Christie's to Laurence Graff for USD24.3 million, who re-cut the diamond, losing 4.45 carats, to 31.06 carats. It is now a Fancy Deep Blue IF (Internally Flawless).
Catch 'em While You Can

When it comes to selecting a diamond color for investment purposes, blue ticks all the right boxes. It is a color which has been in demand for over half a millennia and that demand continues to build as is reflected in the price of blue diamonds. On the other hand, supply is dwindling at a rapid rate.

Fancy color diamonds have proven themselves over time to be among the strongest asset classes in the market. They have outperformed all other major assets including stocks, bonds, gold, silver, and platinum.

In an uncertain world drowning in sovereign debt, investing in fancy blue diamonds may be one of the last bastions of sanity.
Contributor: Benji Margolese
Related Diamond Articles
About Natural Fancy Blue Diamonds
Are Blue Diamonds Real, What is Blue Diamond and other FAQ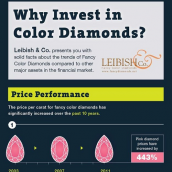 Investment Infographics - Investing in Colored Diamonds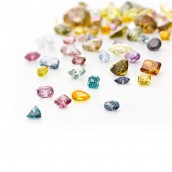 5 Tips on How to Invest in Fancy Color Diamonds - Color Diamond Investments