It really isn't a very difficult idea to understand. People like to be unique, be different, and stand out in a crowd. Now, that fancy colors have began attracting so much attention, even the worlds most famous people have been seen in Hollywood, walking the Red Carpet draped in natural fancy colored jewelry.

Over the past few years, business in the fancy colored diamond industry has been increasing at a phenomenal rate. More and more people have been showing interest in these magnificent stones and using them in some of the most alluring jewelry designs around.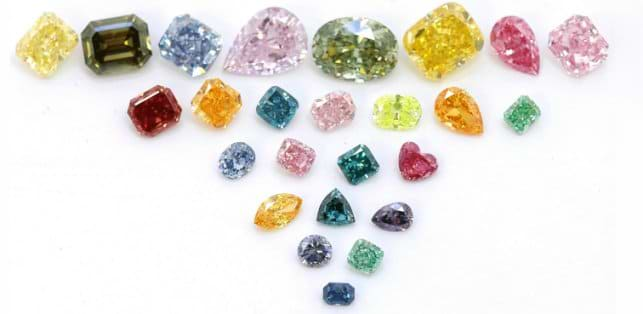 Fancy Colored Diamond Collection

Fancy Yellow diamonds have the highest demand of the fancy colored diamond family. As a result of their abundance in nature, yellow diamonds are priced relatively cheaper than some of the other rarer colors such as blue diamonds, pink diamonds, and red diamonds. Due to the affluence of fancy yellow stones and needless to say, their striking appearance, higher clarity stones are not only viewed as exquisite diamonds, but they are often sought out as excellent investment opportunities. Internally Flawless (IF) stones over two carats or diamonds with a (VS) clarity grade that are over three carats make for excellent investments with very high returns.


Fancy Yellow Diamonds

Fancy Intense Yellow Diamonds

Fancy Vivid Yellow Diamonds

In fact, LEIBISH's in-house designer, Chavi Itzhakov, crafted a 'one of a kind,' beautiful pair of Fancy Yellow diamond earrings as part of a diamond investment portfolio, called the Mike and Lisa Four Seasons Color Collection.

These 12.54 carats, Fancy Yellow, Internally Flawless, Diamond Earrings were handcrafted in 18k White & Yellow gold. They were flanked with 1.97ct round brilliant collection melees. They contain 0.87ct Trapezoid collection diamonds and 2 Shield cut 2.5ct Fancy Yellow diamonds as well.

Yellow colored diamonds may have the highest demand, but they are not by any means the only colored diamonds used in fancy colored diamond jewelry. Fancy orange diamonds, for example, are a rarer stone but very much worth the extra expense. Another fantastically beautiful piece of jewelry designs was this 2.05 carat, Fancy Vivid Yellow Orange, Diamond Ring.

This stunning Fancy Vivid Yellow Orange diamond ring was handcrafted in 14.42gr 18k White & Yellow gold. It was flanked with 1.78ct round brilliant collection melees all with VS clarity.

Fancy colored diamonds, once only seen on the richest and famous, are slowly making their way into mainstream society. True, they still display extremely royal characteristics, but the fame of fancy colored diamond jewelry is without a question one of the easier trends to take a liking to.

See some more of the most elegant fancy colored diamond jewelry designs.