As the year 2013 comes to a close, it is only fitting to take a look back at some of the most impressive, popular, and breathtaking color diamond jewelry pieces of the year. Just like in previous years, some of the rarest, most prestigious, and unique color diamonds were seen at auctions as well as on the red carpet. Certain colors, shapes, and pieces were seen more than others, so let us take a look back at the most popular color diamond jewelry trends of 2013.
Auctions
There is no better place to see fascinating color diamond pieces than at the auction house. Some of the most unique pieces have been featured at such events and bring in mind-boggling bids from around the globe. Though many exciting and large jewelry pieces were put up for auction at Sotheby's Hong Kong Magnificent Jewels and Jadeite Auction, there were two pieces that are quite noteworthy, and they so happen to include color diamonds. The first is a 3.04-carat heart-shaped fancy intense blue diamond ring surrounded with pink and colorless diamonds. The second piece, also a ring with two types of color diamonds, consists of a 13.10-carat fancy vivid yellow center stone bordered by pink diamonds.
The Red Carpet
Celebrities are known to show up at award shows on the red carpet wearing some of the most sensational jewelry pieces in the world. It's part of the whole award show propaganda, and every single piece, like it or not, makes a statement. This year, the timeless Jane Fonda joined the trend by appearing at the 2013 Oscars wearing a pair of Chopard yellow diamond chandelier earrings and a yellow diamond ring, to match her canary yellow Versace gown. Olivia Palmero showed up on the red carpet in Cannes wearing a gold sequin gown, perfectly accessorized with Avakian yellow diamond jewels.
Popular Pieces
Color diamonds, like many precious gemstones, look remarkable when placed in any sort of jewelry pieces. However, there are some pieces that are more popular than others for a number of reasons. Some include practicality, others include comfort, and how noticeable the piece is. In 2013, like previous years, we saw more of earrings of all sorts, including studs, drop earrings, chandelier earrings, and rings. Natural fancy color diamond rings garnered a significant amount of attention simply because people enjoy being different. Many look at these engagement rings as the ability to show just how unique their love is, while enabling their soon-to-be life partners the ability to show just a little bit of ultimate bling. Secondly, all it takes for a ring to get noticed is one beautiful stone. Eyes are somehow drawn to a hand that shimmers with color as it moves.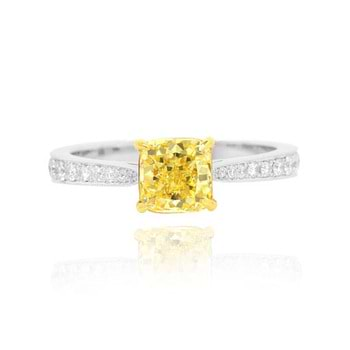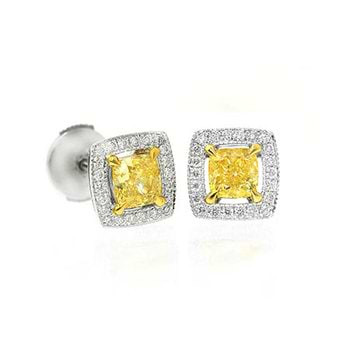 A Yellow diamond engagement ring and a pair of yellow diamond solitaire studs
Popular Colors
As in most years, the most popular colors for color diamond jewelry this year are brown, yellow, and pink. Some of the main reason these colors are so popular are their relatively low prices and abundance, but also because these color are greatly favored. Yellow is a joyous and pleasing color, brown is neutral and just goes with everything as well as with many skin tones. Pink diamonds, although not among the less expensive natural color diamonds, is a very romantic and feminine color. It is also recognized as the most investment worthy among the world of colors.
There you have it: 2013's most popular color diamond jewelry. There weren't too many surprises because color diamonds are simply timeless and will not fade like so many other popular trends. We stay on top of color diamond jewelry trends just to show how they continue to dominate the diamond and jewelry markets and are sought after by collectors, celebrities, and individuals alike.