What Makes a Ring an Engagement Ring?
Wearing and receiving an engagement ring is quite widespread around the globe, regardless of race, religion, culture, and nationality. A question that arises though, is, what constitutes an engagement ring? After all, if there aren't any specifications, then any old ring can be used and considered an engagement ring, right? Well, no, and, yes. Engagement rings do differ from ordinary and other special-occasion rings in some ways, but at the same time, the genre is open for many interpretations in order to provide a doable option for all budgets, tastes, and styles. Here are some of the various definitions of an engagement ring.
Different Types of Engagement Rings
A big part of your proposal is choosing the type of diamond ring. There are so many unique designs for engagement rings but the most common one is the Solitaire. With a solitaire engagement ring, you can't go wrong since it's elegant and timeless. Coming second is the popular Halo and Double Halo setting. When the setting and diamond are the same color this type of design will make the center stone look much bigger. When the stone is darker it will create an interesting contrast between the two colors.
The Cultural Aspect
It is important to first point out that various cultures have different opinions and traditions regarding what an engagement ring is and who wears it. In many Western cultures, an engagement ring, often consisting of gold or platinum and a diamond is given to the woman upon agreeing to get married. In some contemporary societies, men also wear engagement rings that also include a diamond or some other gemstone. However, in other cultures, both the woman and the man wearing the same engagement ring upon becoming engaged to one another.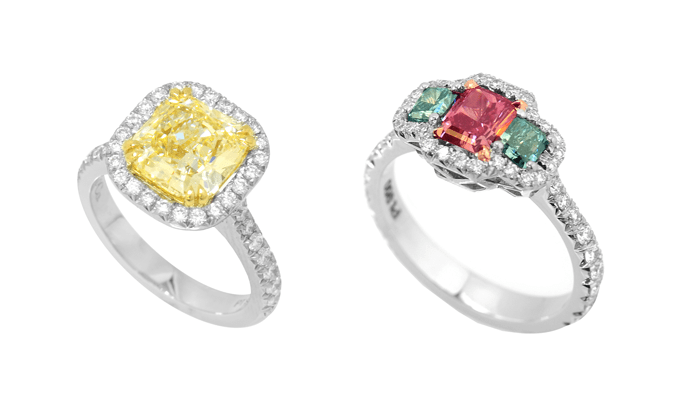 Samples of Engagement Rings: Yellow and Red Diamonds Engagement Rings
The Religious Aspect
Somewhere down the line, engagement rings originated from religion. Most people today wear them for traditional reasons and not as a result of their religious affiliations. Nevertheless, many religions prefer or demand unofficially and officially that engagement rings meet certain standards. It can be that the ring is worth a certain amount in order to show the man's loyalty to the woman. Other demands can be that the ring be modest and not flamboyant, as earthly things are looked down upon in some religions. In any case, these religious specifications can impact what an engagement ring looks like from a significant diamond ring to a delicate diamond-studded band.
A Social Aspect
There is no denying the fact that society puts pressure on both women and men to buy and receive the largest, most brilliant diamond possible for an engagement ring. It is what is advertised, what one sees on TV, and what most women ultimately long for. Sure, there are many alternatives that are becoming more and more popular, but not having a diamond engagement ring, even if the substitute is a valuable gemstone, gives one the status of being different and steering from tradition for one reason or another. While few may embrace this status, many more are careful to avoid it. It can almost be sacrilegious to get a ring with anything other than a diamond on it, as small or poor quality as it may be.
Discover our 3 stone diamond ring catalog >
A Personal Touch
This aspect of what constitutes an engagement ring is probably the most important one in modern times. Despite our loyalty to tradition, many of us like to do our own thing nowadays. Though diamonds are still definitely the most popular choice of stone for engagement rings, they are certainly not the only ones. Some individuals intentionally avoid incorporating diamonds in their engagement ring in order not to conform to what they see as a commercialized trend. Others simply rather spend their money on a more affordable gemstone, while some just want something they feel more comfortable with and that looks good on them. A very simple woman may not want a glitzy diamond but would prefer a more laidback topaz ring. A dark-skinned woman may feel that a rich and sultry stone such as a ruby or sapphire might look better on her complexion than a transparent diamond. Today, with the ever-increasing exposure of natural fancy color diamonds, many women have found the ability to attain the ring of their dreams while still not veering too far off the track of colorless diamond rings. Whatever the reason, an engagement ring can pretty much look any way you want it to.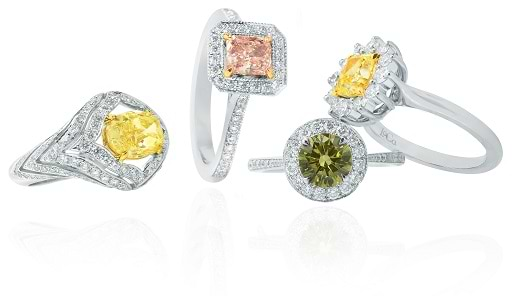 Various Engagement Rings
These days we see a myriad of rings posing as engagement rings from the classic diamond ring to the vintage ring to the gemstone ring to the thick and intricately designed gold band. All of these constitute as engagement rings in modern terms, though, in traditional terms, an engagement ring consists of at least one diamond or valuable gemstone set upon a quality metal such as gold and platinum. Love is not expressed solely in diamonds and precious metals; each and every person is free and entitled to display his or her betrothal and commitment to one another in any form he or she sees fit.
Discover some of our amazing engagement rings here and our colored diamond rings.
If you would like to design your ring according to your style and vision.