Your hands are almost always in perpetual motion. Consequently, any piece of jewelry attached to your hands or the area close to your hands is sure to garner plenty of attention.
Diamond Bracelets come in a variety of settings and styles, each with their own idiosyncrasy. They can be worn on any occasion, can be dressed up or down, and are always in fashion.

Tennis Bracelets

Very similar to the Line Bracelet, as a rule of thumb, a Tennis Bracelet usually does not contain square or rectangular shaped stones. There are 3 or most often 4 prongs that actually grasp the stone (unless it is Bezel-Set where some of the metal actually covers the stone along the edge).

As a result of the way it is set, tennis bracelets are much more flexible than line bracelets. The setting is comprised of a thin wire that comes off each basket, goes through the next basket and around back to its own basket. This type of setting can move in different directions and is far more flexible than that used in the line bracelet.

The tennis bracelet was made popular by legendary tennis player, Chris Evert, who lost her diamond bracelet in the middle of a tennis match and requested the match be stopped till the valuable trinket was found. The term "tennis bracelet" was born and an ensuing trend for diamond tennis bracelets followed.

Perhaps it was not only Evert's cool demeanor that earned her the nicknames of the "Ice Maiden" and "Ice Princess."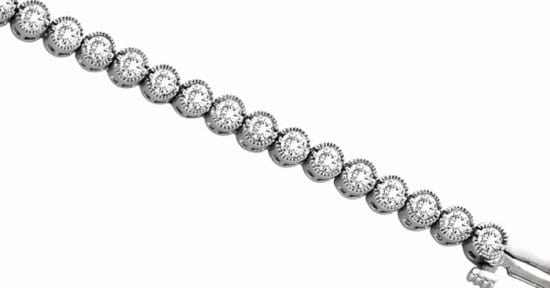 A 14K White Gold Bezel Set Diamond Tennis Bracelet, built with extreme flexibility
Chain Bracelets

A Chain Bracelet is one where the predominant feature is the chain. The bracelet may be composed solely of a chain with a clasp or may have stones integrated to the chain, however, as a rule, the chain and its design will be the highlight.

The thickness of the chain can be matched to suit the wrist of the wearer. A thicker or chunky chain will be more striking than a fine, thin chain. However, a thick chain may not be appropriate for a thin wrist and vice versa.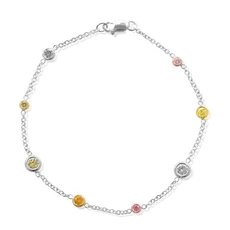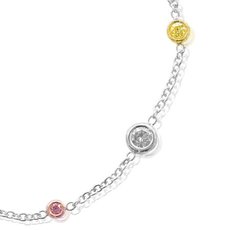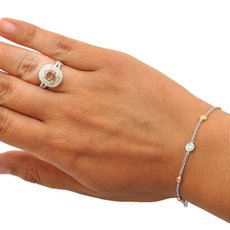 'Les Bonbons' - An exquisite fancy colored diamond chain bracelet including 0.62Ct TW colorful candy diamonds ... Pink, Yellow, Orangy Yellow, Blue Gray round brilliant diamonds with bezel settings in 18k white yellow and rose gold
Line Bracelets

Line Bracelets usually contain square or rectangular shaped stones or at least some square or rectangular shaped stones so that an actual line is created along the sides of the stones. The line is achieved with the use of a basket that is 'Peg-Set' or 'Prong-Set' so that the stones are grasped and held in place. Each basket is interlinked.

Line bracelets remove the chain as the predominant feature and make the stones the central feature. Consequently, they are more ostentatious than chain bracelets and may be better suited to evening wear or formal events.

The interplay of a line with the round or oval shape of the bracelet makes for an interesting interplay of shapes, especially when considering the shapes of the stones used. However, as a result of the link, line bracelets are not very flexible - they can move up and down, but will not be able to move laterally.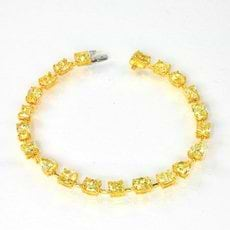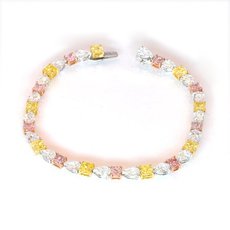 Beautiful line bracelets designed by LEIBISH's in-house designer Chavi Itzhakov (left - 12.26 Carat, Fancy Intense Yellow, Mix) and (right - 11.10 Carat, Fancy Intense Purplish Pink, Radiant, VS2)

Multi -Stone Bracelets

As the name implies, these are bracelets that contain more than one stone. Consequently, virtually any type of bracelet may be designated a Multi-Stone Bracelet. For example, even though the defining feature of a chain bracelet is the chain, it may still be a Multi-Stone Chain Bracelet.

Line bracelets and tennis bracelets are subsets of the broader term 'Multi-Stone Bracelets."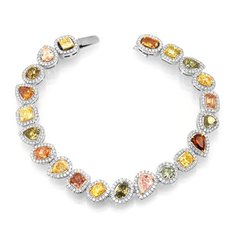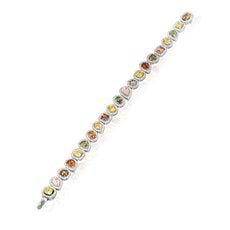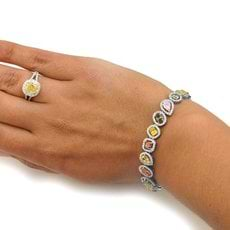 A spectacular diamond halo bracelet with a collage of Fancy Intense Colored diamonds. Set in 18K white yellow and rose gold, the bracelet includes 21 stones - 10.82Ct TW of GIA certified mixed colors including yellows, oranges, greens, pinks and browns

Bangles

Often associated with hippy-chic or boho–chic, the humble bangle is a round, thin, single piece of metal without a clasp. It seems however to have its own designation even though it really is just another type of bracelet.

Bangles are usually thin and worn with other bangles as a more casual form of accessorizing. However, there are bangles that are thick and may be adorned with a stone that are a substantial piece of jewelry unto themselves and may be dressed up or down.
The choice in both style and design of bracelets is almost infinite. It is this vast choice that may be the only difficulty when looking to purchase a bracelet. Undoubtedly it's a challenge to which you can rise.
Contributor: Benji Margolese