Similar to the way in which white gold made a huge comeback a little while back, and the way yellow gold is becoming a very retro metal, stacked wedding bands are pushing the classic, solid wedding ring aside and making room for far more interesting rings. Let us take a look at what this means for traditional engagement and wedding rings, as we know them.
Welcoming Color
Sure, we have seen a tremendous amount of color enter the engagement ring realm and that is a fantastic thing. From color diamonds to various gemstones of all colors, long gone is the platinum and colorless diamond ring as well as the yellow gold and diamond combo. However, despite the many changes we have seen over the years in the engagement ring arena, we have seen less movement in regards to wedding bands.
Until now, that is.
One of the greatest things about replacing the rather bland wedding band with several thin bands is that one or all of those bands can introduce layers and color to represent your vows, as those in and of themselves are quite multifaceted as well.
The stacked bands can include some color diamonds or color gemstones as well as a combination of metals such as rose gold and yellow gold. This way, you can have a plainer braided white gold or platinum band alongside a pink diamond eternity band set in rose gold and a colorless diamond and white gold studded band. As the occasions roll around that you want to commemorate, you can add complimenting and contrasting bands to your finger.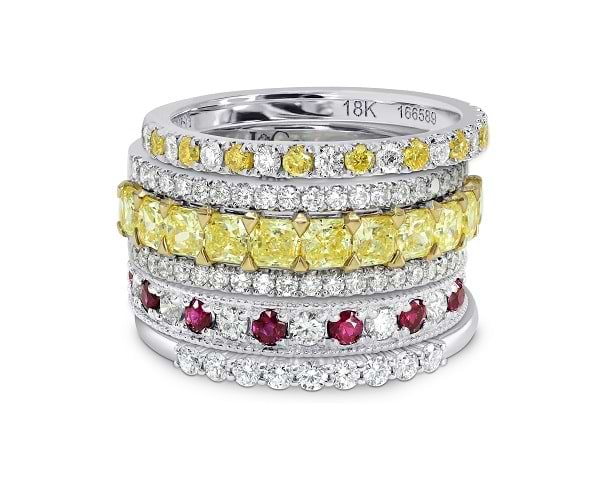 A stack of diamond, yellow diamond, and gemstone wedding bands
Welcoming Texture
In the past, wedding bands were designed to be worn alone, or simply to complement the engagement ring. Rarely was a wedding ring intended to have character and express an individual's creativity and style. Now, that is precisely what wedding bands are all about. Sure, they can be crafted in such a way that they fit perfectly below or above your engagement ring, but they are also designed to stick out and have a personality of their own.
From thin bands to thick bands, smooth ones to braided, wedding bands can be anything you want them to be. Have one thick, one thin, and one in the middle. Make one smooth and the others with interesting textures. Get one with diamonds, and one without! The sky is the limit.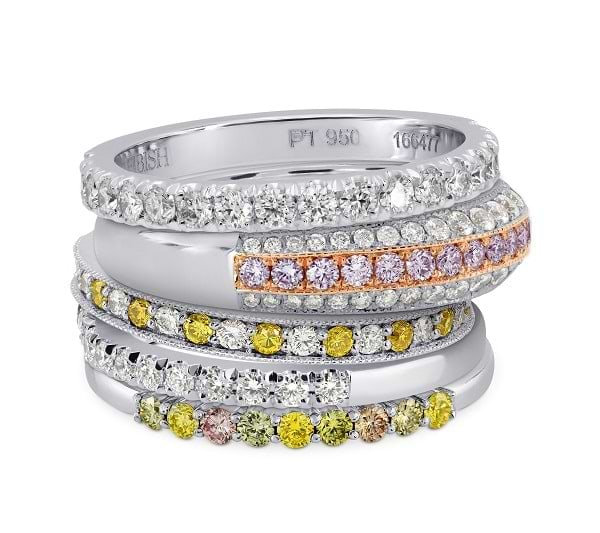 A stack of diamond, pink diamond, and yellow diamond, and multicolor diamond wedding bands
Welcoming Options
By parting from the traditional idea of a wedding band, you are welcoming the wedding band as a stylish piece into your life. You can alternate between wearing your engagement ring and your wedding band on your left hand ring finger. You can wear one ring on your left hand ring finger and the other on your right hand ring finger. Depending on how many bands you have, you can change up the order or how you wear them. It can be great fun wearing a thin colorless diamond eternity ring on its own and then jazzing it up next to a thin color diamond eternity band. Stacked wedding bands really give you lots of options and let you enjoy them tremendously, even after the honeymoon is over.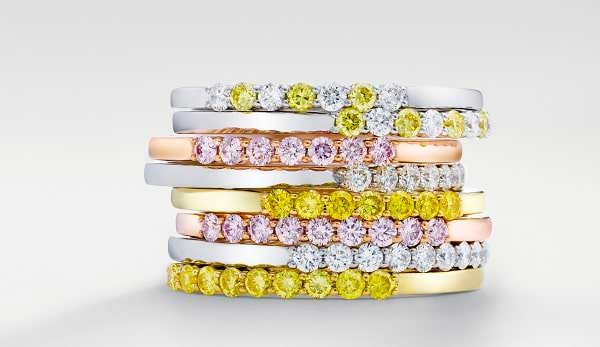 Perfect stackable wedding bands from the Toujours collection
Contrary to what you may think, owning more than one wedding band to switch them up does not have to cost so much. If you vary their styles and stones, you can find that this may be an even more exciting idea that what you originally planned for your wedding band at your wedding! If you plan to get the wedding bands over time, you can view it as constantly renewing your vows and marriage. It's like you are receiving your wedding band for the first time all over again!
Do you own more than one wedding band and change them up or wear them together? Tell us or show us a picture in the comments!