When selecting a diamond, one of the most important elements to focus on is the color of the stone. It is so crucial that the minute differences in the color will have a dramatic affect on the value of the diamond. There is a good reason it is considered one of the most important characteristics of the stone, and that is totally regardless of whether you are searching for natural colored diamonds or those with which we are all familiar with, colorless stones. Here we discussed what you need to look for in terms of color and why the definition of "best color" varies between these two different types of diamonds. Understanding the there is still an encyclopedia of information to know about color, it is important that you grasp the basics before beginning your diamond search.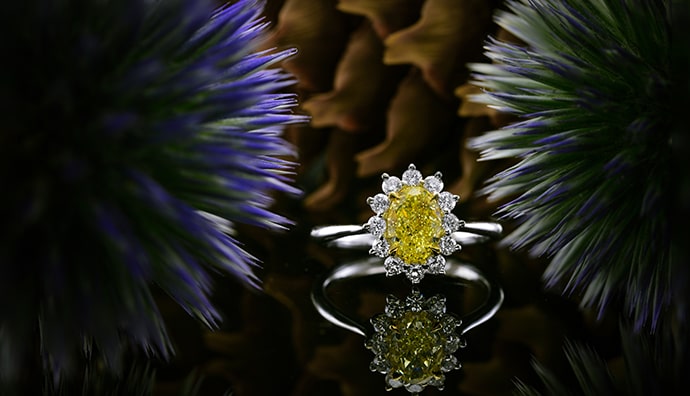 A natural yellow diamond ring
Colorless Diamonds: From D-Z
The color of a white diamond (known to the general public as a colorless stone) is graded in letters, from D-Z. The letter D is the first letter for two reasons. The first and main reason is that before the GIA came up with the D-Z grading system, a system using the letters A, B, and C was used. In order to avoid confusion it was decided to begin afresh by starting with the letter D. The second reason, by chance, is that D is fittingly the first letter in the word "diamond." When talking about color in a colorless diamond, we are of course focusing on the lack of color. Diamonds with a D color are of the highest value within the world of colorless diamonds. They are completely colorless to the naked eye. The closer you get to Z grade diamonds, the more yellowish or brownish tones you will see within the stone. Interestingly enough, once enough color is present within the stone it crosses over into fancy colored diamonds which often have a much higher value than colorless stones. The very poorest color grade of a colorless stone is actually in the same category as the poorest quality natural fancy colored diamond. Just as color is unwelcome in colorless diamonds, a weak color maintains the lowest value of a colored diamond.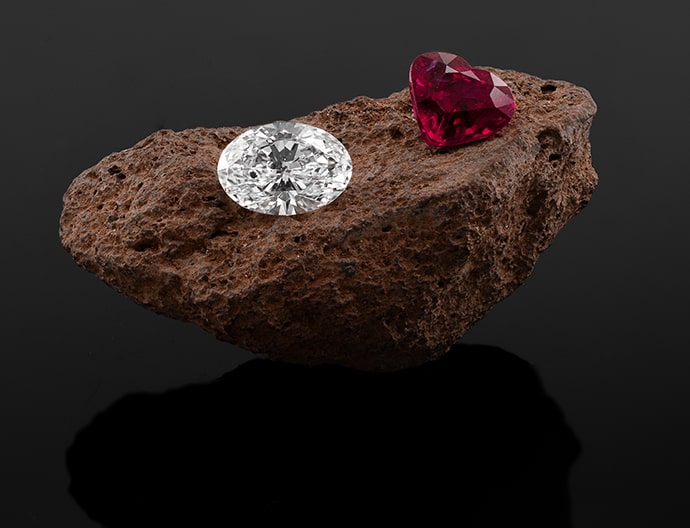 A Leibish colorless diamond next to a ruby
D-F diamonds are considered colorless, G-J are near colorless, K-M are faint, N-R are very light, and S-Z are light. For the most part, the differences in color between the first few categories are undetectable to the untrained eye but they do make a significant difference in terms of price. So when discussing the best color for a colorless diamonds, the D-F diamonds are the most ideal, but also the most expensive. G-J are the most common choice since they are more affordable. K-M diamonds are regularly used for earrings, as they say if someone is close enough to see the color of your earrings it isn't the diamonds they are interested in.
Fancy Colored Diamonds
Diamonds are not just found in a colorless form but, although found far less frequently, there are a myriad of color combinations as well. Color diamonds exist with different hues of pink, yellow, green, blue, red, purple, violet, orange, gray, black, fancy white, or a combination of two or more of these colors. There isn't one color that is preferable over another. It's really about personal preference. However, as a result of its rarity, supply, and demand certain colors are considered far more valuable than others.

Many natural diamond colors available
You May Also Like
0.47 carat, Fancy Deep Pink Diamond, 2P, Oval Shape, SI1 Clarity, ARGYLE & GIA
More details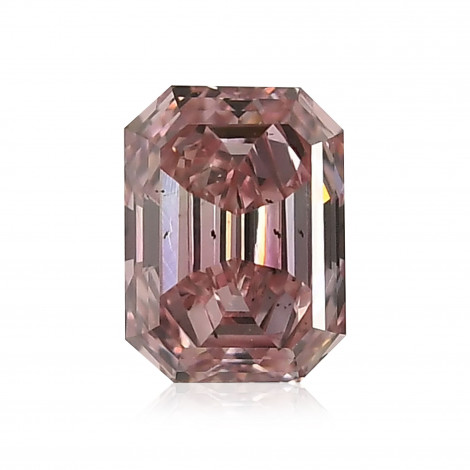 0.51 carat, Fancy Intense Pink Diamond, 6P, Radiant Shape, SI1 Clarity, GIA & ARGYLE
More details
8.09 carat, Fancy Yellow Diamond, Radiant Shape, IF Clarity, GIA
More details
0.60 carat, Fancy Intense Yellow Diamond, Oval Shape, VS1 Clarity, GIA
More details
0.15 carat, Fancy Brownish Pink Diamond, 7P, Round Shape, SI2 Clarity, GIA & ARGYLE
More details
0.74 carat, Fancy Gray Blue Diamond, Pear Shape, IF Clarity, GIA
More details
1.07 carat, Fancy Yellow Diamond, Radiant Shape, IF Clarity, GIA
More details
1.51 carat, Fancy Light Yellow Diamond, Oval Shape, VS2 Clarity, GIA
More details
1.25 carat, Fancy Vivid Yellow Diamonds, Radiant Shape, VS1 Clarity, GIA
More details
The Rarity of a Color
All color diamonds are considered rare, but some colors are harder to come by than others. This makes these colors pricier. Having said that, there are always exceptions, which include small stones, diamonds with flaws, and certain color combinations. If you're looking for the most valuable color, then you should seek out a rare color diamond. If you are simply after a beautiful, quality color diamond, you can choose from the wider range of stunning fancy color diamonds since everyone connects to certain colors in different ways.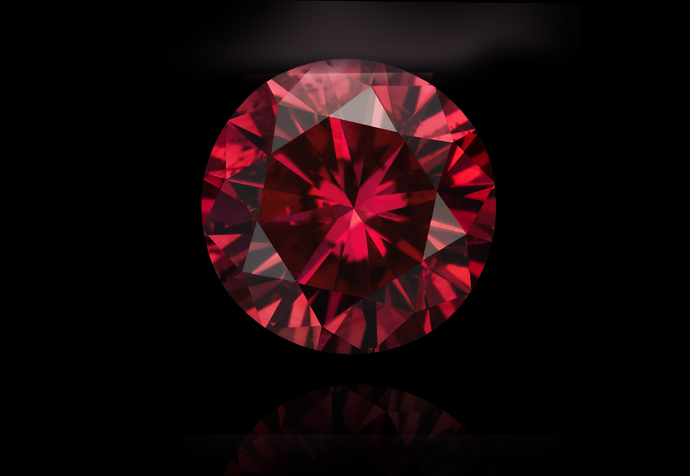 A natural red diamond, among the rarest colors available
To summarize, the color of a diamond plays a vital role in colorless diamonds as well as in color diamonds, albeit quite differently. The color in a colorless diamond is just as important as the other main factors: cut, clarity, carat. However, it is ideal that the color be as non-existent as possible. In color diamonds, the color is the main component. This refers mainly to the color intensity level. The color itself is just a matter of taste, although each color generally has a different value. Unlike colorless diamonds where a D color diamond is objectively better than a G color diamond, a pink diamond is not necessarily better than a yellow diamond, even though pink diamonds are more expensive than yellow diamonds as a whole. Some people like yellow, some people like pink. That's really what it boils down to. Additionally, there is the intensity factor, which just may make the yellow diamond more valuable if it is a deep hue in contrast to the pink diamond, which can be a light shade.