When it comes time to select the perfect Gemstone or
Diamond engagement ring
you have a lot to consider. Of course, the whole idea is to select a ring that reflects your personal taste. You want to love it for a lifetime, and take pride every time you glance at your ring.
The best way to have a ring that you're sure to treasure for a lifetime is to carefully select both the main diamond—choosing the diamond shape that pleases you, and pick the best mounting that reflects your individuality. This journey of
custom engagement rings
is actually very exciting once you understand more about the diamond shapes and browse through the most popular engagement ring settings until you find the perfect one for you.

First let's look at the different diamond shapes. Each one has their own charm, and many have fascinating histories which you'll love to learn about.





Round Brilliant Cut
Let's look at the most popular diamond shape of all time—and when we talk about the diamond shape, it's often called the cut. The round brilliant cut diamond has earned the spot as the most sought after cut, representing about 75% of all diamonds sold. The clever facet arrangement of the round brilliant stone allows this diamond to sparkle brilliantly and exhibit superior scintillation.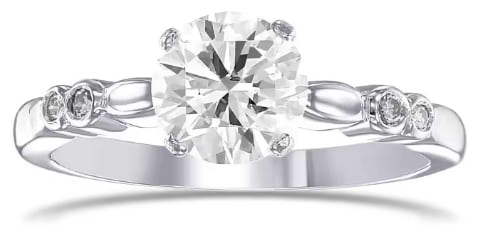 Princess Cut
Modern brides often seek out the princess cut diamond, a sophisticated square cut that debuted in 1980, It remains the most popular fancy diamond shape in the 21st century, particularly when it comes to engagement rings. The pretty square shaped princess cut diamond offers a lot of versatility for placement in many settings, and looks striking on its own in a solitaire ring.

LEIBISH Light Pink Princess & Pear Diamond Ring


The Oval Cut
The oval diamond is an elongated version of a round brilliant-cut but lends an elegant slenderizing effect on a lovely lady's fingers. It provides a more unusual profile to the central stone, yet this stone can look stunning in many on-trend settings. A bonus to this graceful diamond shape is an added advantage of the elongated creating an illusion of a larger carat size stone—we love that don't we?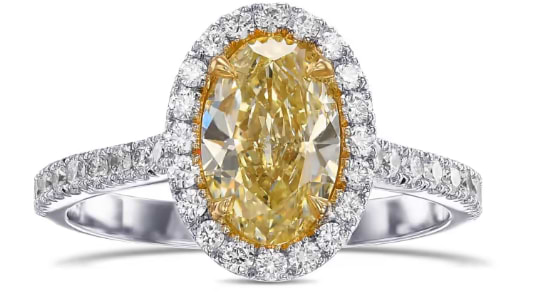 LEIBISH Fancy Light Yellow Oval Halo Diamond Engagement Ring
The Marquise
Imagine a stone shaped like a football, which will give you a pretty good idea of what this regal looking diamond shape is like. With the beautiful marquise diamond, you have the glamour of a round brilliant stone, and tapered ends that lend an air of luxe to the cut. Similarly to the oval shape, this lovely diamond appears even larger than its actual carat size owing to its larger surface area. And because it's a little more unusual, you can have a unique ring that makes a big impression on anyone fortunate enough to catch a glance at your lovely diamond.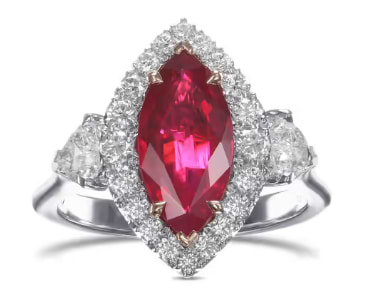 LEIBISH Burma Ruby Marquise and Diamond Three-Stone Ring
Pear Shaped Diamond
The pear shaped diamond is a charming mix of both the round shape and a marquise. It displays a tapered point on one end and a sumptuous round shape on the other. A good pear shape diamond exhibits graceful lines good symmetry. The overall shape gives an elegant vibe to the setting, and provides a lovely out of the ordinary look to your ring.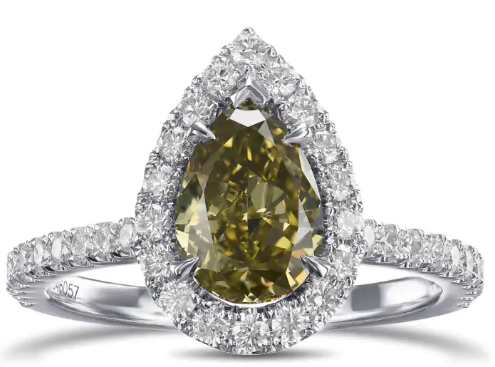 LEIBISH Chameleon Pear Diamond Halo Style Engagement Ring
The name cushion describes this sophisticated cut perfectly. Imagine an elongated square-ish pillow with gracefully rounded corners. This chic diamond cut has enjoyed devotees for nearly two centuries. Over time, additional refinements to its shape has resulted in renewed devotion to this aristocratic diamond shape.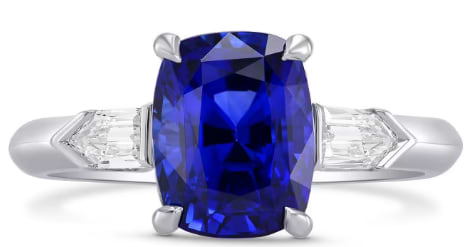 Royal Blue Sapphire Cushion & Diamond Engagement Ring

The Emerald Shape
The distinctive appeal of the emerald cut diamond is the result of its straight sided step cuts and its large, open table facet. While it doesn't sparkle like some other a diamond cuts do, its facets create what we call a hall-of-mirrors effect. This interplay of light bouncing back to the eye of the beholder allows us to witness the diamond's excellent clarity. And we know that some of the highest quality diamonds are given the emerald cut treatment.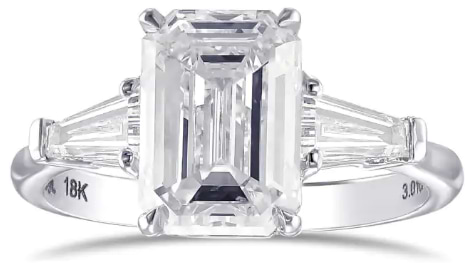 White Emerald Shape 3 Stone Diamond Ring


A look at some more exotic shapes; the Asscher, Radiant & the Heart Shaped Cuts



The Asscher cut diamond was created over a century ago by the legendary Asscher brothers from Holland. This superb diamond cut is similar to an emerald cut, but is distinguished by its square outline and clipped corners. The radiant cut diamond is a superb rectangular shape that relies on brilliant-cut faceting patterns for a vibrant diamond with dramatic scintillation. If you like both a cushion and a princess cut, this might be the stone for you!
Are you a romantic at heart? Then why not head straight for a feminine heart shaped diamond? It has all the romance your heart could dream of. While the heart shape diamond is more difficult to cut, the end result is completely worth it when you see your heartfelt sentiments displayed so beautifully.
When you've decided on the shape of the diamond, you can turn your focus to the setting itself. There is no shortage is elegant designs today. And while the latest styles in bridal jewelry are certainly on trend, they are made to be enjoyed for your entire life.
Here's our recommendation for diamond ring settings to love for a lifetime. Browse through them, and see envision how they will pair with the center stone that you've selected.
First let's review Solitaire, Halo, and Pave Settings. They all share some common characteristics but there are distinct design elements to appeal to different preferences.
The Solitaire ring
can truly be called the most timeless design of all. This ring is simplicity and elegance personified. It is a plain band, whether slim or wide. It shows off the center stone to perfection without any distractions.

Argyle Fancy Light Pink Round Diamond Solitaire Ring
The Halo
has become so popular that it's considered a modern classic. This version of the solitaire with its simple shank and center stone offers a modern twist. The central stone gets an angelic treatment with a diamond halo surrounding the diamond. It definitely makes a brilliant statement and makes the center stone appear even larger than it actually is.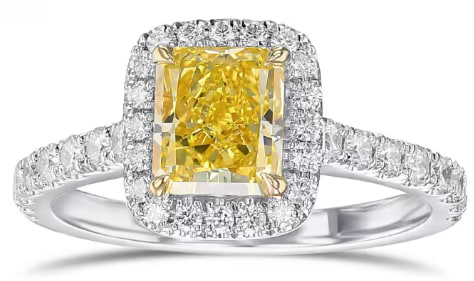 If you're a lover of details, you may be drawn to the pave diamond setting. It takes a bit of a different direction from the traditional solitaire ring. While the ring's shank may be slender and delicate like the solitaire, this band gets the pave diamond treatment for extra pizzazz. The accent diamonds on the ring's band are delicate in size, but the impression is all glam with the light sparkling around the entire finger.
Still looking for something in a setting that's a bit more designerly? What about a Split Shank setting, Vintage Look, or the charming 3- Stone Band?

For starters, the split shank ring gives you a lot for your money. With its clever design, the shank splits in two at the front of the ring and creates a wider front to the shank without adding weight. So your pretty ring is comfortable while still giving a very big impression.
Don't overlook the vintage settings with their detailing and old world craftsmanship. Each vintage style ring gives an impression of originality and custom design. If you're a hopeless romantic who adores the feminine look, this style is for you.
And there's a personal interpretation you can make with a
3-stone ring.
The reason this style holds its own year after year is due to its story telling potential. Most 3-stone ring fans see this distinctive style as representing important milestones in the lives of the couple. Each stone can represent yesterday, today, and forever. Of course, as a couple with your own unique love story, you can create your own meaning to this timeless ring style. Whatever symbolism you apply to the 3-stone ring, its importance will grow fonder with each passing year.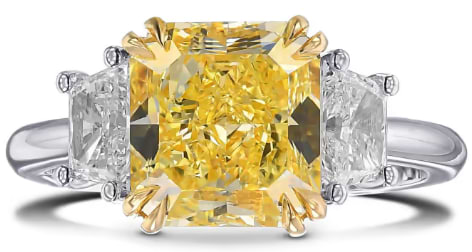 Fancy Intense Yellow Radiant 3 Stones Diamond Ring
Choosing your diamond shape and the setting is a very personal decision. The ring you create will one that is a unique treasure to enjoy for years to come, and others can admire the special love it symbolizes.