The moment she's waited for—slipping that gorgeous ring on her finger for the very first time is a thrill she and you will remember for the rest of your lives. It may also become a photo-op (for friends and family to join in on the moment) and nothing should go wrong. But what could go awry at such a tender sentimental moment? If the ring is too tight or too big, well—that could produce a bit of a letdown couldn't it?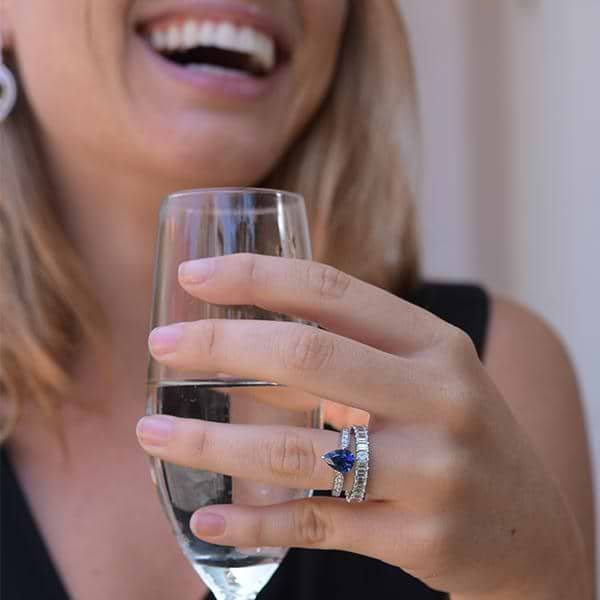 Getting the correct ring size right the first time
But not to worry. There are foolproof methods for insuring that your ring size is correct so that the ring presentation will thrill both the bride and groom. Let's look at several ways to determine the correct ring size. There are a variety of easy to use ways, from printable ring size charts, to enlisting the help of a professional. There's one that's perfect for you. To be safe, why not consider using a few ways to check the ring size for extra assurance—many people do that for complete confidence.
You may not know the ring size you need at the moment, but the discovery process is easy, fun and truly enjoyable. This comprehensive ring size guide will take the stress out of shopping for the ideal ring of your dreams.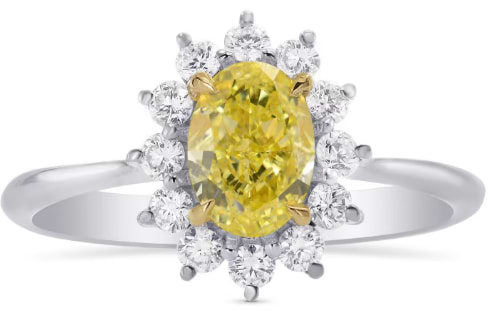 Fancy Yellow Oval Diamond Engagement Ring



Why is knowing your ring size important?
It's vital to know your ring size prior to choosing an engagement ring. Of course, re-sizing can be done for a ring that's already been made. But if you buy the exact size ring you are assured that the integrity of the shank is super strong. In some instances (your diamond professional will guide you on this) re-sizing certain ring styles might affect the integrity of the stones set on the front of the shank.
So while re-sizing can be accomplished successfully, it's always best to ask your diamond professional for guidance through this process—especially if you have a certain style in mind.
Resizing involves adding or removing a tiny bit of metal from the ring—most often in the exact back of the shank. A good bench jeweler can make this modification appear seamless—just like the ring was always its new size.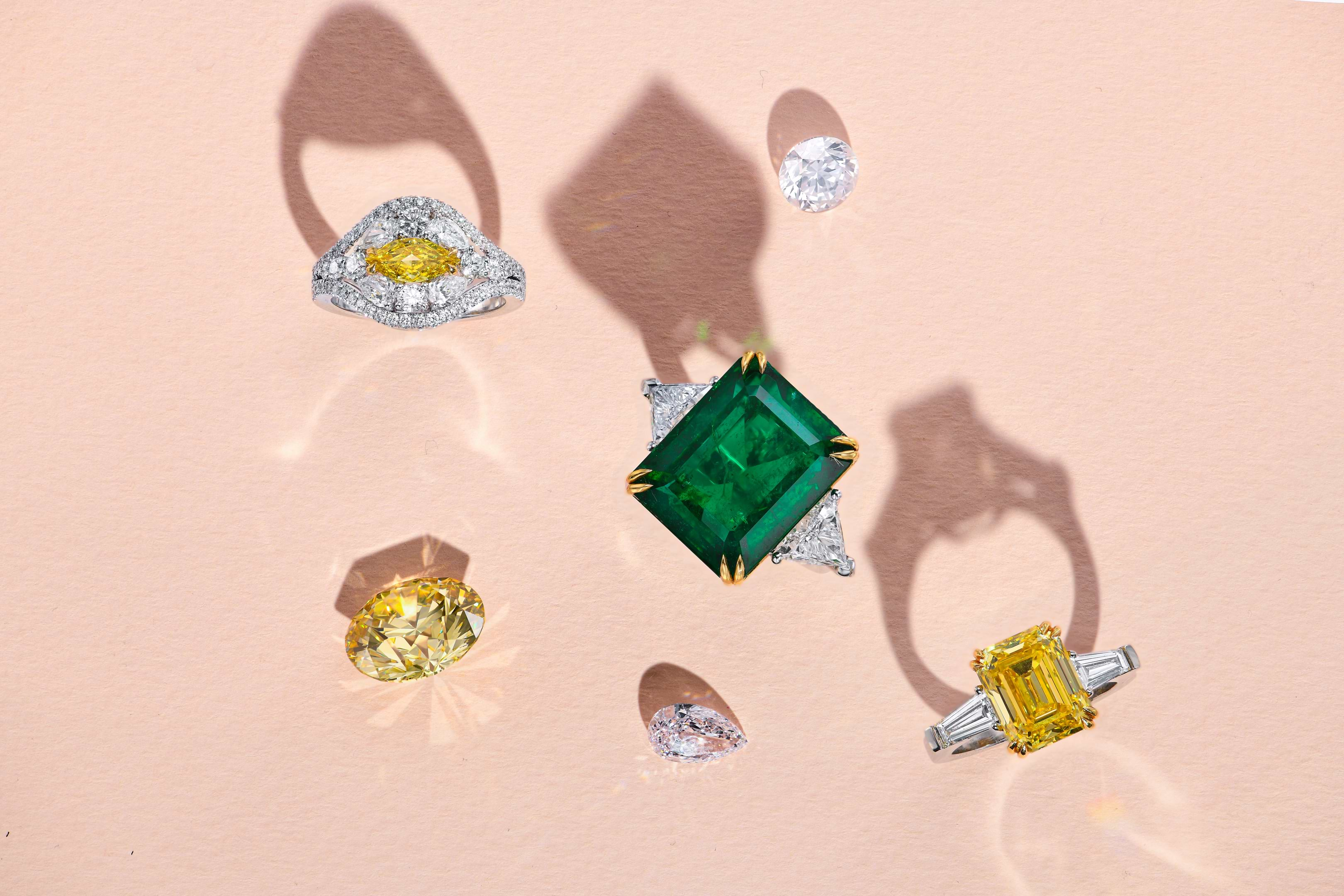 A collection of Leibish rings
Measure your ring finger at the right time
Our bodies change a little or a lot during a day—and during different seasons. When it's very cold, you may notice your shoes fit looser. The same thing is happening with your fingers. They are a bit slimmer due to the colder environment. Have you ever felt a bit 'puffy' after consuming salty foods or perhaps alcohol? There are many subtle changes that the body goes through during a day. So we recommend sizing your ring finger later in the day. Also—be aware of days that are too cold, or extremely hot. Avoid taking your ring size on those days to prevent you from getting a ring size that is not normal for you. Pay attention to your hands when you measure them later in the day for your ring size. Are they a bit warm? That's good. You'll get an accurate ring size reading at that time.
Printable Charts for determining ring size
Here's a very handy method for checking your correct ring size. A printable chart is portable and very easy to use. This little tool makes measuring ring size on the go a breeze. Simply print out the chart and place a ring that the wearer already has on each round ring guide. Look for the one that is the nearest match to the person's own ring. Each diameter shown on the chart has a corresponding US ring size with it.

But what if the person's ring is in between two printed ring diameters? No problem, when that occurs (and it often does) then select the larger of the sizes to be sure you'll be getting a good fit.
When you're buying a ring as a surprise, you can enlist the help of her family or friends who can secretly get a ring from her to accomplish this task!
Using the string method for determining ring size
There's more than one way to get an accurate ring size. It may sound overly simple, but the string or paper strip method works very well. And you're bound to have one or both of those items to check the ring size. Here's how you do it.
Wrap a piece of string or a strip of paper around the base of the ring finger.
Carefully mark the meeting point with a pen where each end comes together. Be careful not to pull the string or paper too tight. If it feels secure but comfortable, you've got the fit correctly measured.
Now measure your sized string or paper with a ruler or tape measure. Use the mm markings and divide that number by Pi or 3.14. That will be the diameter of the ring.
Look at the closest measurement on the paper ring size chart to find the correct ring size.

Seek professional assistance
Selecting your ring and making sure the size is exactly right is an important decision. So this might be the time to enlist the help of your diamond professional. He or she is expert in this field and understands the slight differences in rings styles. They're here to help and are pleased to serve you. So many ring details known only to your professional can make their service an important part of your final choice.
Consider ring width and style
For example, if you were to select a ring with a very wide band, you may be surprised to learn that you often need to size up a ¼ to even a ½ size to get a comfy fit. Many other ring styles may have an impact on the final size you need.

Eternity bands, as another example are stunning pieces of jewelry. These bands are encrusted with diamonds all around the shank. Their message is one of never ending love—just like the ring has neither beginning nor end. But the extra diamonds on the ring may require sizing up just a tiny bit to ensure comfort when worn on a daily basis.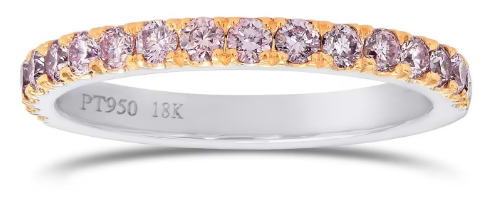 Looking for a special ring?
The good news today is that shoppers have an extraordinary array of stylish rings to choose from. The bad news is it can become overwhelming with all the options. But that's not a problem at LEIBISH. The friendly experts at LEIBISH are happy to take all the time you need to go over every detail of your ring selection with you.
This will be a ring that tells your love story for a lifetime. It should be an expression of your personal tastes, your tastes as a couple and certainly your individuality. Allowing the diamond and jewelry experts at LEIBISH to guide you will result in getting the perfect ring to be proud of for years to come.
There are so many things to consider. The ring design itself is one consideration. But the center diamond shape is also important. There are so many metal choices to further personalize your ring; white, yellow or rose gold are just for starters. Platinum may be more to your taste.

Whatever you prefer, there's a stunning ring waiting for you. Nowadays not every bride wants a diamond center stone. LEIBISH offers some of the world's most exquisite colored gemstones that can tell reflect her taste beautifully. Ask to see several, and you may even surprise yourself with the one stone that is calling your name. After your careful choosing, you will end up with a true original—a perfectly beautiful reflection of your own love story.
Now that we've discussed several ways to determine the ring size that you need, you may just want to try a few ring sizing methods for extra confidence that you've got the correct size prior to selecting the ring. Checking twice is always a good idea.
Beware of weight fluctuations
This is a good time to mention weight fluctuations that we all experience from time to time. If the ring is sized correctly, it will tolerate a bit of weight change with the wearer. And you expect to wear this ring for your entire life—so there is bound to be at least a bit of weight change over the years.
Should a weight loss or weight gain become a permanent change—there's absolutely nothing to worry about. Your precious ring can schedule a visit to the jeweler's bench for an adjustment so that it can remain a treasured part of your everyday life.
This may seem like a lot of information and you may not need all of it to determine the correct ring size for the one you're buying. But more info is here to make sure we cover all bases. The search for the perfect diamond ring is one of the most joyful tasks a couple ever undertakes. It's worthy of your attention and focus during the selection process. Finally, making sure you've also got the correct ring size will ensure when the moment comes to present the ring—she'll put it on and never take it off. And that's a very good thing!